Slow Cooker Ranch Chicken Tacos is part of our 40 meals in 4 hours and is a great family meal that can be made in advance for a delicious dinner.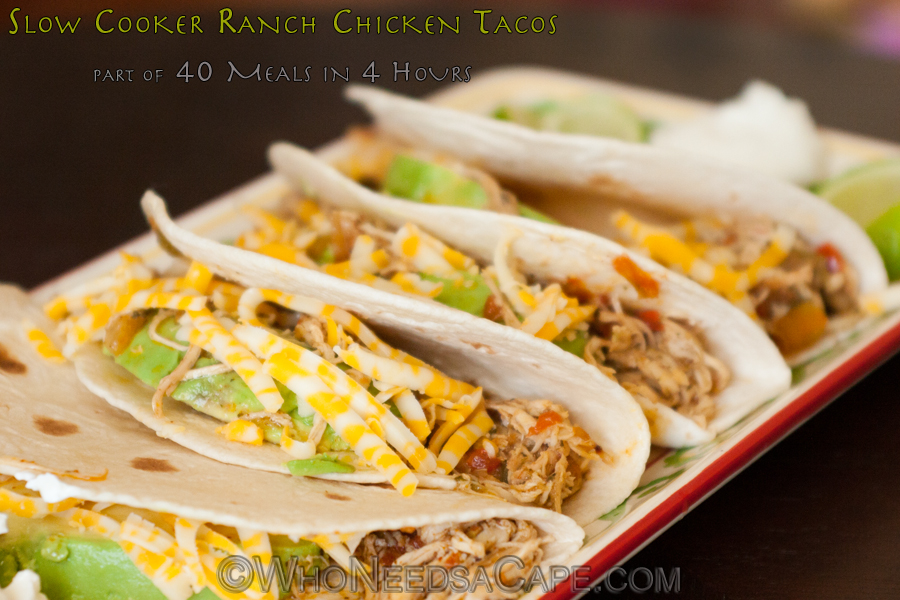 Slow Cooker Ranch Chicken Tacos
Slow Cooker Ranch Chicken Tacos is another family favorite. Yes, I know they are similar to our Crockpot Chicken Tacos except for the packet of ranch seasoning.  You might have seen both of these recipes in our 40 Meals in 4 Hours post.  These are super easy to make and the whole family really does love them.  You can use the shredded chicken in a salad, quesadilla or in Nachos with Shredded Ranch Chicken.
If making this for a freezer meal, just place all the ingredients in a freezer bag and freeze.  Take it out the night before to thaw in the refrigerator and then the next morning just toss it in the slow cooker.  For toppings, we use sour cream, cheese, avocado and a squeeze of lime.  For our family of four, including 2 small children this meal feeds us for two meals!
---
 These go great with tacos: