Comfort food at its very best! Slow Cooker Beef Tips & Gravy is the perfect meal for delivering homemade flavors with your crockpot. Great freezer meal too!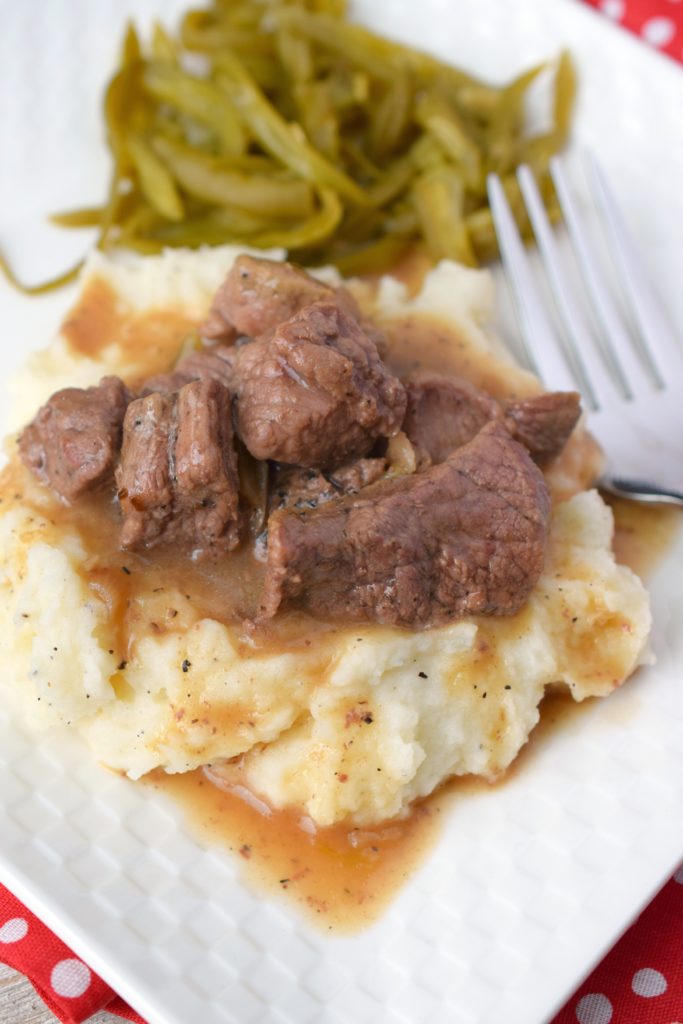 Slow Cooker Beef Tips & Gravy is a recipe that seems as though you've been slaving away at the stove all day long when in reality it was cooking away in your slow cooker.  This is one EASY recipe and when I mean easy I'm not pulling your chain.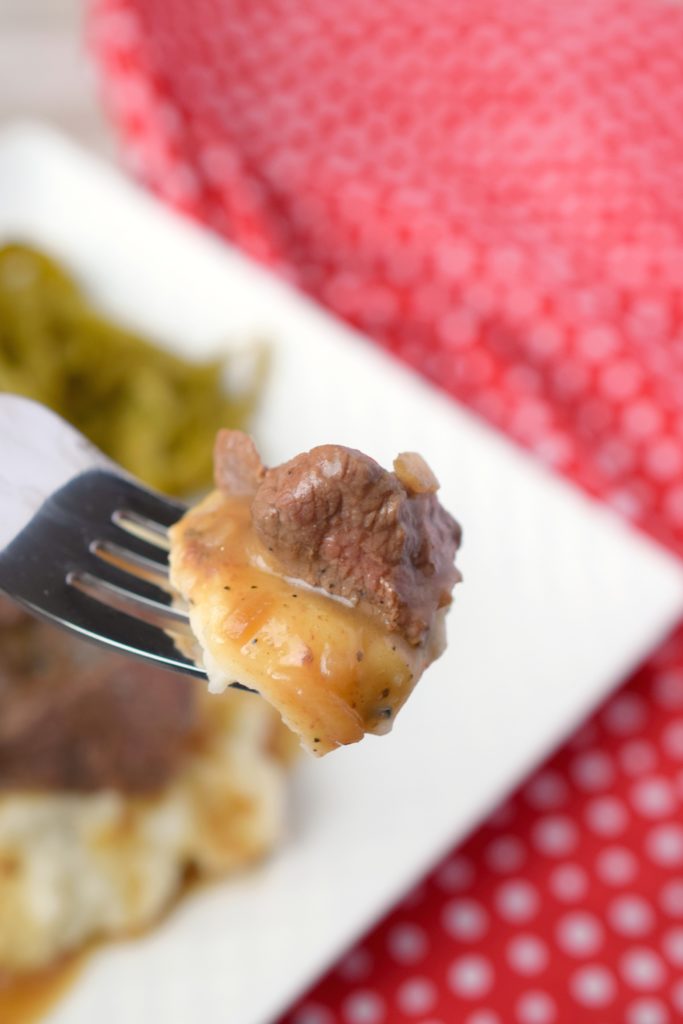 The beef tips are incredibly tender and the gravy just cries out to be placed upon a bed of mashed spuds.  4 simple ingredients that make for one delicious meal in a snap! This is a wonderfully comforting meal that doesn't need much explanation. My husband asked me why I don't make it more often, and to be honest I'm not sure why I don't. Definitely adding this simply comforting meal to our menu rotation. And the leftovers are simply great, you won't be disappointed reheating this dish the next day for lunch.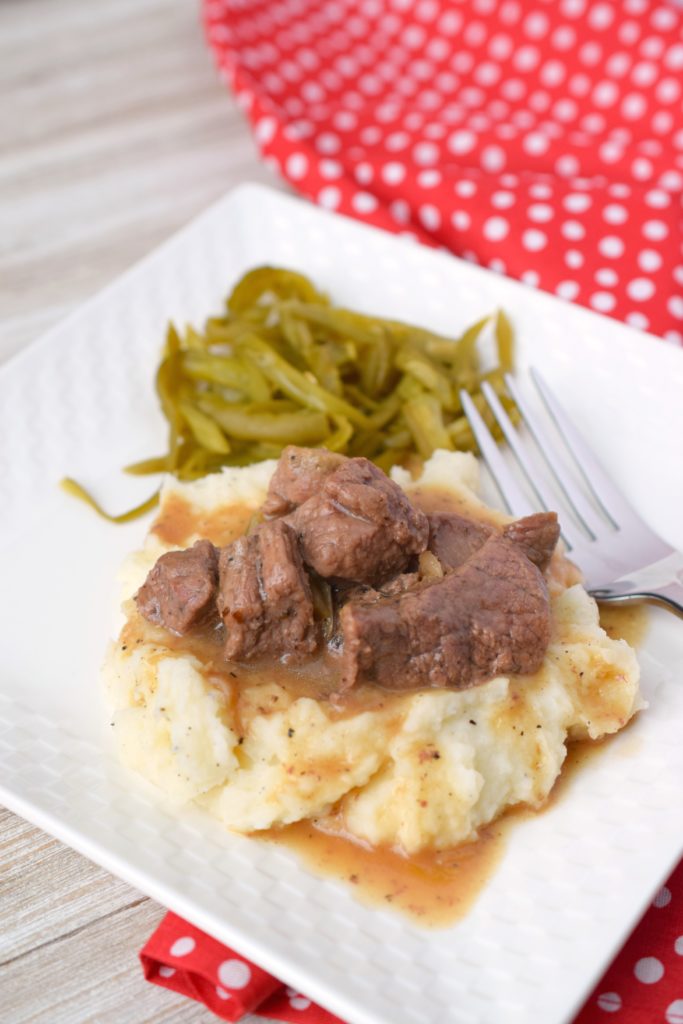 Slow Cooker Beef Tips & Gravy is part of the 40 Meals in 4 Hours Slow Cooker/Freezer Meals collection. To view all the amazing recipes in that collection, click HERE!
Yield: 4 servings
Slow Cooker Beef Tips & Gravy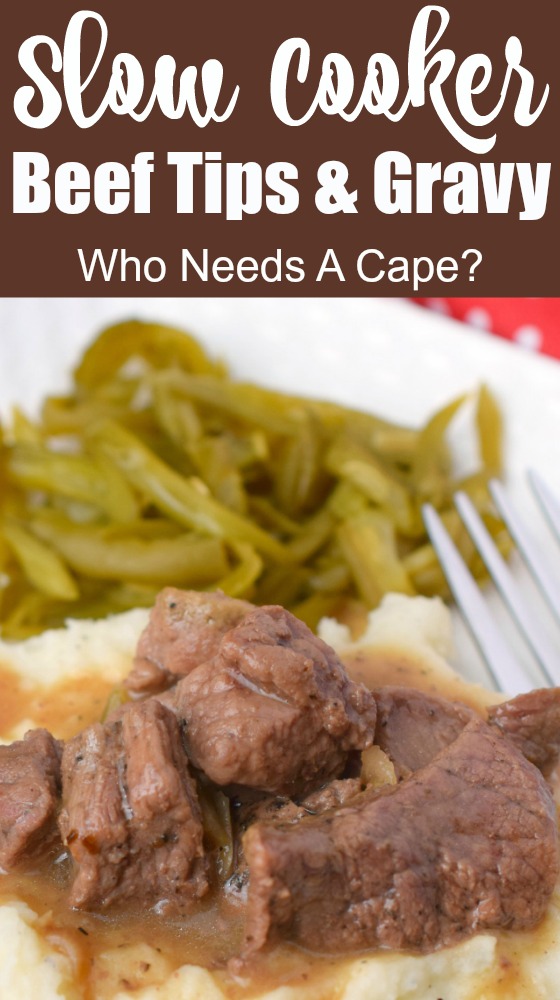 Ingredients
1 1/2 lbs cubed beef (stew meat)
1 packet Dry Onion Soup Mix
1 can Cream of Celery Soup (although Cream of anything will work)
1 14 oz. can beef beef broth or stock
Instructions
Spray slow cooker with non-stick cooking spray.
Add beef cubes to slow cooker, season with salt & pepper.
In bowl combine soup mix, soup & broth, whisk to combine thoroughly.
Dump mixed ingredients over top of beef, stir.
Cook on low approximately 6 hours.
***If you are freezing, dump all ingredients into gallon sized freezer bag***
Notes
I prefer to brown the beef tips prior to adding into the slow cooker, that's just a preference.