In the mood for an easy fall treat? Try these Slow Cooker Baked Apples! Delicious served with ice cream or a dollop of whipped cream! What a great dessert!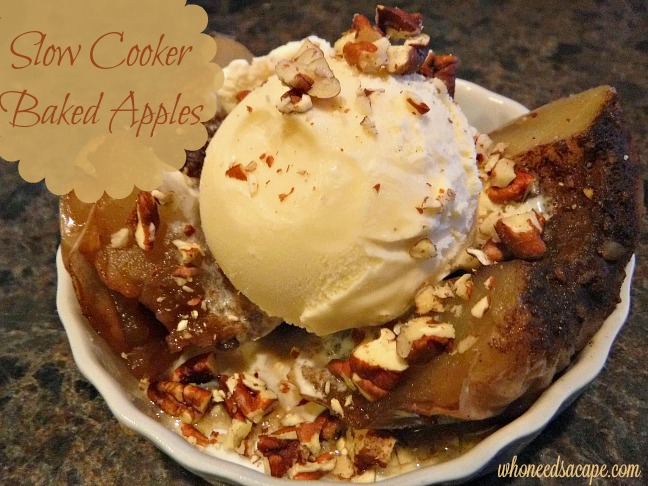 As soon as fall rolls around I start thinking of all the yummy fall treats I can make. I really love fall! The apple treats, the pumpkin treats, plus it's not too hot to bake anymore. Yay! If you are looking for other fall treats why not try these Dark Chocolate and Pumpkin Swirl Cake or if you are looking for other slow cooker desserts this Slow Cooker Apple Cranberry Crisp.
Slow Cooker Baked Apples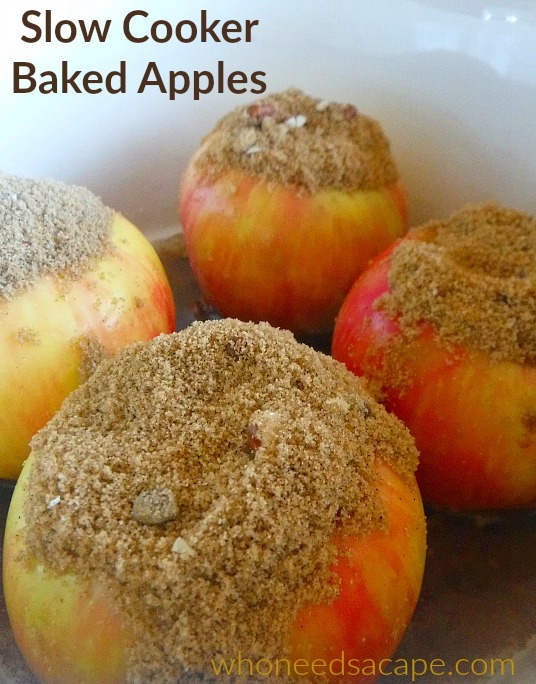 Ingredients
4 large apples
6Tbsp. brown sugar
1/4 c chopped pecans (optional)
1/4 c raisins or dried cranberries (optional)
1/2 tsp. cinnamon
1/4 tsp ground cloves
1/4 tsp. ground ginger (or crystallized ginger)
Instructions
Core the apples, peel just the top 1/2 in of the apple. (This should help the apples not split).
Place the apples in the slow cooker.
In a small bowl stir together the brown sugar, spices, nuts and fruit (if so chosen). Spoon into the cored apples, using your finger to pack the mixture in. Sprinkle any leftover over the apples.
Cook on low for 4-6 hours.
Top with ice cream and nuts. ENJOY!