Slow Cooker White Chocolate Pumpkin Cake is a delicious dessert in a snap from your crockpot. The ease and deliciousness of a dump cake, perfect for fall.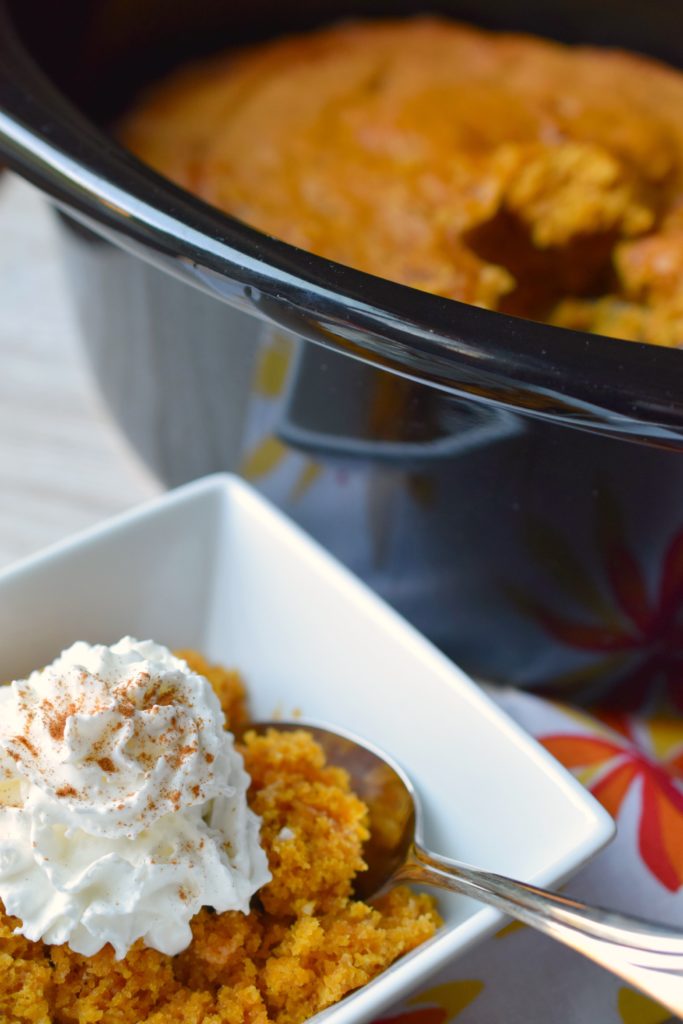 Fall is undeniably my favorite time of the year! Yes, the crisp mornings and evenings, the beautiful colors and the flavors of fall. All things pumpkin and apple, cinnamon and caramel, just lovely flavors that bring a sense of comfort. I think the sense of comfort is necessary since we all know what quickly follows the enjoyable fall weather…winter!
If you've been a follower for some time you've probably read that my youngest daughter is picky about food. Picky is putting it mildly, trust me. Well, a week or so ago she tried pumpkin pie, now mind you I was fully expecting her to utter her famous "I don't like it", and guess what? She didn't say that in fact, she asked for more! Who knew?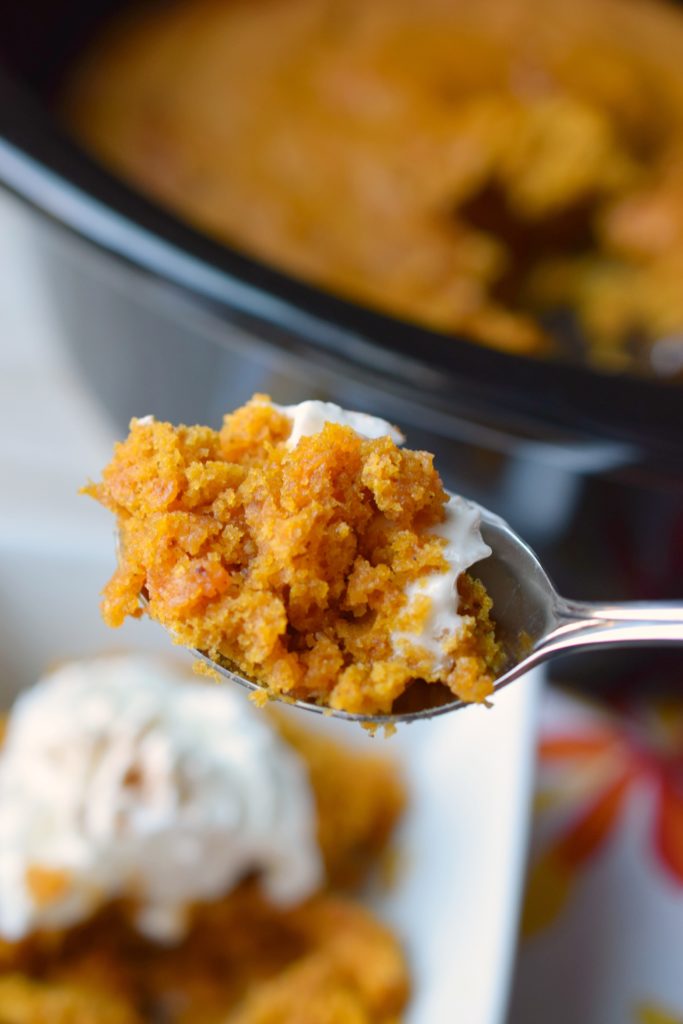 Since it is autumn and my youngest has proclaimed that she enjoys pumpkin I figured why not try another pumpkin dessert on her. I made this Slow Cooker White Chocolate Pumpkin Cake yesterday and once again…SHE LIKED IT! Complete score!
Basically, this is a "throw it all in there" cake. I'm sure you've heard another term used for this type of cake, I don't like that term and I'm not going to use it. What I will say is that this cake delivers, big time! It is simple and delicious plus its made in your slow cooker…can't beat that!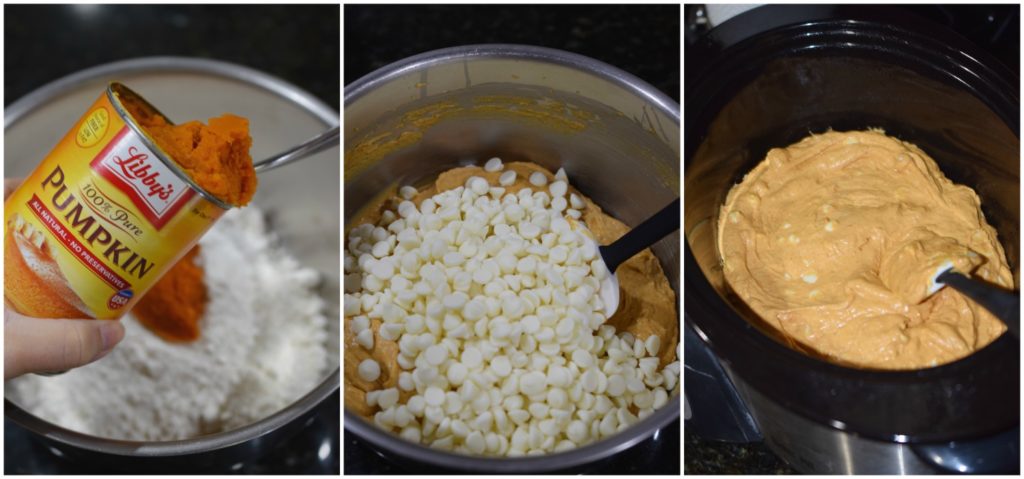 I've been trying to "bake" more in my slow cooker since I can easily take them when we travel in our motorhome. What I also love about using my slow cooker for desserts is that it frees up my oven for other dishes which is always good during the holiday season.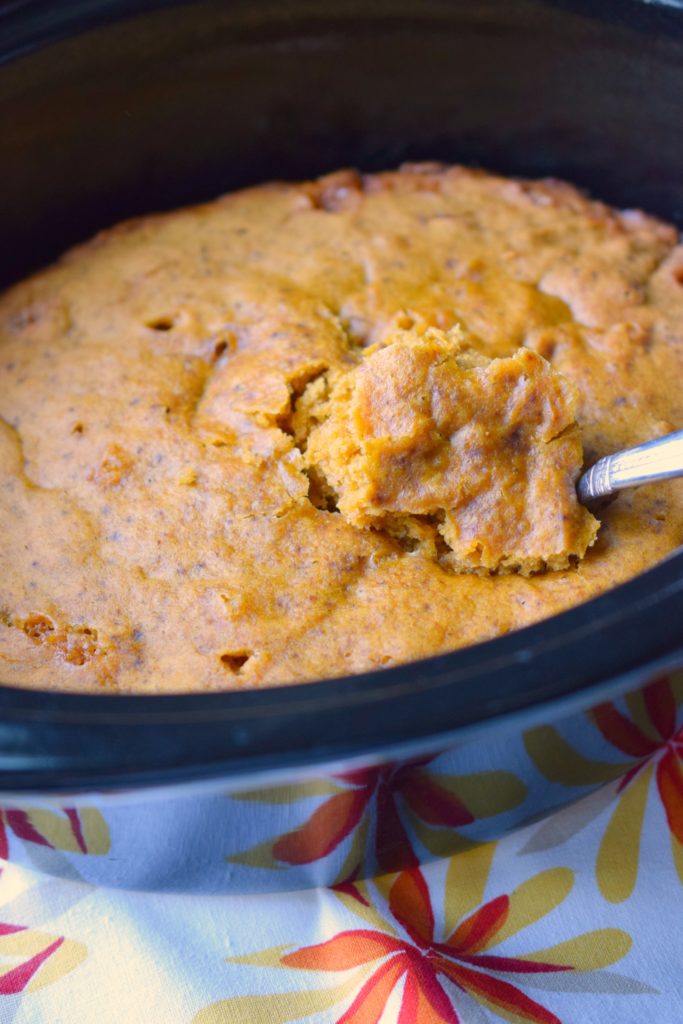 The white chocolate flavor is subtle, and a very nice compliment to the pumpkin. Top with some whipped cream or a dollop of vanilla ice cream, so good. I would even suggest a drizzle of caramel sauce, even better! Mmmmm!
Other great autumn treats: