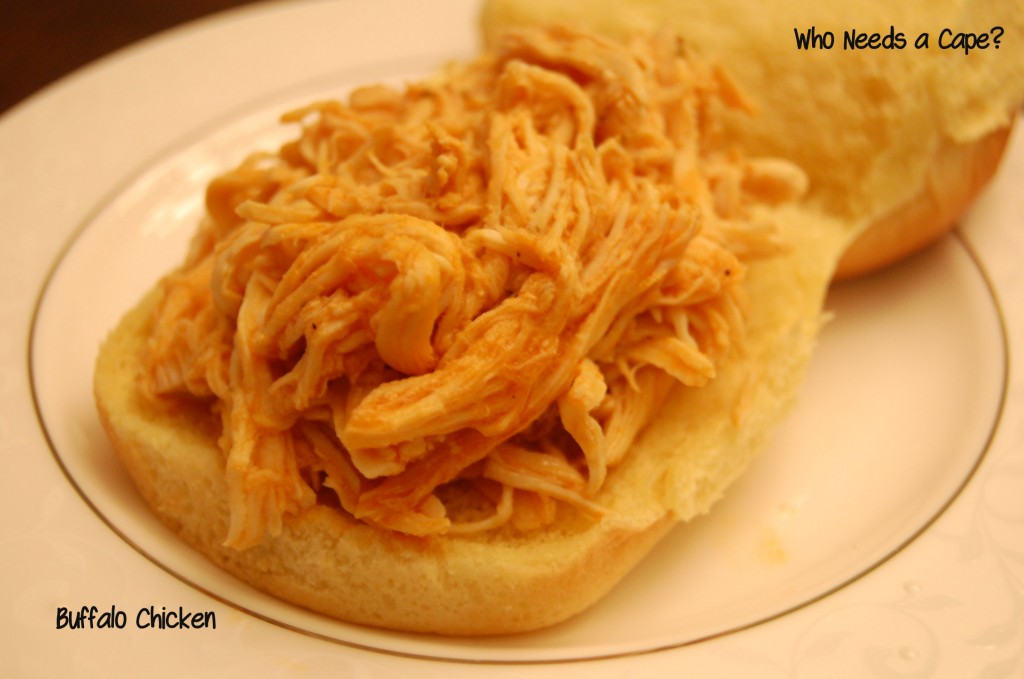 Ok I'm starting to look like that Buffalo Chicken lady here.  I mean I have made dip, chicken breasts and now pulled buffalo chicken!  But it's so delicious and honestly made all these different ways?  They all have a different take on the buffalo flavor – I suggest you make them all.
I also needed to make these because yes, I need some of Katie's Freezer meals in my freezer!  This was my first one that I made and I loved it.  And I loved how easy easy easy it was.  So if you need a crock pot or easy meal to freeze and THEN crock pot – this is the recipe.  Hope you liked it as much as I did!
Recipe is adapted from here.
Ingredients
3-4 chicken breasts (I used 3 because they were huge)
1 12 ounce bottle of hot sauce (I like Pete's)
1/2 package of dry ranch dressing (1 ounce)
2 tbsp of butter
Instructions
Spray your crock pot with non-stick cooking spray
Place chicken in (I used mine frozen)
Mix the hot sauce with the ranch mix and pour over chicken
Cook on low for about 6-8 hours
1/2 hour before serving add butter and shred chicken.
Serve on rolls for a delicious sandwich (I topped mine with Ranch Dressing)
http://whoneedsacape.com/2013/01/crock-pot-buffalo-chicken/