Slow Cooker Leftover Ham & Shredded Potato Soup is the perfect meal to make after holiday dinners. Use up ham with this comforting crockpot dinner.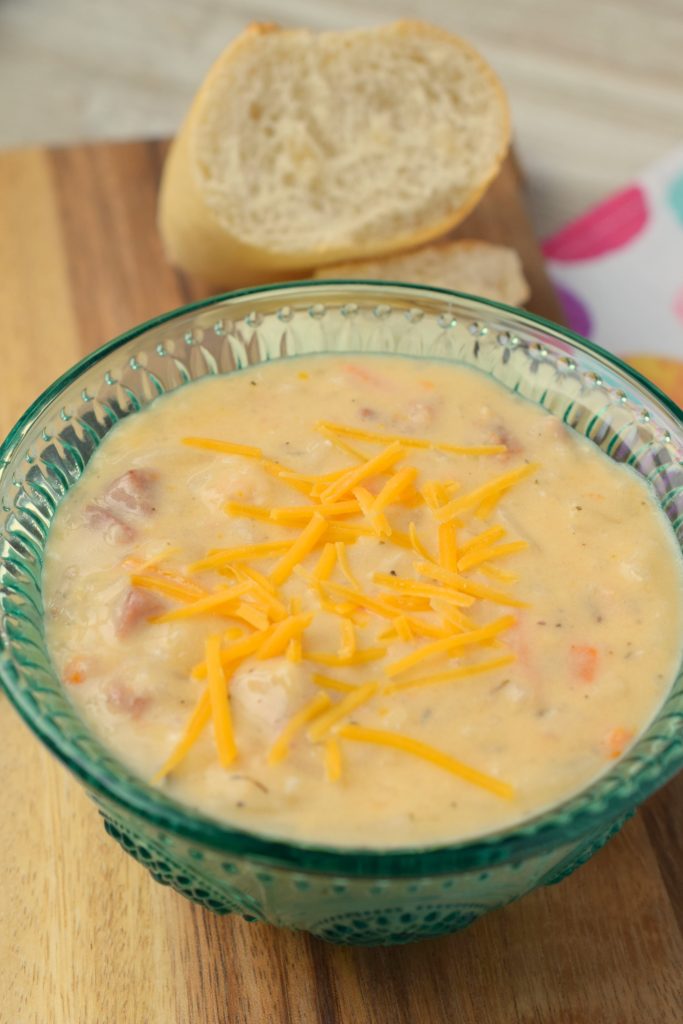 If your family is anything like mine, by day 3 of leftovers they are like NOPE NOPE NOPE! I try to be versatile and let's say we're having chicken, I'll use the leftovers in quesadillas or a casserole but at the end of the day, even I get tired of the leftovers. Not ham though…I feel like that's the one leftover that no matter how I recreate it into another dish the family is actually happy! SCORE!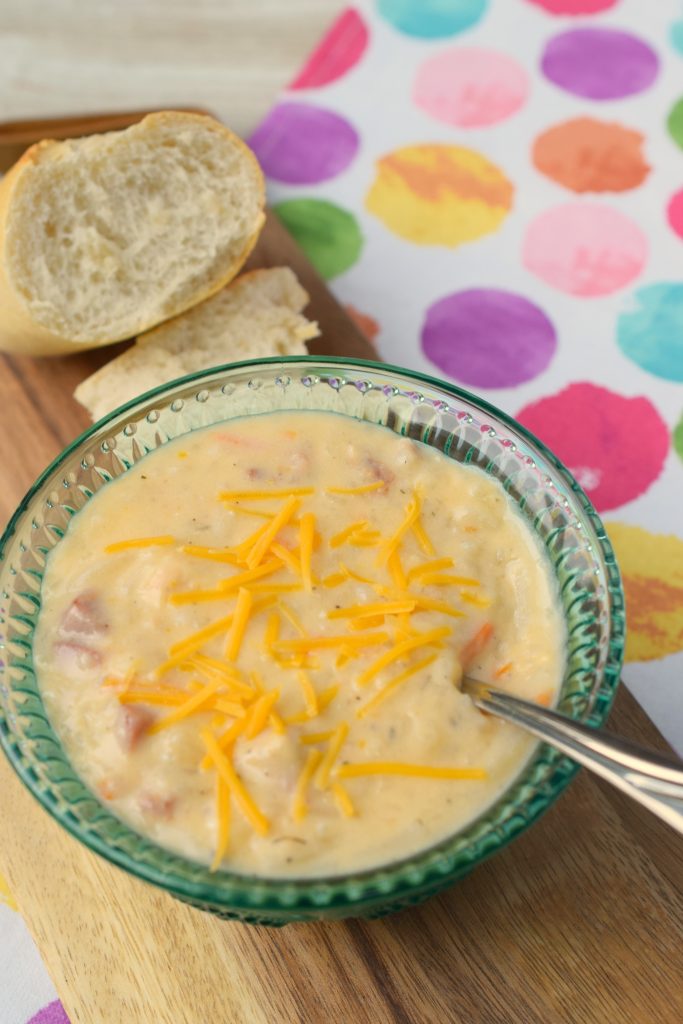 Easter Sunday was just 4 days ago and last night I scored big time with this delicious Slow Cooker Leftover Ham & Shredded Potato Soup. I just had to hurry up and get it on our site in case you have a little leftover ham stashed in the fridge and dreading feeding it to the family.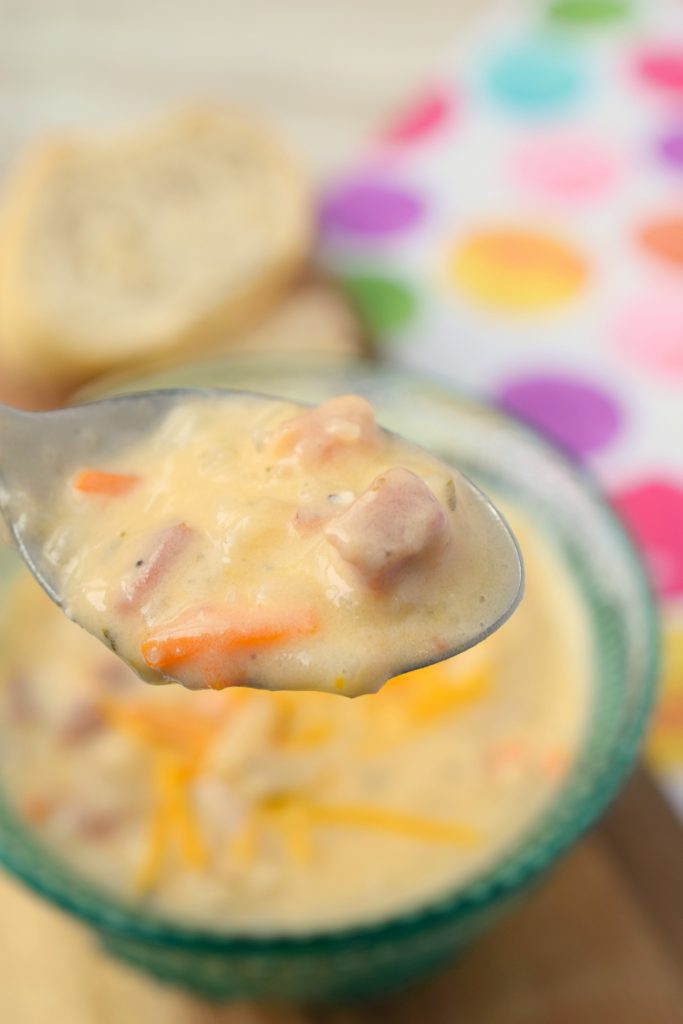 Basically, this is my go-to crockpot easy creamy potato soup recipe with a couple of minor modifications. All you need to do is chop up your leftover ham, and just dump it into this soup mixture. My 9 year old asked to take some for lunch today to school…you know its good if it gets requested for the lunchbox.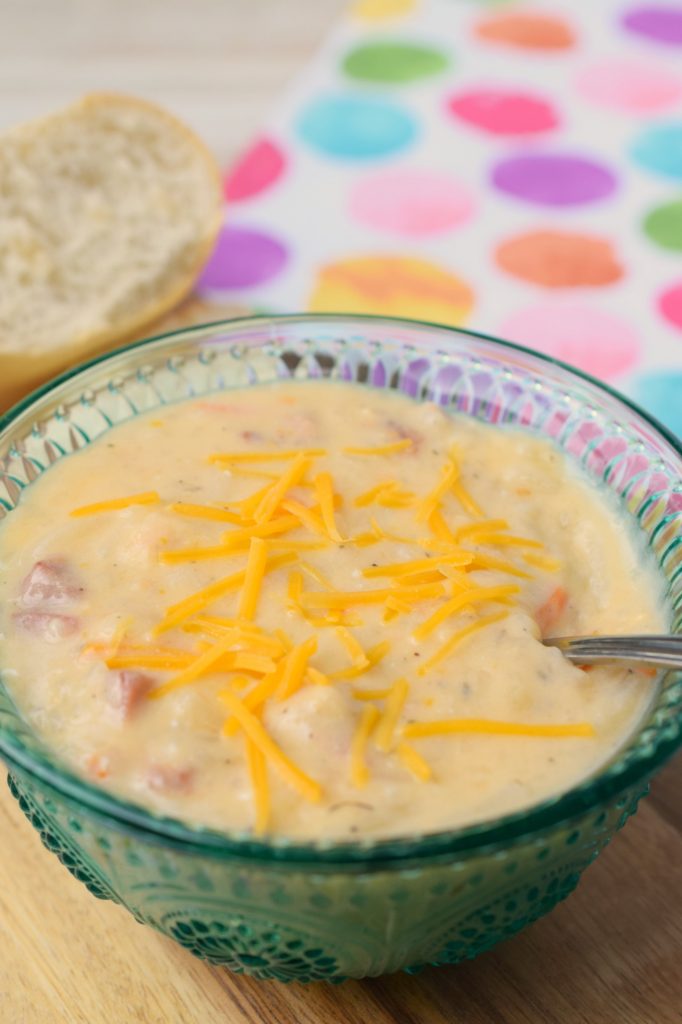 Next time you have leftover ham give this recipe a try, it is hearty and so simple to prepare. I might just have to find a reason to make a ham in between Easter and Christmas because this is one tasty creation! Enjoy!
Yield: 4-6 servings
Slow Cooker Leftover Ham & Shredded Potato Soup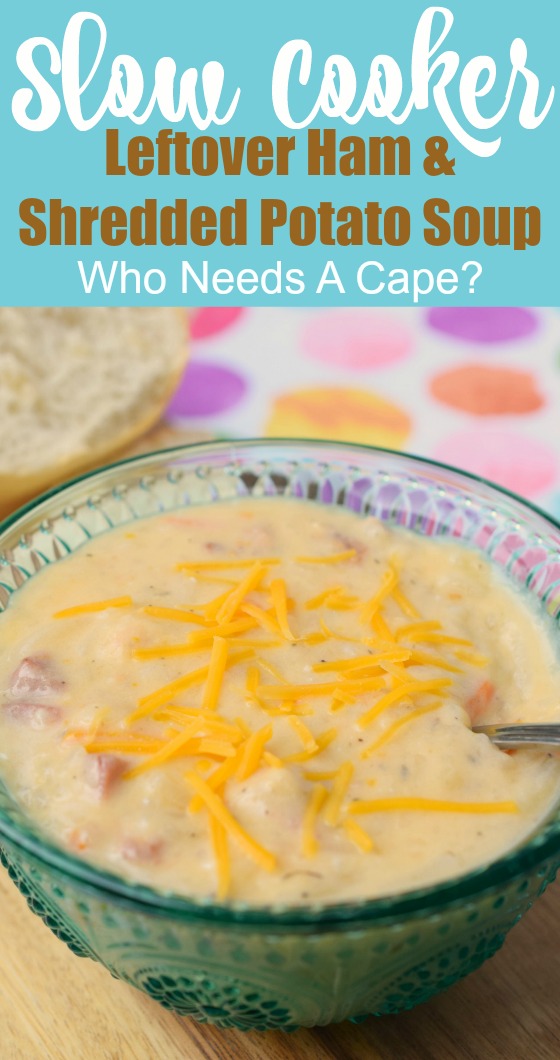 Ingredients
1/2 cup diced onion
2 cloves garlic, minced
32 oz chicken broth
1 20 oz pkg refrigerated shredded potatoes
2 cups ham, diced
1 cup carrots, shredded
1/2 t ground pepper
1/2 t Lawry's Seasoning Salt
1/2 t dried Thyme
3 T flour
1 cup half and half or milk
4 oz cream cheese, cubed
1 cups sharp cheddar cheese, shredded
Instructions
Spray slow cooker with non-stick cooking. Add in: onion, garlic, chicken broth, shredded potatoes, ham, carrots, pepper, Lawry's & Thyme. Stir until combined.
Place lid on, cook on high 4 hours or low 6 hours.
At end of cooking time, whisk together flour and half and half or milk. Pour into soup and stir. Add in cubed cream cheese. Cook on low an additional 30 minutes.
Prior to serving stir in shredded cheese.
Notes
Add in salt & additional pepper to taste.