Perfect for holidays, parties or tailgating Loaded Slow Cooker Cheeseburger Dip is delicious! With cheeses and bacon, you know it'll be a great appetizer.
Loaded Slow Cooker Cheeseburger Dip
Football season has arrived, which means one thing <<<TAILGATING FOOD>>>!!! We're delighted to be participating in a great celebration "October is Tailgating Snacks Month" hosted by the lovely Debi from Life Currents!
If you aren't following Debi she's a true football lover and has presented many amazing dishes which are perfect for tailgating and game day eating. She's a Seattle Seahawks fan and if you are too I highly recommend checking out her Seahawks Breeze Cocktail along with all of her other amazing creations on her site.
My addition to this event is a crockpot dip that's sure to please! I love making dips in my slow cookers any chance I can get. If there's a party, game or holiday its almost a sure bet guarantee that Lori will have a slow cooker dip of some sort in a slow cooker. Loaded Slow Cooker Cheeseburger Dip is nearly a meal in itself, it is a hearty dip!
Yesterday I was in the car and listening to a morning radio program where they "ask Siri" questions. "Siri" who really is just one of the hosts responds in typical Siri fashion with sarcastic responses. One of the hosts asked, "what should I bring to a tailgating party?". Siri's response was "don't be that person who brings a veggie tray……" LOL. Nope, game day eating isn't the time to be overly health conscious.
Now many slow cooker dips have the all too amazing component of Velveeta to make them creamy and dreamy. This dip doesn't…I know shocker because I have no problem using Velveeta where it can shine…DIPS! The creamy factor comes through from a mixture of sour cream and cream cheese, which blends deliciously with cooked and seasoned ground beef and to take it to the level of loadedness (yes that's a Lori-ism)  there's BACON!
I do highly recommend a hearty dipper for this dip. It is chunky and deserves a chip that can handle the amazingness. Fritos Scoops work very well, and to quote a family acquaintance who once remarked: "Scoops are the best, they're like tiny little shovels!". Yup, not the most eloquent description but hey if it works, it works!
Did you know that I even went to my very first NFL game earlier this month? It was amazing! Unfortunately, the Lions lost, but I had a fantastic time attending the game with my husband. We even met ex NFL player Rob Sims prior to the game!
Be sure to scroll to the bottom of this post! There you'll find links to other delicious recipes for tailgating, you will not be disappointed, but you may find yourself very hungry. Don't say I didn't warn you!
Other delicious dips to try:
Yield: 8-10 servings
Loaded Slow Cooker Cheeseburger Dip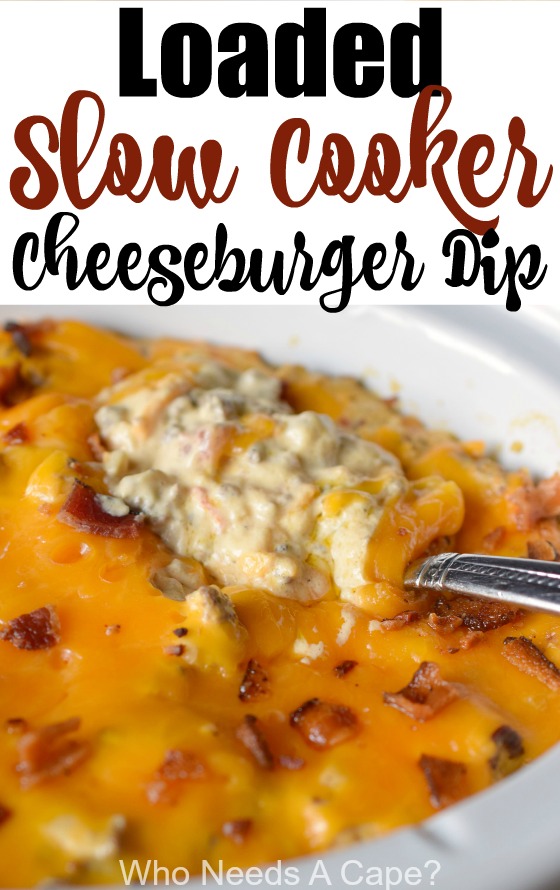 Ingredients
1 lb ground beef
1/2 cup onion, diced
2 cloves garlic, minced
1 t salt
1 t ground pepper
1 t garlic powder
2 T Worchestershire Sauce
8 slices bacon, cooked & crumbled
1 12 oz pkg cream cheese, whipped
1 cup sour cream
2 T ketchup
2 T yelllow mustard
1 10 oz can Ro*Tel diced tomatoes with chilies (or petite diced tomatoes if you prefer)
1 cup Mozzarella Cheese, shredded
1 cup Sharp cheddar cheese, shredded & divided
8 slices bacon, cooked & crumbled
OPTIONAL: additional crumbled bacon for top
Instructions
In non-stick pan cook ground beef, onions, garlic, salt, pepper, garlic powder over med-high heat breaking apart until thoroughly cooked through. Drain any fat. Stir in Worchestershire Sauce, set aside.
In large mixing bowl combine: cream cheese, sour cream, ketchup & mustard. Stir until combined or used electric mixer. Stir in Ro*tel tomatoes, Mozzarella & 1/2 cup sharp cheddar cheese.
Stir into mixture cooked ground beef and bacon.
Pour into slow cooker, top with remaining 1/2 cup sharp cheddar cheese. Place lid on and cook on high 2 hours or low 4 hours.
OPTIONAL: Sprinkle with additional crumbled bacon at end of cook time.
Notes
You can use Petite Diced Tomatoes if you don't want the heat from the Ro*Tel tomatoes.
Adapted from allrecipes.com
October is Tailgating Snacks Month 2017
Hosted by Life Currents