Pork Tenderloin Sliders with Apples & Onions are sure to be a new favorite! With tender pieces of pork and chunks of caramelized apples & onions. Delish!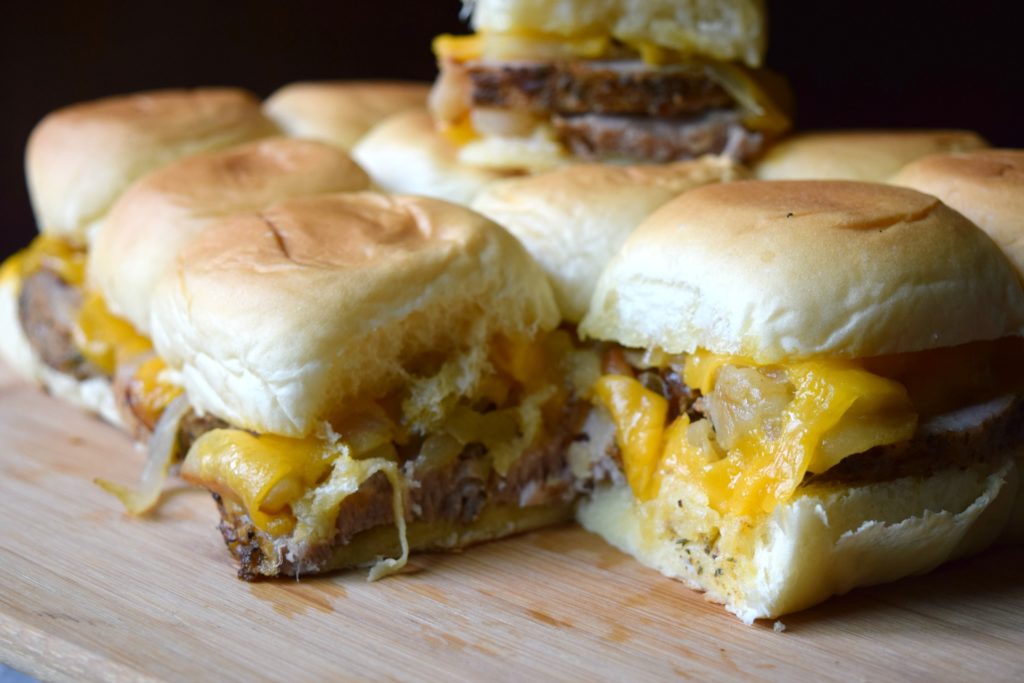 Sponsored post was written by me on behalf of Smithfield® Marinated Pork. The opinions and text are all mine.
Pork Tenderloin Sliders with Apples & Onions
Fall has finally arrived!! With the arrival of fall, I immediately start changing our dinner menus. Not only is school back in session and my calendar is jam-packed.
Another reason I change up the menu is also because of the cooler temps, we enjoy heartier dishes during the cooler months. Soups, stews, and chili go into our meal rotation frequently. Also on the weekend, I enjoy throwing a pot roast into the slow cooker, prepare some homemade mashed potatoes and have a real Sunday dinner.
During the week though, I keep it simple. My schedule has me picking up and dropping off kids at different schools, in between I come back home for short stretches and work. Not to mention cook, clean and take care of other household duties. So I'm always on the lookout for meals that deliver BIG flavor with a short amount of prep time.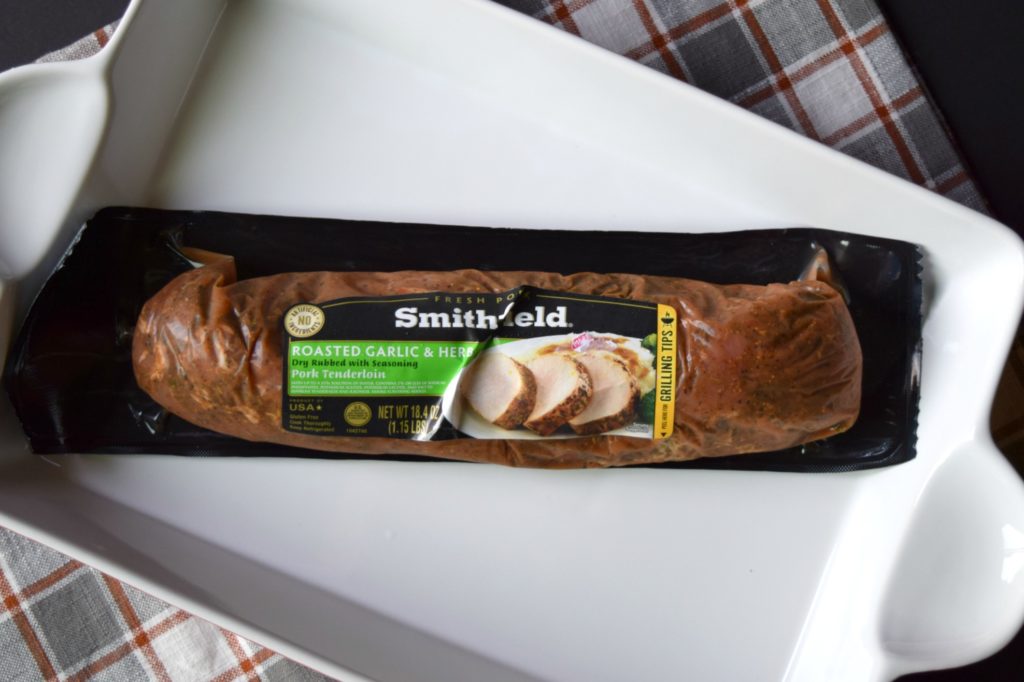 Just this week when I was at Kroger I purchased a Smithfield Marinated Roasted Garlic & Herb Pork Tenderloin. You can either roast, sauté or slow cook these delicious recipe helpers, they deliver "Real Flavor, Real Fast".
Smithfield Marinated Fresh Pork is an excellent meal solution for any night of the week but especially those extra busy weeknights. Whether you need a tenderloin, loin filet or sirloin there's a Smithfield Marinated Fresh Pork product just for you.
Available in flavors that complement so many recipes: Slow Smoked Mesquite, Sweet Teriyaki, Southwest Style Peppercorn, and Roasted Garlic & Cracked Black Pepper! Tasty 100% fresh pork, the prep work is done which is a huge time-saver.
For this particular dish, I was envisioning some tasty sliders! Served up with a great side dish like a pasta salad or macaroni and cheese, your family will dive right in. First I seared the Smithfield Marinated Roasted Garlic & Herb Pork Tenderloin in a bit of oil in a hot skillet.
Next ,it was popped into an oven to finish cooking, this step only took roughly 20 minutes. After the pork is cooked and had rested 10 minutes it can be sliced.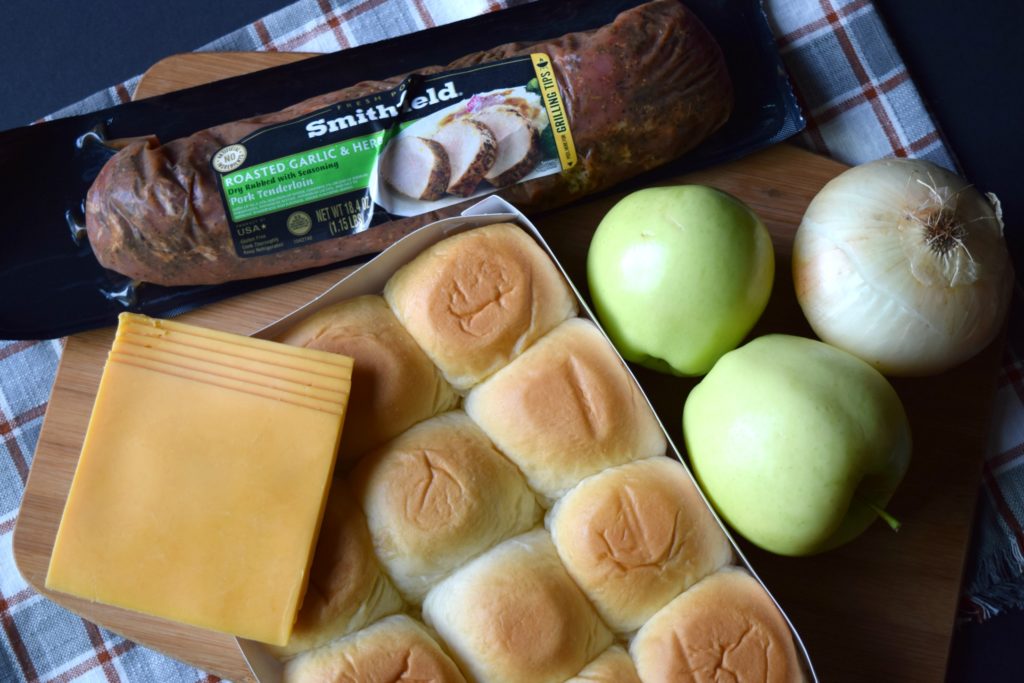 Next ,you move onto the slider portion. You'll need some butter-flavor dinner rolls, simply slice them. I like to toast mine under the broiler for a minute or two, so I brush on a bit of melted butter and lightly toast. It brings out a nice touch in your slider and in my opinion ,helps them be a little less soggy.
After your pork has cooked in the skillet, you'll add in apple & onion slices with a little bit of butter. Sautéing these together they lightly caramelize and soak up the yumminess the pork left in the skillet.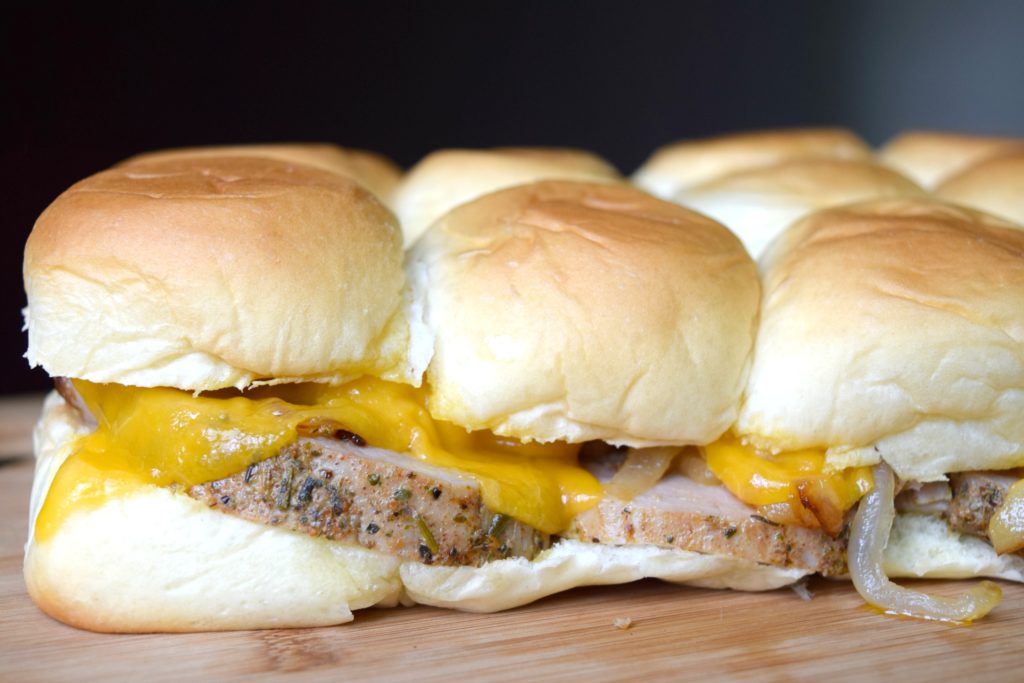 Once you've sliced the cooked pork, toasted the rolls and cooked the apples and onions you'll be ready to assemble. Lay the tender slices of pork onto the bottom layer of dinner rolls, spoon the apples and onions over the top of the pork.
Now here comes the cheese! I love using a sliced sharp cheddar cheese, but you could use whatever your family will enjoy.
Lay the cheese slices right on top of the apples and onions and place back under the broiler for just a minute or two longer. You want the slices of cheese to melt down over the other ingredients. Melted cheese just makes every dish better, right?
After the cheese has melted you'll place the top layer of dinner rolls on to finish. So simple but let me tell you, plates are always empty when I serve these. My family loves them!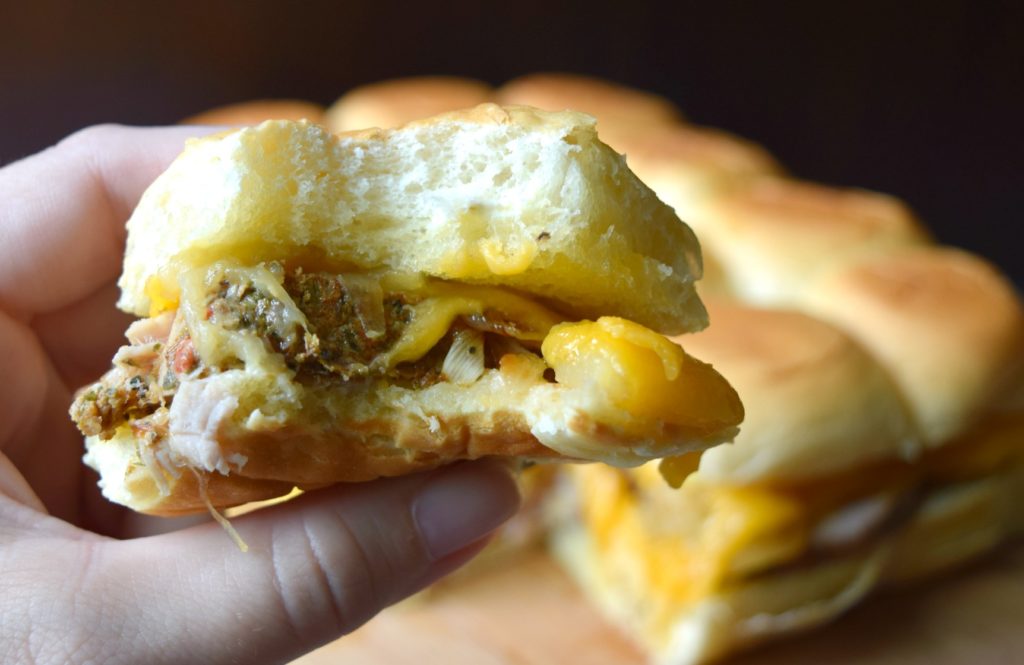 Pork Tenderloin Sliders with Apples & Onions are just ideal for fall! Make them for game day, take them tailgating, serve them to hungry teens after the big game! You can't go wrong, they are TASTY!
Other great easy recipe ideas: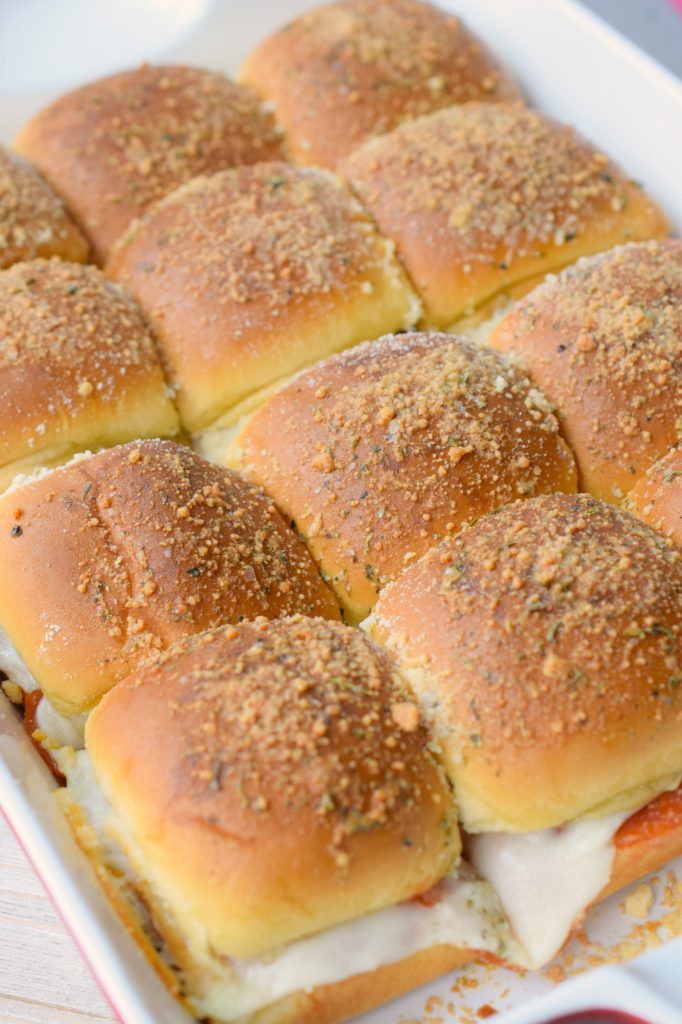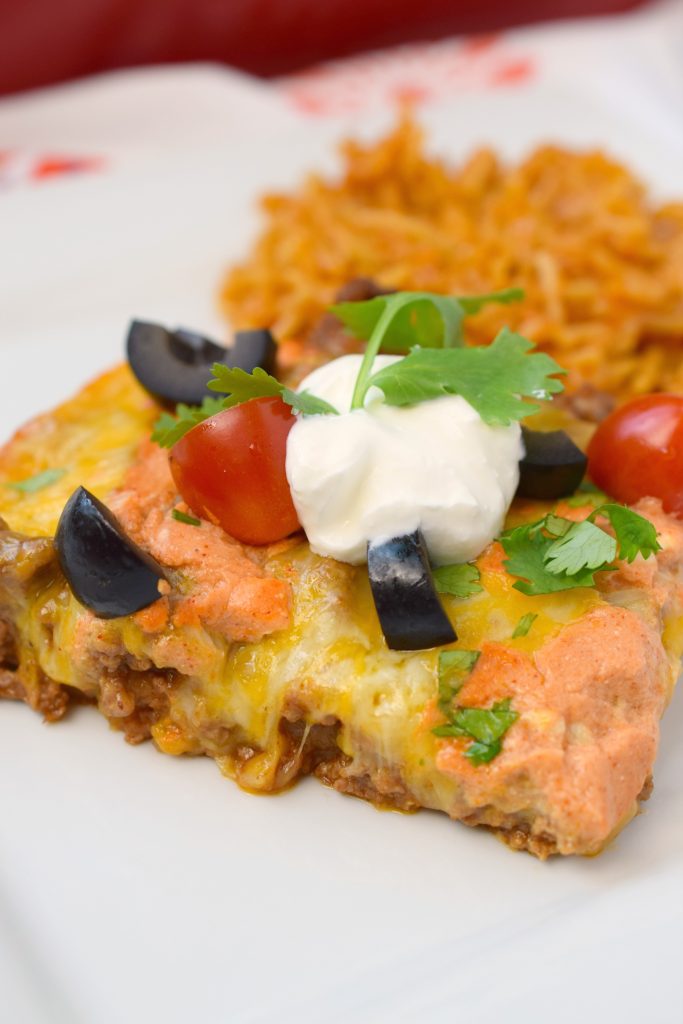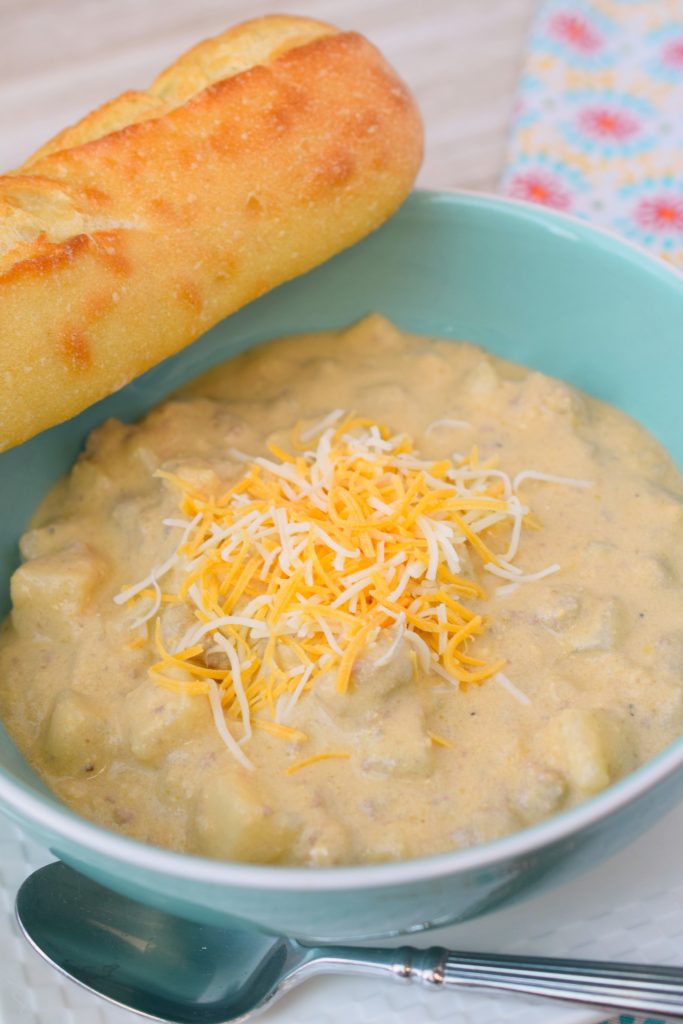 Yield: 12 sliders
Pork Tenderloin Sliders with Apples & Onions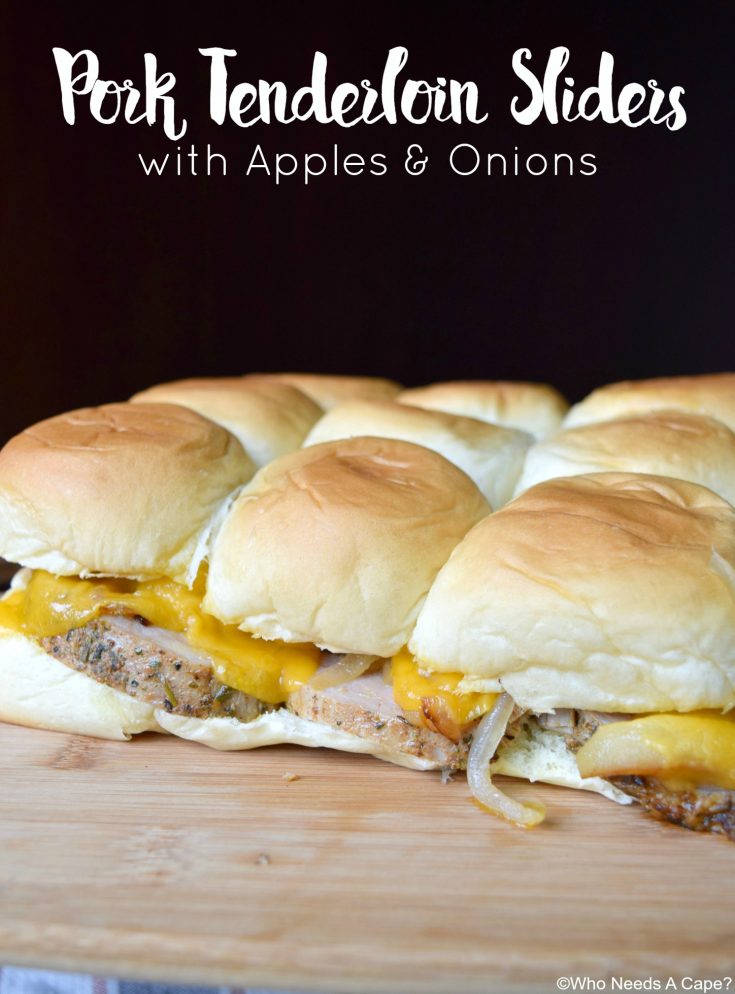 Prep Time 5 minutes

Cook Time 25 minutes
Ingredients
1 18.4 oz pkg Smithfield Marinated Roasted Garlic & Herb Pork Tenderloin
2 T olive oil
4 T butter, divided
1.5 cups apple, thinly sliced
1/2 cup onion, thinly sliced
12 ct pkg Butter-flavor dinner rolls
6 slices sharp cheddar cheese
Instructions
Preheat oven to 350° degrees.
In large non-stick skillet heat olive oil over medium-high heat. Add pork tenderloin and sear on all sides. Remove from pan onto oven-safe baking dish.
Bake 15-20 minutes or until internal temperature reaches 160 degrees.
Remove from oven and let stand for 10 minutes prior to slicing.
Add butter to skillet pork was seared in. Saute apple and onion slices over medium heat until translucent and starting to caramelize.
Slice dinner rolls lengthwise. Place on baking sheet cut side up, brush both halves with remaining butter that's been melted. Broil on low approximately 2 minutes until very lightly browned. Remove from oven.
Cut pork into 1/2" slices and lay over bottom dinner rolls. Spoon apple & onion mixture over top of pork. Top with cheese slices. Return to broiler for 1-2 minutes until cheese is melted. Remove from oven and place dinner roll tops on top. Cut and serve.
Notes
If you are not serving immediately transfer uncut sliders into a 9x13 baking dish and cover. You can refrigerate and reheat later.