You're just gonna love this Raspberry-Lime Buttermilk Breakfast Cake! Whether for breakfast or dessert this is a treat, the flavors just pop!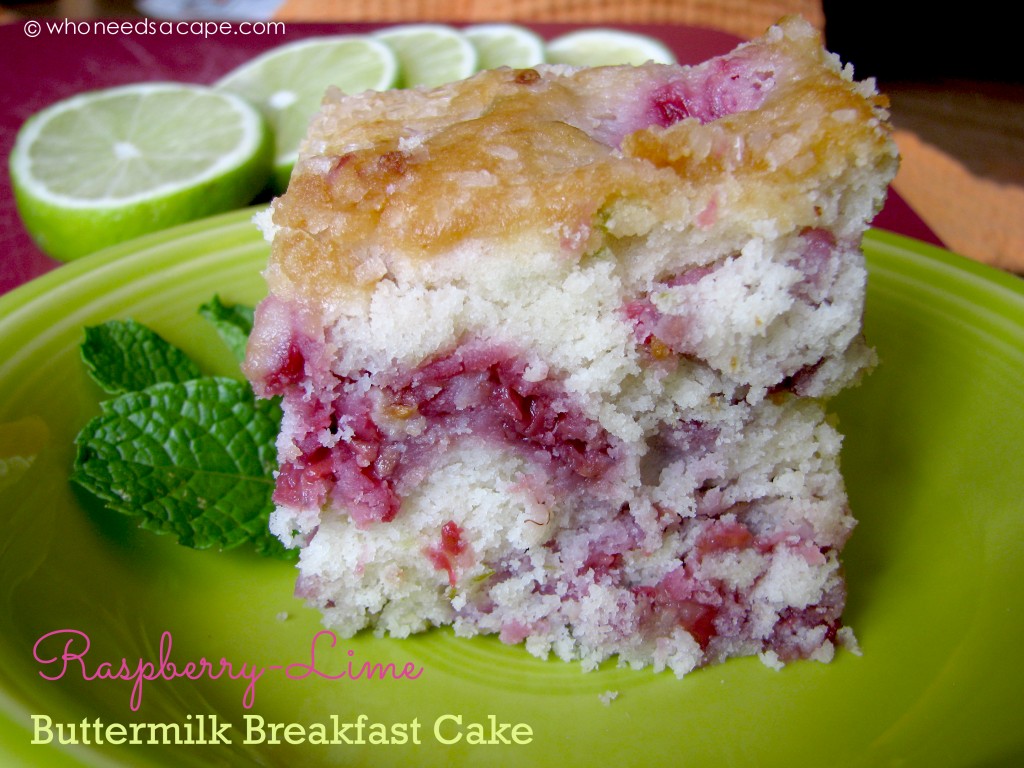 A few weeks ago I stumbled upon a pin on a friend's Pinterest dessert board. There staring back at me from my computer screen was probably the loveliest of blueberry concoctions I had ever laid eyes upon. I love all berries, especially blueberries, so this berry delight required further investigation, not just a "pin and run."
I clicked-through the pin and landed at Alexandra's Kitchen. I eagerly read through her recipe for buttermilk-blueberry breakfast cake, which is a handwritten recipe of her mother's, and quickly checked off the ingredient list in my head, determined to make this breakfast cake for my family, too. It did not disappoint in any respect and I have since made this recipe twice in a one week; it was that good. It's so good that I'm going to make it again when my in-laws visit in a few weeks since there is no way to go wrong with this cake.
Getting back to my love for all things berries, I thought it might be fun to mix up this recipe by subbing the blueberries for raspberries (I got a lot for a great deal!) and using lime instead of lemon. Not a huge shift in flavor, but still a fun alternative. I clearly wasn't the only person thinking this combo sounded good since I stumbled upon Owl Haven by Mary Ostyn's adaptation with her raspberry buttermilk cake.
The variation I chose follows Alexandra's much more closely, but I loved finding Mary Ostyn's version. I'm a baking novice, albeit a daring novice, so sometimes it's nice to see my baking hunches aren't too far off from what the more experienced bakers choose to do when they improvise.
This raspberry-lime cake was just as good as its blueberry inspiration; there was a nice balance between the lime and the raspberry flavors without being too tart or too sweet. The other little variation I opted for was to sprinkle large sugar crystals on top instead of using granulated sugar. My girls get a kick out of the bigger crystals too … they claim they look like little jewels, so who am I to argue? So let me know how you like this tasty Raspberry-Lime Buttermilk Breakfast Cake, we sure did!
Other great fruity delights: