Slow Cooker Caramel is one of the easiest and delicious things to make in your crockpot. Simple yet decadent, you'll love this one!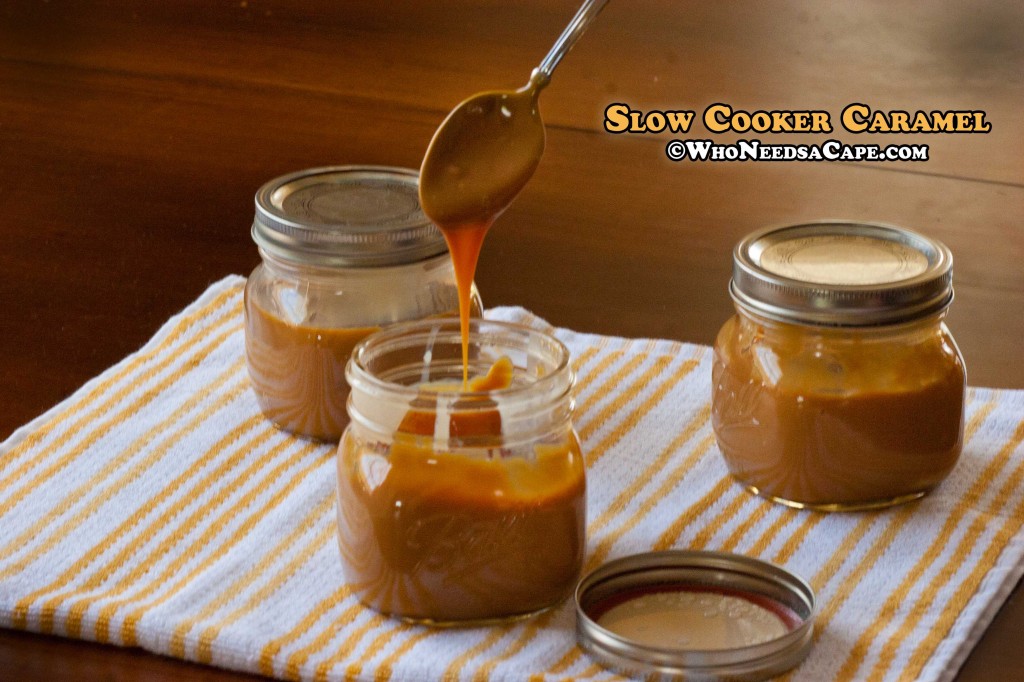 I saw a thread discussing making caramel in your slow cooker on a baking group I am a member of and thought I had to try this.  It was so easy and I can't wait to use it in different recipes.  I bought three cans of sweetened condensed milk and poured each one into a  small canning jar (small enough that they would fit in my slow cooker).   They happened to have jars on sale with an in-store coupon, so I bought a pack of four.  You can use the cans just make sure to take the label off and put a towel underneath them to avoid rust stains in your slow cooker.   Making sure each jar was tightly closed, I placed them in the slow cooker and covered them with water.  Cooked on low for 8 hours and this is what I came up with!  I think the jars are a good idea because then you can watch the color of the caramel and get it as dark or light as you prefer and since not all slow cookers are the same you can change time accordingly if needed.   These will need to be refrigerated and used within 2 weeks.
I have to tell you…you will feel like the fanciest person on the planet for being able to make your own caramel! I know that I did! And BRAG ABOUT IT – you don't have to tell anyone that it was pretty easy! Nope – just brag away about making caramel from scratch – watch their eyes widen and pat yourself on the back!
Caramel is my favorite fall treat. I eat it all year but there is just something that feels SO right about eating it in the fall. I'm bringing out Slow Cooker Caramel for Thanksgiving AND Christmas though. It's too good not to!
I think we need to make a few recipes using our Slow Cooker Caramel don't you??? You're going to love these!: