One Pan Sausage Skillet Pasta is a great meal for busy nights! Full of great flavors, you'll love this easy dinner that's a family favorite!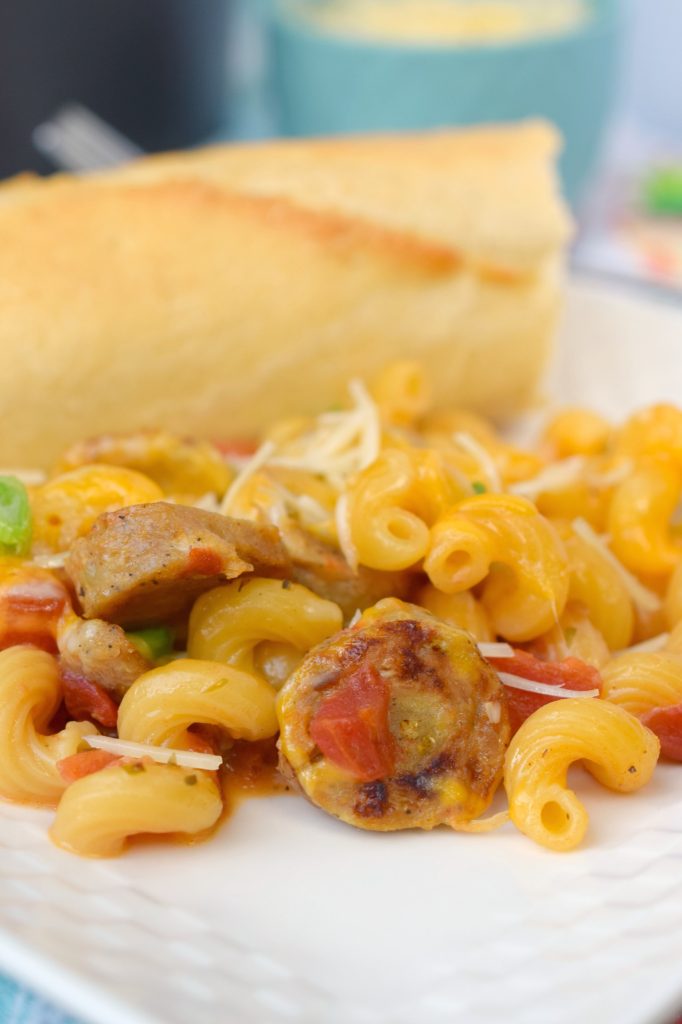 Okay, this dish will leave you wanting more, so good, so easy, and family-friendly. I have to give credit a mommy friend who raved about this recipe that is originally found on KevinandAmanda.  She shared the recipe and many of us tried it and equally enjoyed it.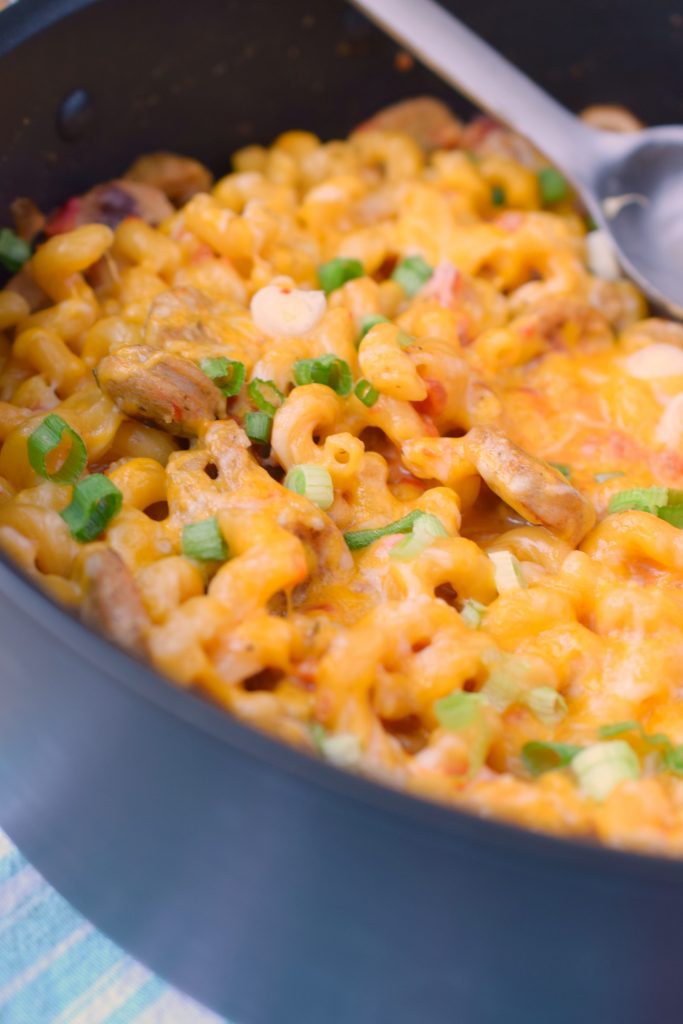 I knew as soon as I read it that it was going to be a tad spicy for my little girls. So like many dishes I prepare I decided to make it a bit less spicy and it is fabulous, my 1-yr-old is gobbling up the noodles at this very moment.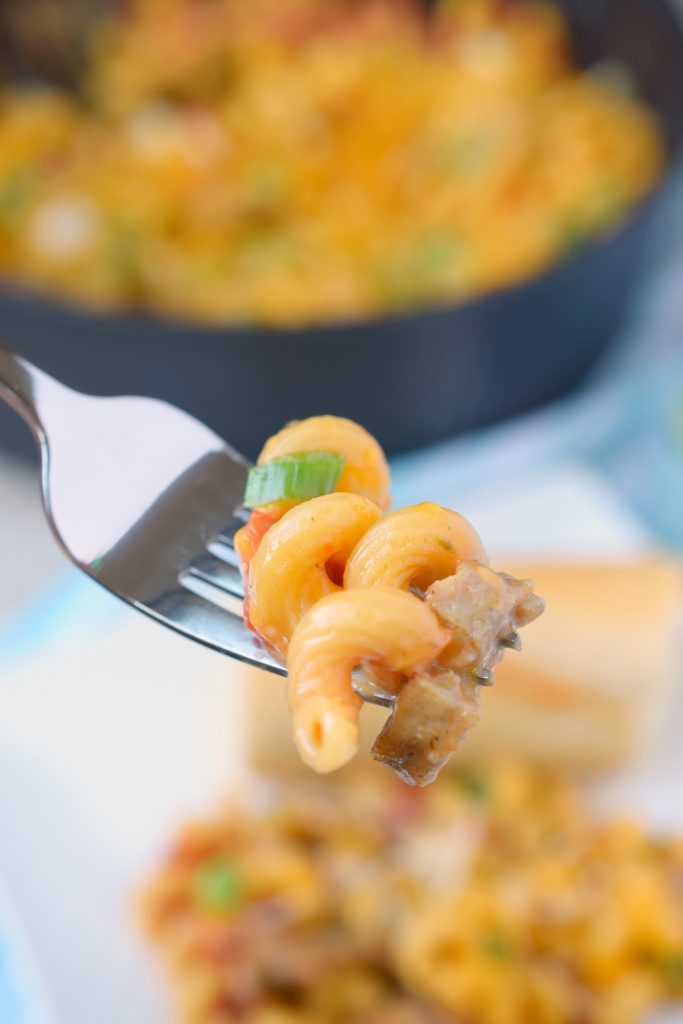 The other thing I LOVED about this recipe is that you don't boil the noodles separately. The noodles cook in the sauce which means one less pot to wash – SCORE!!! Just heat up some crusty bread and you are all set.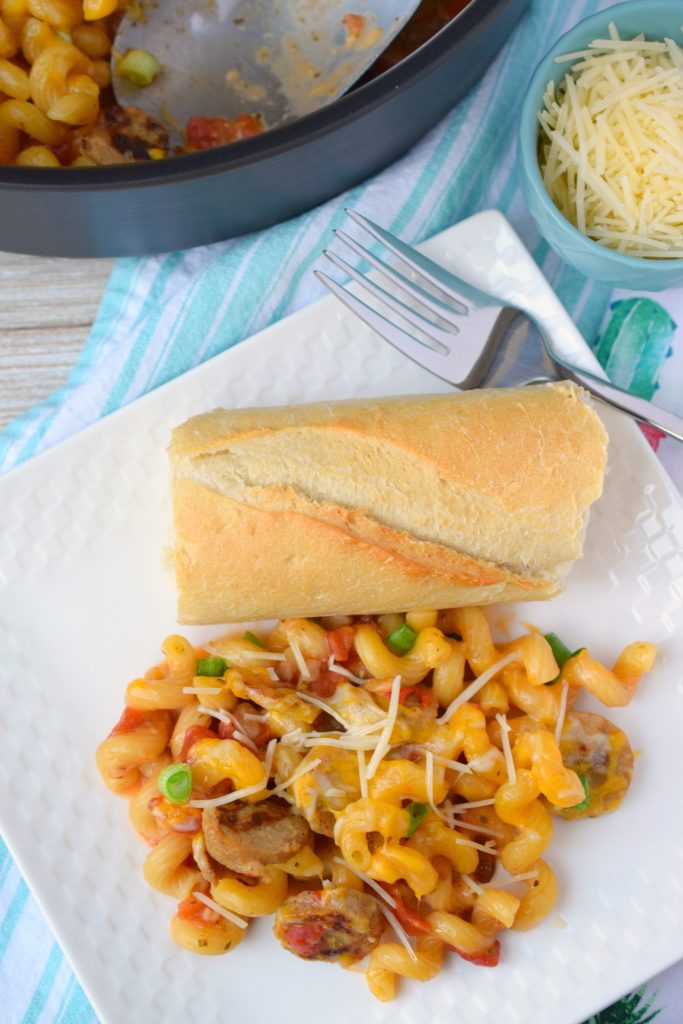 This is one of those easy recipes that's so versatile. Take, for example, I've used chicken sausage, polish sausage, turkey sausage and all of them were delicious. I've also used different shaped kinds of pasta, I prefer a curly pasta but don't let whats in your pantry limit you, be adventurous and try whatever you have. Same with the cheese, if you don't have Colby-Jack, that's fine too I've made this with cheddar and it's great too.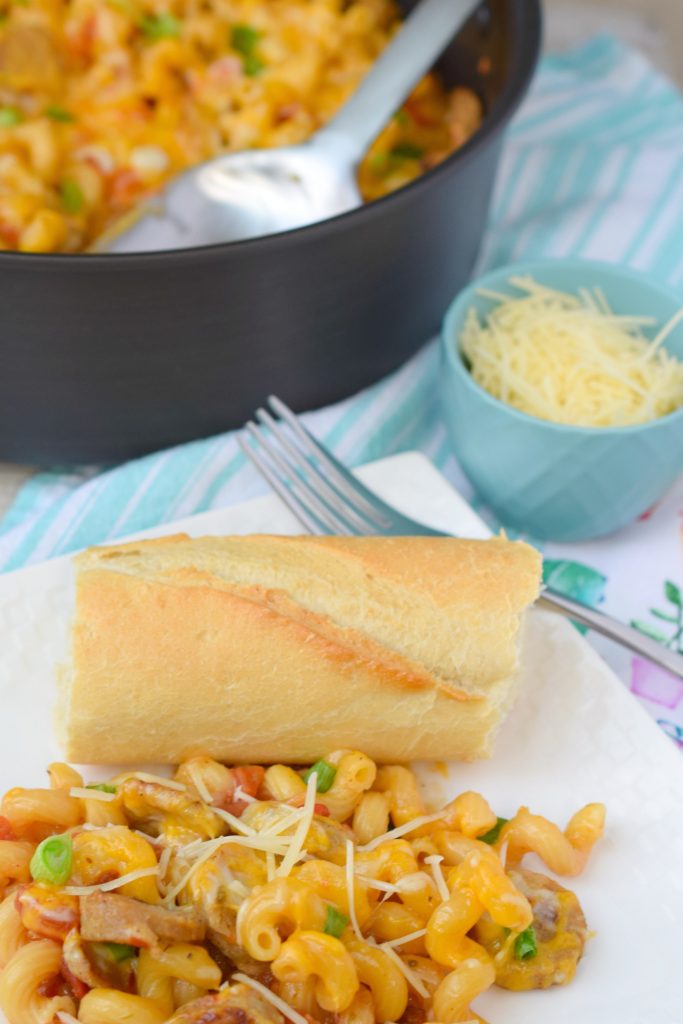 Other great meals one pan

meals

:
One Pan Sausage Skillet Pasta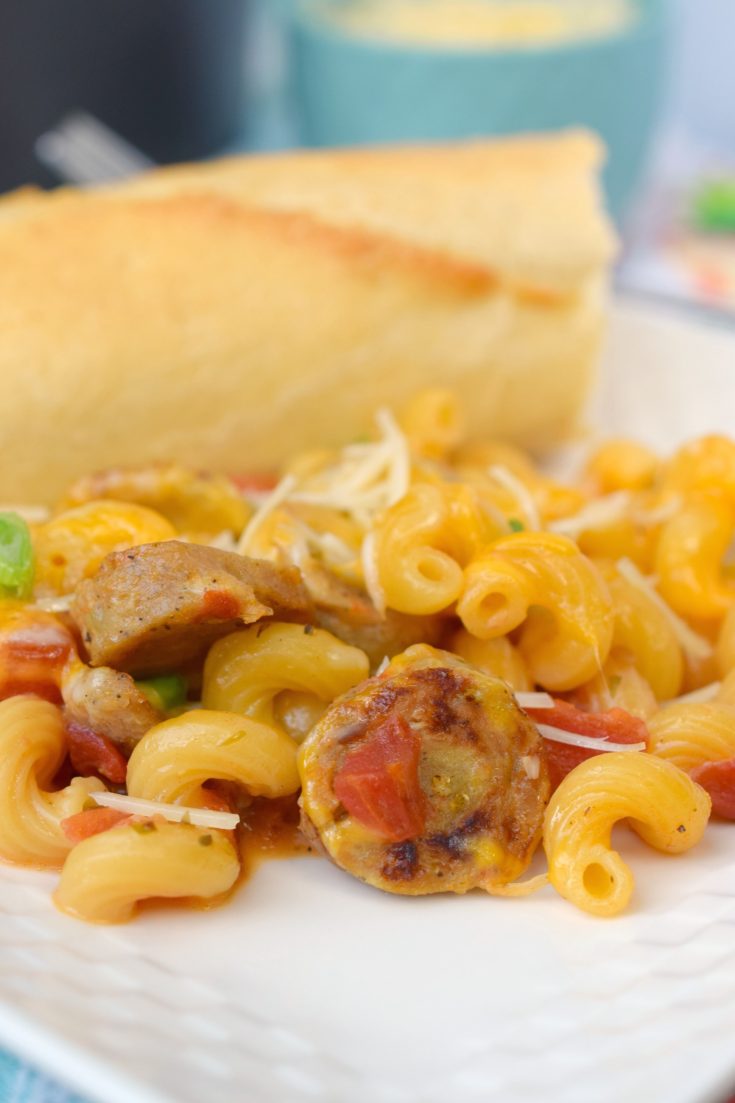 [Adapted from: KevinandAmanda | http://www.kevinandamanda.com/recipes/dinner/spicy-sausage-pasta.html]
Ingredients
2 T olive oil
1 lb smoked sausage, sliced (I used Eckrich Turkey Sausage)
1 cup onion, diced
2 cloves garlic, minced
2 cups chicken broth
1 14.5 oz can of petite diced tomatoes (do not drain)
1/2 cup heavy cream
8 oz dry pasta (I used Campanelle because it looks fun)
1/2 t oregano
1/2 t salt
1/2 t pepper
1 cup shredded Colby-Jack cheese, divided
1/3 cup green onion, sliced
Instructions
In large skillet with lid (oven safe if possible) heat olive oil on medium-high heat, add onion cooking until lightly browned. Add sausage and cook approximately 5 minutes. Add garlic and cook additional 1-2 minutes, stirring.
Add broth, tomatoes, cream, pasta and spices and stir. Bring to a boil, cover skillet and reduce heat to simmer for approximately 15 minutes.
Remove skillet from heat and stir in 1/2 cup of shredded cheese. Top with remaining cheese & green onion, broil slightly until cheese is melted.
*If you do not have an oven-safe skillet, transfer to a casserole dish sprayed with non-stick spray and then broil.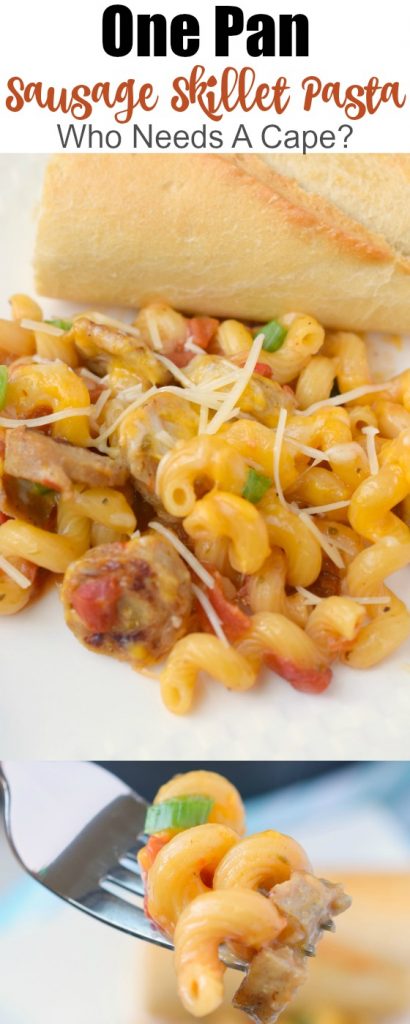 Follow us on Pinterest for more great recipes!