Slow Cooker Boozy Cherry Cider is the perfect addition to autumn parties. Easy to make in a crockpot, this is wonderful for the holiday season.
Slow Cooker Boozy Cherry Cider
Autumn drinks are some of my favorites! I love the flavors of fall, everything from apple to cranberry to everything in between. What I love is how you can enjoy them warm and cold, boozy or not.
Today I'm sharing a new fall favorite at my house, and I'm sure you'll understand why once you've made it yourself. Slow Cooker Boozy Cherry Cider is so simple to make and is perfect for parties or holiday gatherings.
This tasty beverage begins with apple cider. Grab a jug from your local apple orchard or cider mill and find your slow cooker. A warm beverage like this is perfect for after trick or treating with the munchkins or even at your neighborhood chili cookoff.
Everyone is going to want to know what makes this delicious beverage so good and yes it has rum in it and some cinnamon sticks but the secret is…wait for it…cherry Jell-O. Yup, you may even already have a package in your pantry!
I saved this recipe a million years ago from a magazine and it always intrigued me. This year I finally got around to making it and it's a winner!!! Someone, somewhere I'm sure once raided their pantry and had a package of cherry Jell-O and thought "oh what the heck, I'll just throw it in the crockpot with some apple cider…". Who knew it would be delish!
Now my addition was rum… let's just be honest rum makes the world a little more amazing, right? Of course, you can skip the rum or add in another spirit of choice, it'll be delicious.
Some tips for making Slow Cooker Boozy Cherry Cider:
You can double the amount easily by multiplying the ingredients.
I used a smaller slow cooker if doubling use a large slow cooker.
I added Captain Morgan's Spiced Rum.
If slow cooker has a warm feature, use that for longer time periods.
Other great autumn drinks:
Even more autumn goodness to try:
Cranberry Whiskey Apple Cider Cocktail | Snacks and Sips
White Chocolate Pumpkintini | Who Needs A Cape?
Pumpkin Spice Cold Brew Coffee | Mildly Meandering
Yield: 8-10 servings
Slow Cooker Boozy Cherry Cider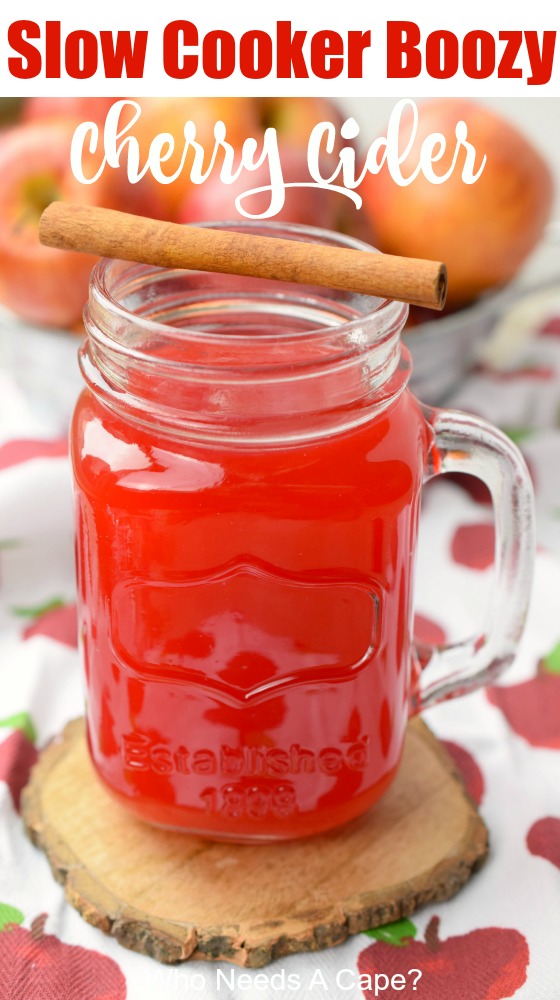 Ingredients
1/2 gallon apple cider
2 cinnamon sticks
3 oz package cherry Jell-O
12 oz spiced rum
Instructions
In 3 quart slow cooker add apple cider.
Place on low heat setting for minimum of 2 hours.
Remove cinnamon sticks. Add in cherry Jell-O, stir well. Pour in rum and replace lid and let heat one addiitonal hour.
If your slow cooker has a "warm" setting you can switch to that after 3 hours or keep on "low".
Stir prior to ladling into mugs.
Notes
Omit rum for a non-alcoholic beverage.