Slow Cooker Au Gratin Potatoes are the side dish you need for all your holidays! They cook while you're wrapping presents! Or finishing the turkey (or Ham). DELISH Flavor!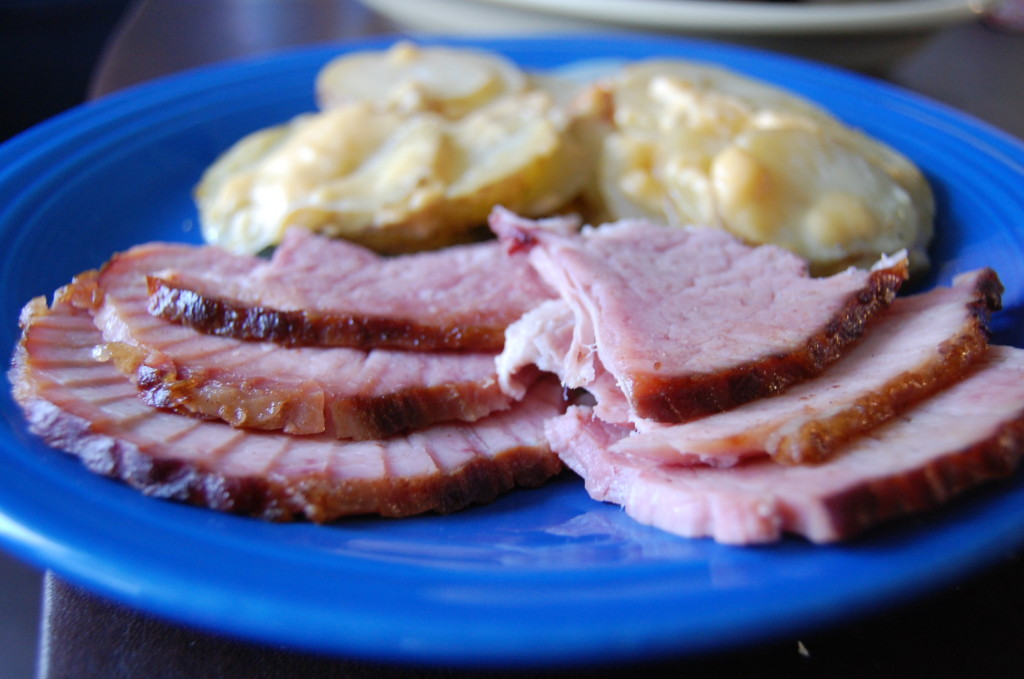 This shop has been compensated by Collective Bias, Inc. and its advertiser. All opinions are mine alone. #ForTheLoveOfHam #CollectiveBias
The holidays don't have to be stressful when it comes to food. No, I swear! A super yummy Holiday meal can take roughly 2 hours. NO, I SWEAR! Ok I mean if you go crazy with sides, and make all the desserts by yourself? Yes, you are looking at more time. If you decide to have a potluck style party with your friends? You can provide the main course (Hello Beautiful Hormel Cure 81 bone-in ham Cherrywood flavor) and a terrific side (read more below about delish Slow Cooker Au Gratin Potatoes below) and be done in 2 hours. Plus they are both easy to take on the road with you.
My friends and I like to get together for a combo Thanksgiving/Christmas get together. None of us have time the week of either holiday so we started having a Thanksmas together. It's not about the presents, it's more about the company and getting together (ok and the food – won't lie there!). It's the perfect get together because no one is responsible for the WHOLE MEAL. Someone makes a great playlist. Someone does some desserts. What we do is hang out, laugh, enjoy each other – no pressures just friendships.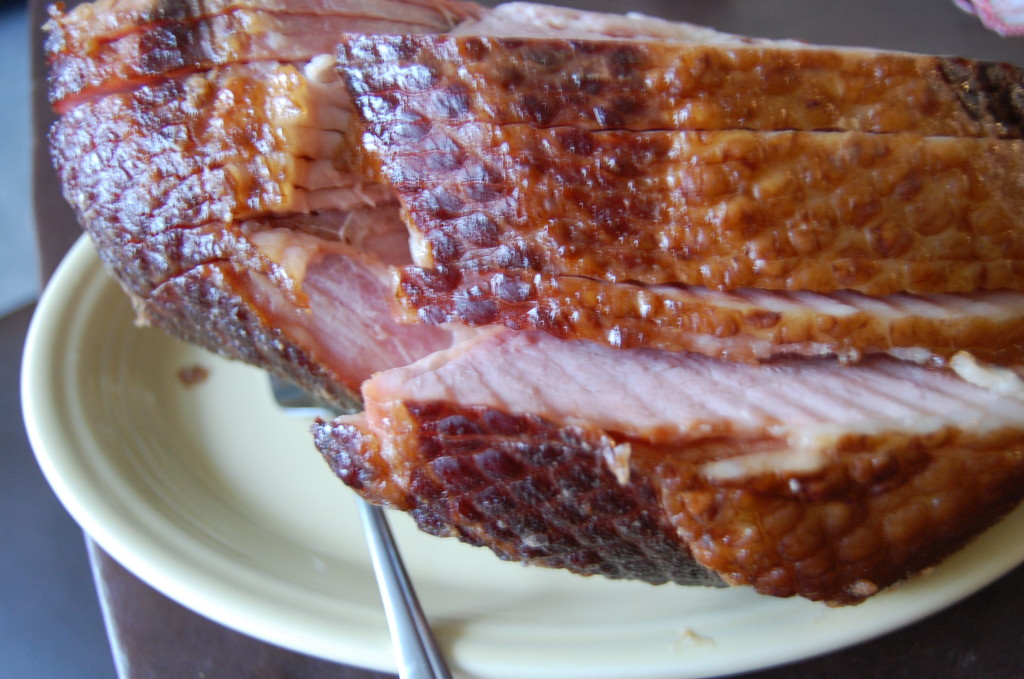 Thanksmas is a great tradition to start with your friends. You need to start with a Hormel Cure 81 bone-in ham Cherrywood flavor.  It's SO delish – and it was simply a snap to make (honestly my ham was almost 9 pounds and so it took about 1 hour 50 minutes to make (plus another 10 for glazing – which is included with the Ham!). Let's talk about the ham – it's delish. My friends were begging for more and we had TONS of other food there – Ham was a huge success (WOOHOO).
Before I get carried away with the food (I know it's what I do), please tell me what are your friend traditions? Do you do gifts? Ornaments exchange? Let me know in the comments!!! I know that Hormel Cure 81 bone-in ham Cherrywood flavor will make whatever you do tasty and delish!
I went to Walmart because I knew I could find everything I needed for my end of Thanksmas. I needed to just go to one store! I picked up my Hormel Cure 81 bone-in ham Cherrywood flavor and all my ingredients for my Slow Cooker Au Gratin Potatoes.
To get my cooking day started, I started with the Slow Cooker Au Gratin Potatoes. They take 2 hours to cook, so if I timed it right – both the Ham and the potatoes would be done at the same exact time. (If you want a printable version of this recipe it's at the bottom!)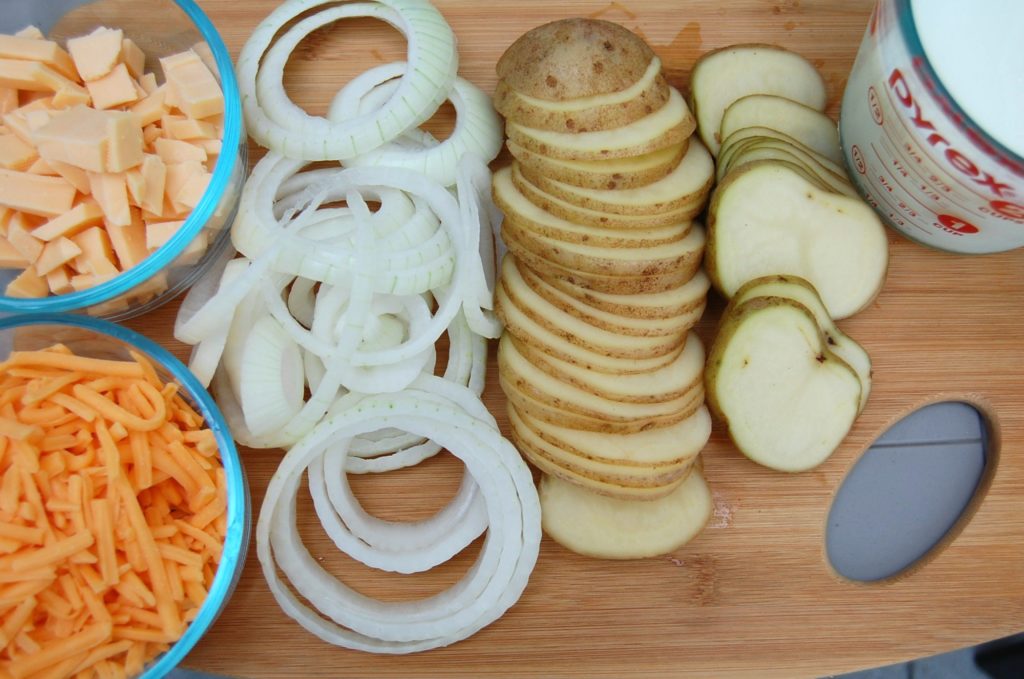 To get started you need
about 6 potatoes sliced thin
1 onion sliced in rings
1 C cheddar cheese shredded
3/4 C gouda cheese chopped small
2 C milk
3 Tbsp butter
3 Tbsp flour
Start by spraying your slow cooker with non-stick cooking spray.  Then create layers of potatoes, onions, potatoes – until you run out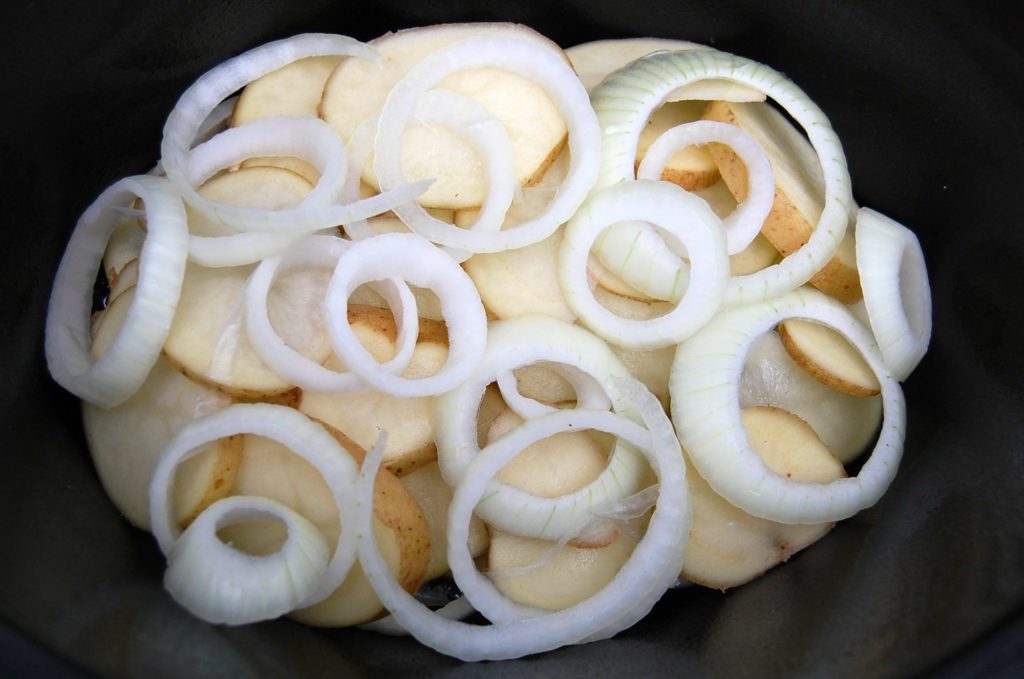 Then take your butter and flour and place in a saute pan. Heat over medium heat and mix together constantly with wisk. Heat for about 1 minute. Slowly begin to add milk in. Continue stirring until milk begins to thicken (a few minutes at least). Once milk has thickened add in all cheese and heat for another 1-2 minutes until cheese is melted.
Once your cheese is melted in, take off heat and pour over potatoes and onions. Use a spatula or wooden spoon to make sure it gets in the layers a bit. Cook on high for 2 hours or low for 4 hours. If you cook on high then it will take the same amount of time as your ham! See how that works there?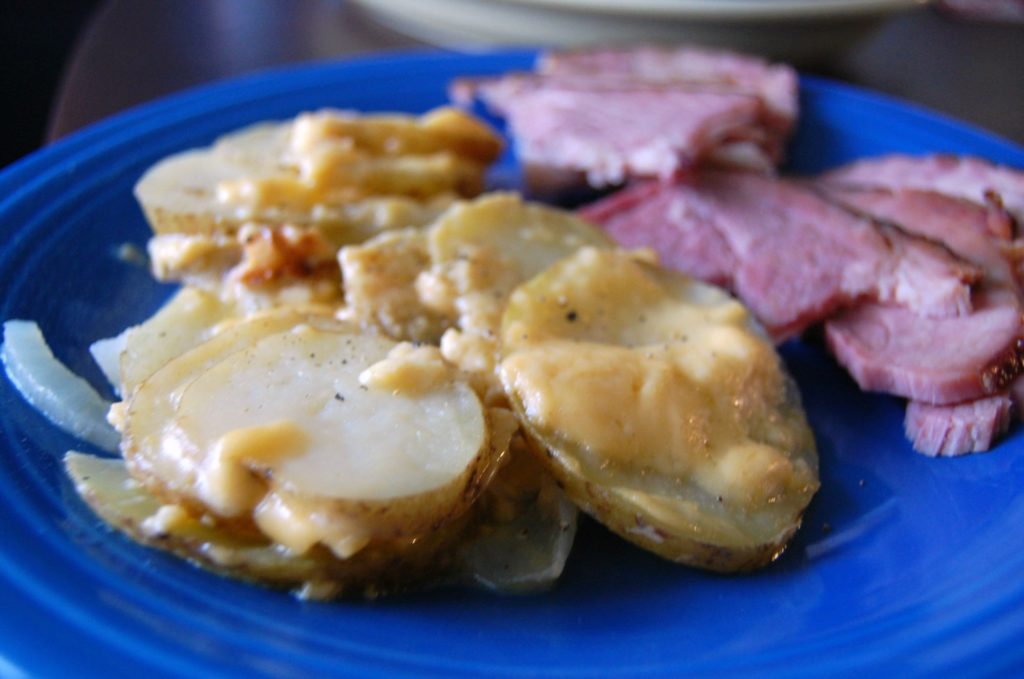 Other great holiday dishes: