Whipped Roasted Garlic Butter leads to the most delicious garlic bread ever! So simple to prepare and much better than store bought garlic spreads!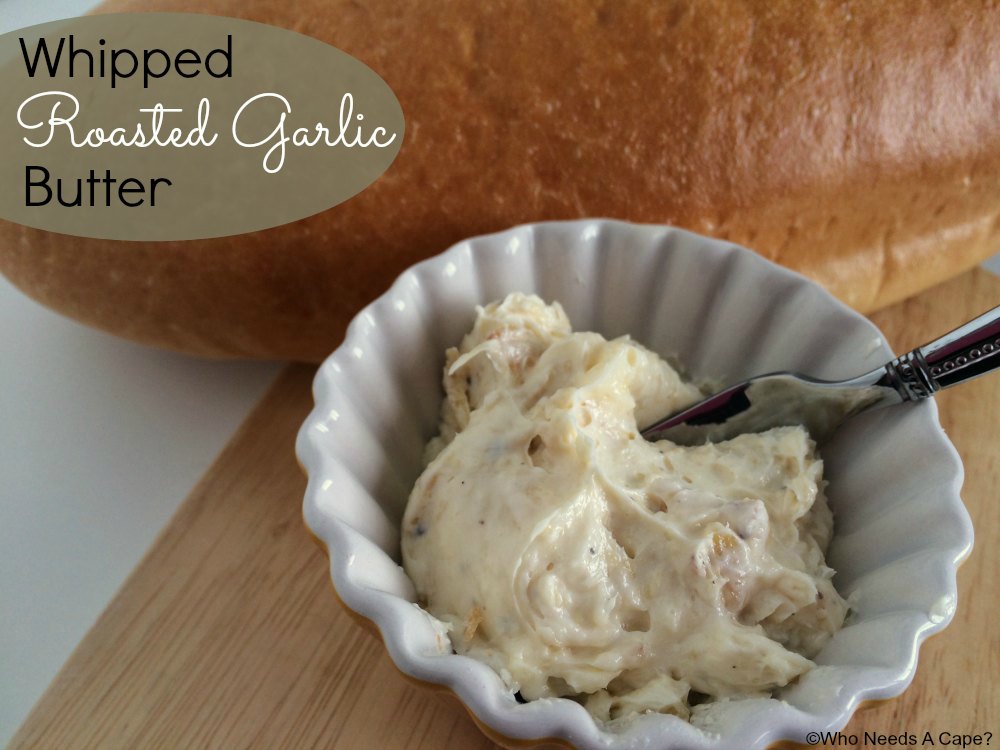 Garlic is one of those items that 99% of the time is in ample supply within my kitchen.  I use it almost daily it seems in a variety of dishes from soups to casseroles to slow cooker favorites.  In the past I've shared with you my Roasted Garlic Spread , which then led to my Roasted Garlic & Bacon Macaroni and Cheese and just how simple it is to actually roast garlic, so simple and I know you've tried it right?  Today I'm sharing one of my other favorite things to do with that lusciously spreadable roasted garlic, make it into some awesome Whipped Roasted Garlic Butter!  Once you've made this you can easily make yummy homemade garlic bread that isn't full of funky ingredients and tastes just fabulous!
I've shared the simplest of recipes below, now you can jazz it up any which way you'd like, adding in other flavors or cheeses. And of course this would taste even more amazing on homemade bread, but most days I buy a loaf from my local store.  This is my go-to garlic bread that my kids will eat, if I get to fancy with it then they won't touch it.  You'll just love the way this smells too, it has that subtle roasted garlic aroma, which to me is so good with something like Spinach Manicotti or Fettuccini with Sun-dried Tomato Cream Sauce, mmmm comfort food in my book!