Cheesy Chicken, Artichoke & Rice Casserole is a dish that combines some favorite flavors in one comforting recipe. An easy to prepare dinner you'll love.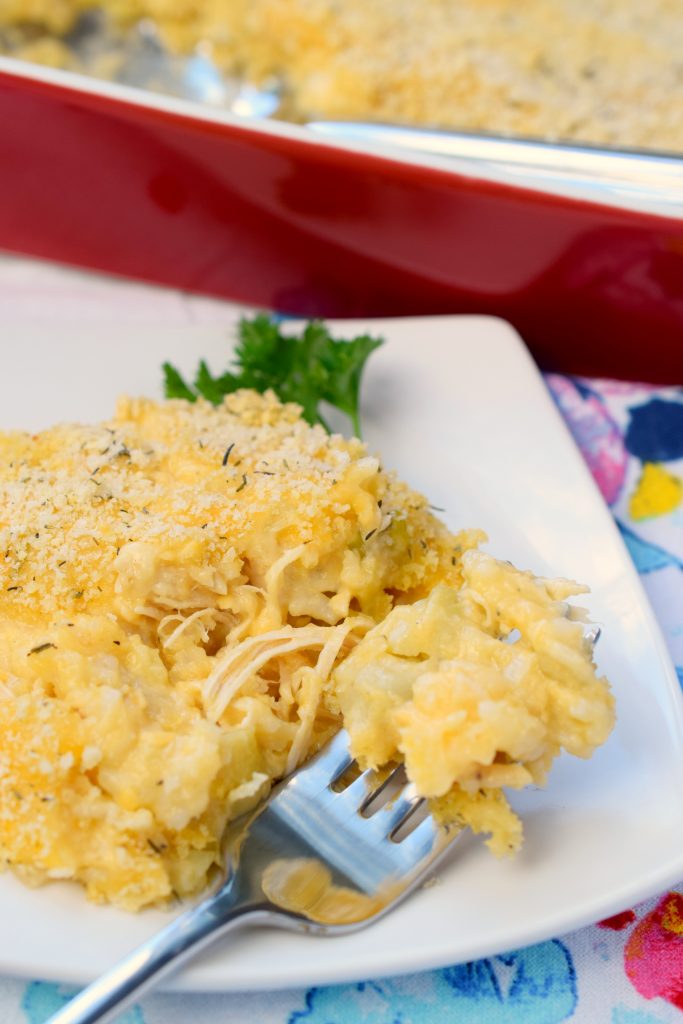 Cheesy Chicken, Artichoke & Rice Casserole
Fall is here my friends and I'm nearly jumping up and down in pure joy! The crisp weather is perfect for this gal! I love all the flavors of fall and have been posting like a mad woman lately if you haven't noticed. With the kids back in school I've been busy in the kitchen and I hope you've been enjoying so many new seasonal recipes.
In my opinion, I feel that with the arrival of fall it instantly becomes soup and casserole season and that's definitely reason to celebrate. Comforting dishes are always welcome around my house.
With the arrival of autumn, this also signifies that it is time for our next round of FREAKY FRIDAY! Whoo hoo! If you've been following along for some time you may be familiar with Freaky Friday. If not, allow me to give you the details about this tasty even. We get together with some of our blogging friends, a date is chosen and each blogger is assigned another blogger from the group. You pick a recipe from their website to remake for your blog and then there's a big reveal on…Freaky Friday.
The fun part is you keep everything secret, Shhhh! No one knows who is assigned whom, except for our fearless leader Michaela who runs An Affair From the Heart as she doles out our assignments.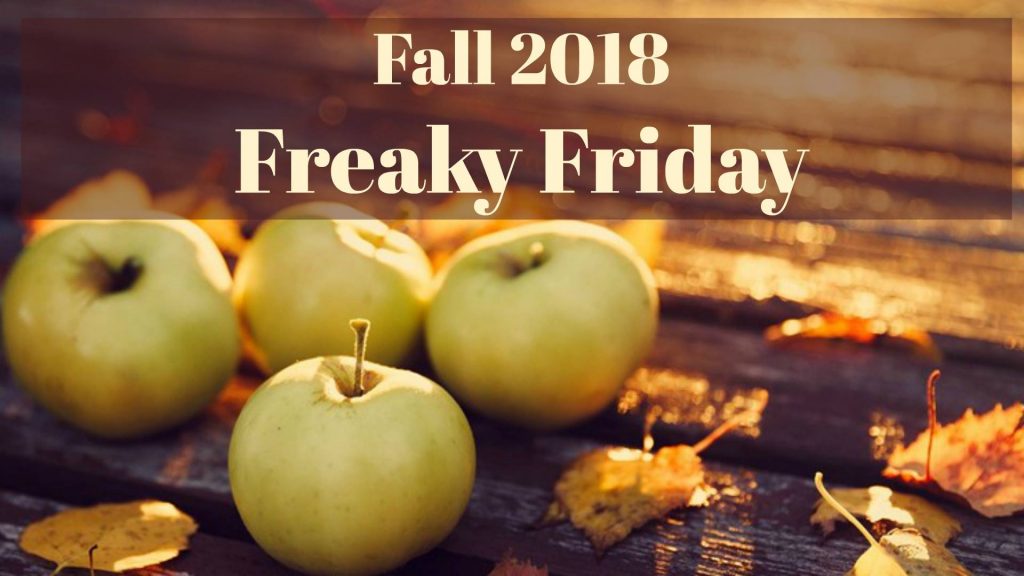 For this round I was assigned:
West Via Midwest
Let me tell you a little bit about West Via Midwest which is a great resource for deliciousness. Michelle is professionally trained in both food and wine, she knows her stuff. Her recipes give you clear direction allowing you to prepare them in the most efficient and timely manner.
Do browse her site, I know you'll find some recipes you'll want to try. Some recipes that caught my attention: Chinese Pork Meatballs, Cheesy Meatball Skillet Dip and of course a classic cocktail like a Mai Tai!
I think you'll agree that all of the recipes I listed above sound simply amazing. Ultimately though I went for a casserole. No surprise there, right? Casseroles and Who Needs A Cape? are no strangers and I just knew my family would gobble this one up. Cheesy Chicken, Artichoke & Rice Casserole did not disappoint and I highly encourage my casserole loving followers to give it a try.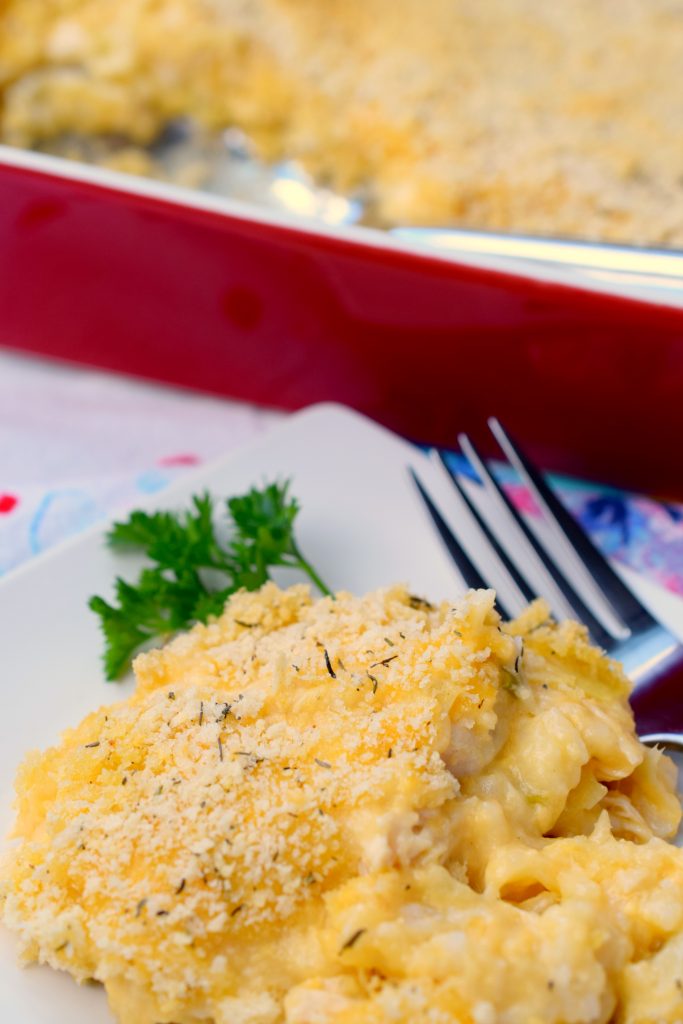 Just reading Michelle's recipe had me drooling. I mean what's not to love here..cheesy, chicken, artichokes, and rice. Need I say more? Very small modifications were made to this recipe, it was overall something I knew my family would eat pretty much as is.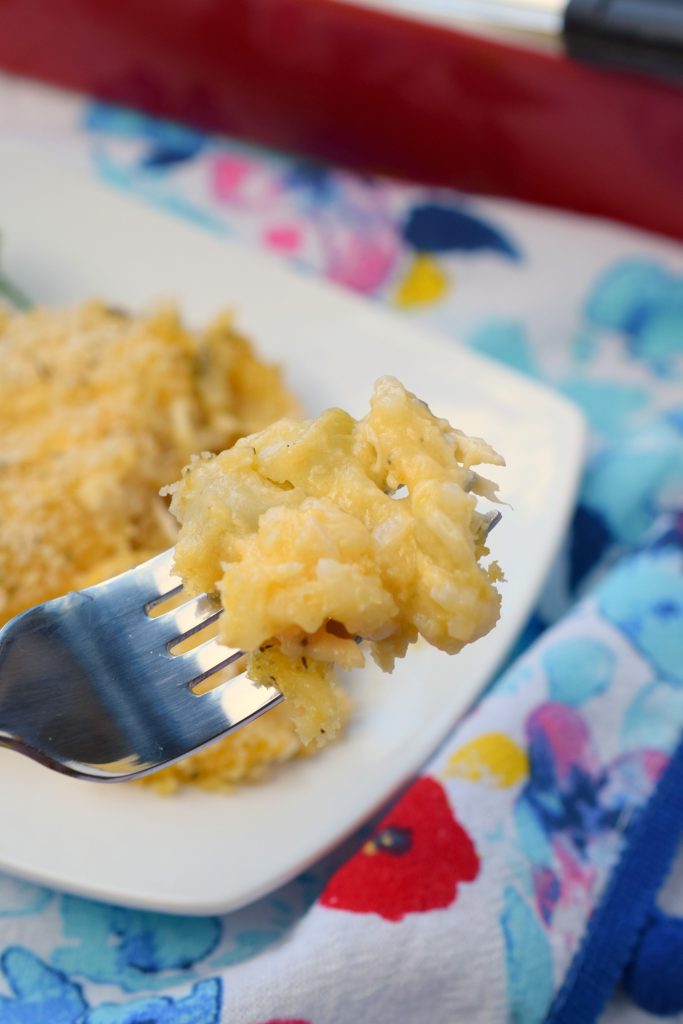 This is a rich casserole because of the cheesy goodness. Serve this along with a nice salad and a glass of white wine (I'm betting Michelle would have a great recommendation) for the adults. Simply put, this is a delicious dish and if you love casserole creations, give it a try you will not be disappointed.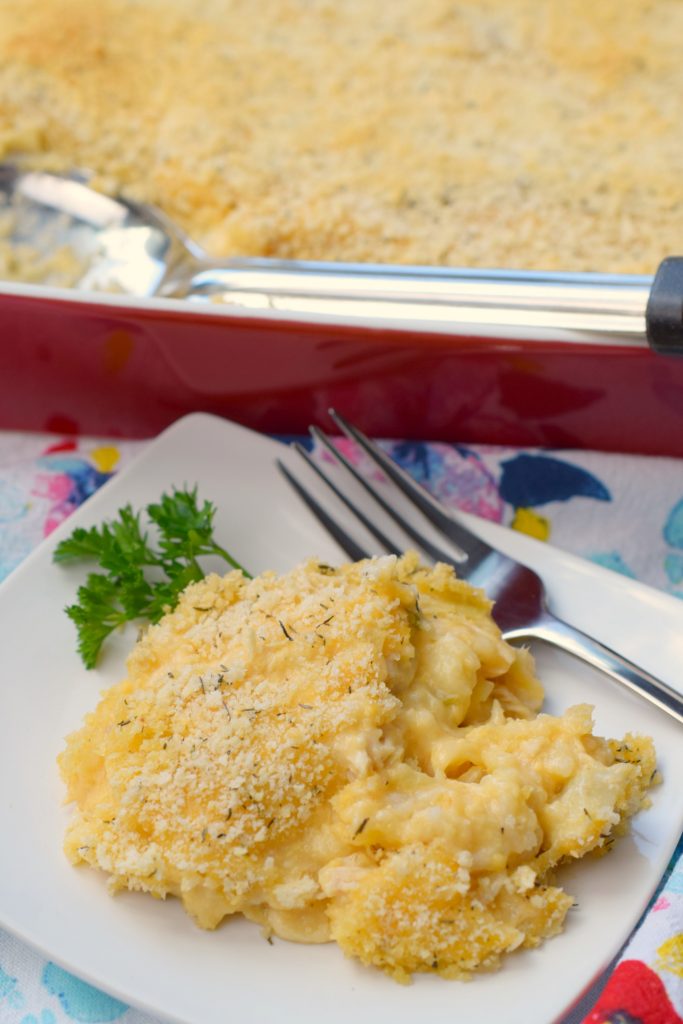 Some tips for making Cheesy Chicken & Artichoke & Rice Casserole:
I used jarred artichokes that were marinated, adding a bit of additional flavor.
A sharp white cheddar cheese would be amazing in this dish.
Pinched for time? Use rotisserie chicken, it will save you a few minutes.
I used White Balsamic Vinegar, you can also use Apple Cider Vinegar.

Other delicious dishes from Freaky Friday events: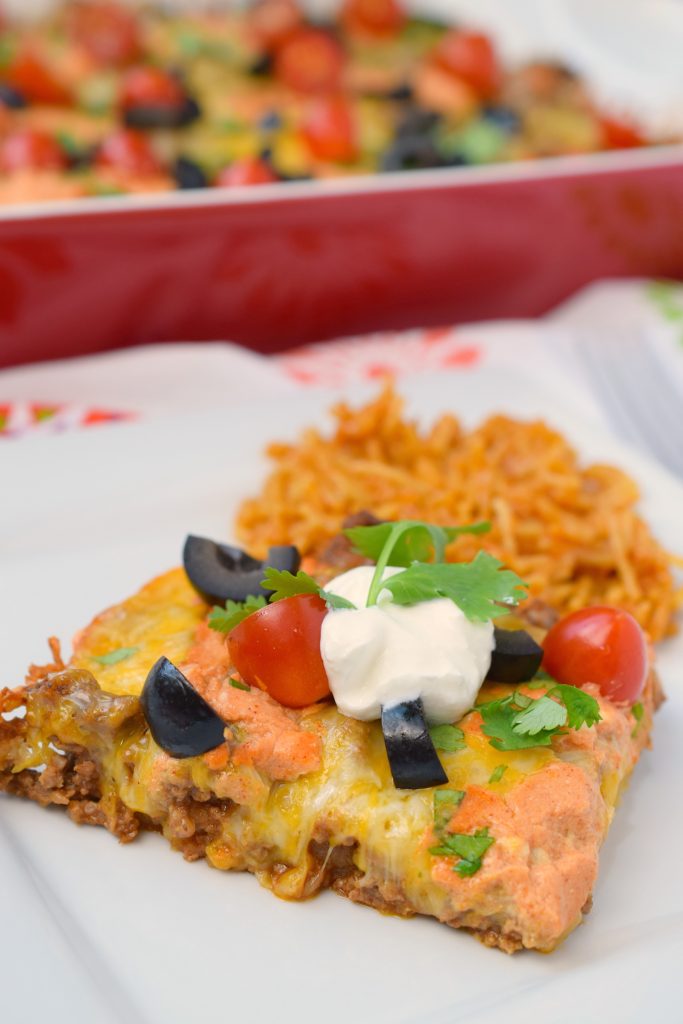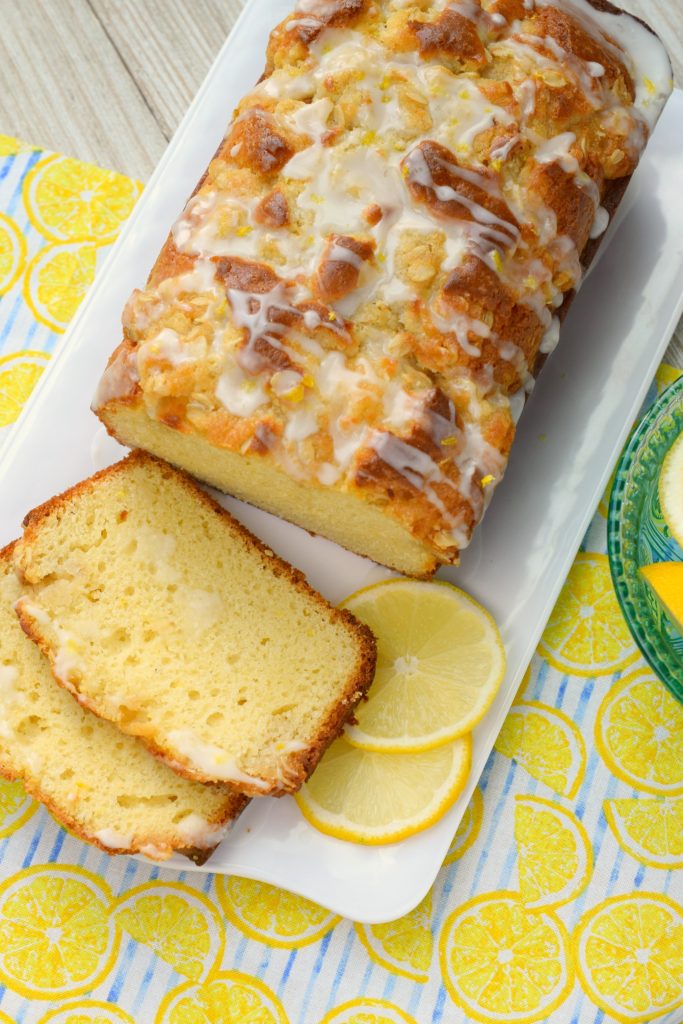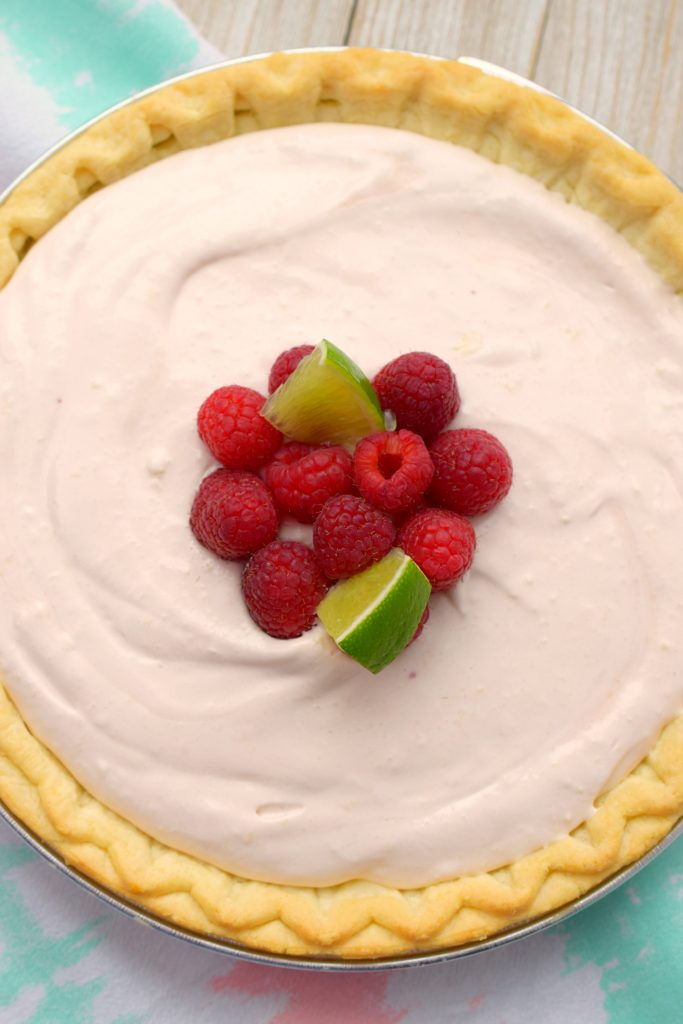 Yield: 6-8 servings
Cheesy Chicken, Artichoke & Rice Casserole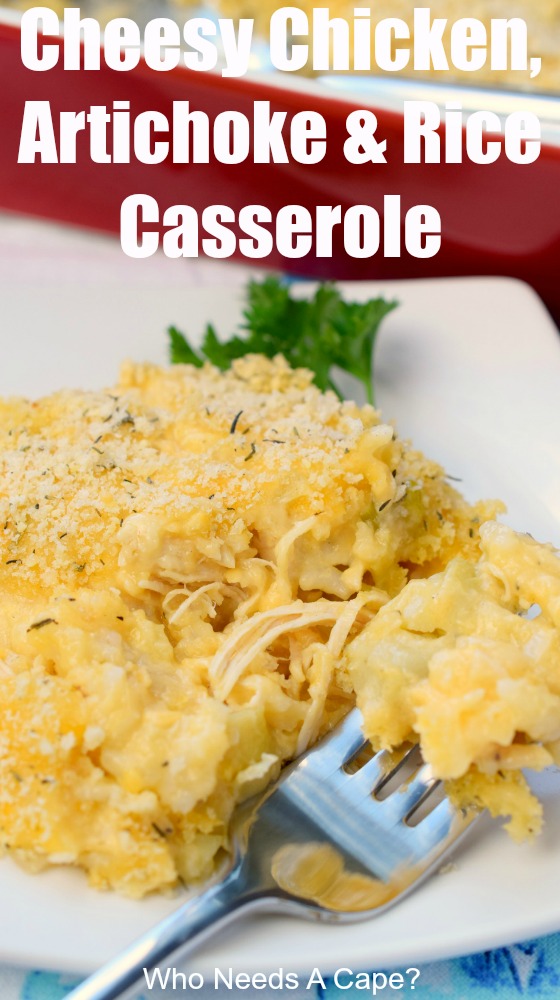 Ingredients
1.5 lb chicken breasts, cooked & shredded
12 oz jar marinated artichoke hearts
1 cup rice, cooked
1/3 cup butter
1/2 cup all purpose flour
1/4 cup white balsamic vinegar
3 cups sharp cheddar cheese, shredded
2 T green onions, sliced
1/4 cup Parmesan cheese, shredded
1 cup Panko bread crumbs
1 t thyme,dried
2 T Parmesan cheese, shredded
Salt and pepper to taste
Instructions
Preheat oven to 350° degrees. Spray a 13X9 casserole dish with non-stick cooking spray, set aside.
Chop artichokes and set aside. Whisk in flour, then gradually add chicken broth. Stirring constantly, heat until boiling and cook until thickened, approximately 1-2 minutes.
Remove sauce from heat. Add in: vinegar, cheddar cheese, green onions and 1/4 cup parmesan cheese. Blend until smooth. Stir in cooked rice, chicken and artichokes. Salt and pepper to taste.
Pour into prepared baking dish.
In small bowl combine: Panko, thyme and 2 tablespoons of Parmesan. Sprinkle mixture over top of dish.
Bake uncovered at 350° for 20-25 minutes until bubbly.
Notes
I cooked my chicken breasts in a pressure cooker and shredded for this recipe. Use whatever method you desire or shredded store-bought rotisserie chicken.
Scroll down for all the recipes from other participants in FREAKY FRIDAY!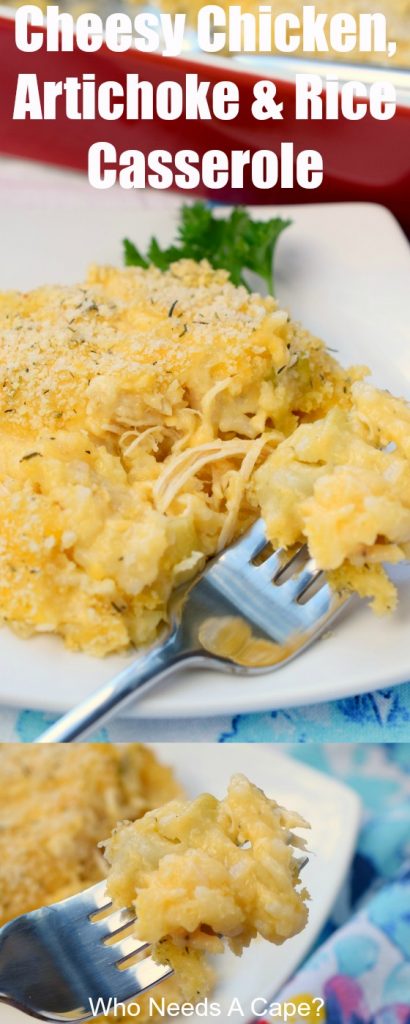 Take a Look at all of our Fall Freaky Friday Recipes: