This Streusel Topped Pumpkin Bread will soon be a new fall favorite! Easy to make and wonderful for breakfast, snack or dessert time!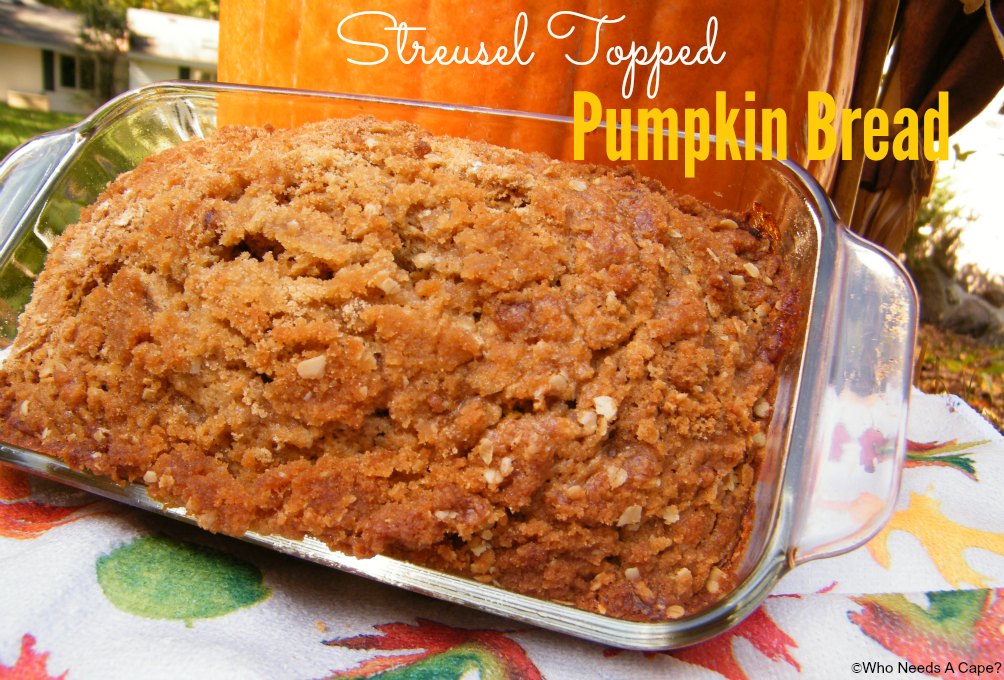 One of my very favorite things to do once summer ends is start BAKING!  Don't you love starting up the oven and baking up all of your seasonal favorites?  The hardest part is deciding which one to make, decisions…decisions!  I love pumpkin, and I'm not the only one at Who Needs A Cape? if you search our archived posts for PUMPKIN, you'll find everything from pies, soup, muffins, spreads and of course pumpkin bread.
You probably have a favorite recipe in your arsenal, but I'm going to invite you to try this recipe.  A couple of reasons that I particularly like this version of pumpkin bread are that I love a good streusel topping, it just adds another layer of flavors & a tiny bit of sweet.  The next reason is that this recipe only calls for 2 eggs.  Eggs are not my favorite food, like far, far from it and I have issues using 4 eggs in a loaf of pumpkin bread, so this one bakes up beautifully with only 2…score. 🙂
Serve alongside a steaming mug of hot apple cider and you'll have a delicious fall treat.
For more fall inspired recipes, follow our Favorite Fall Flavors and Fun board on Pinterest.
Follow Who Needs A Cape?'s board Favorite Fall Flavors & Fall Fun #fall #autumn on Pinterest.