This shop has been compensated by Collective Bias, Inc. and its advertiser. All opinions are mine alone. The following content is intended for readers who are 21 or older. #CelebratorySips #SipSparkleShine #CollectiveBias
Grilled Shrimp Alfredo Flatbread is the perfect light meal or appetizer. Easy to prepare, this seafood topped flatbread is party perfect and great for entertaining.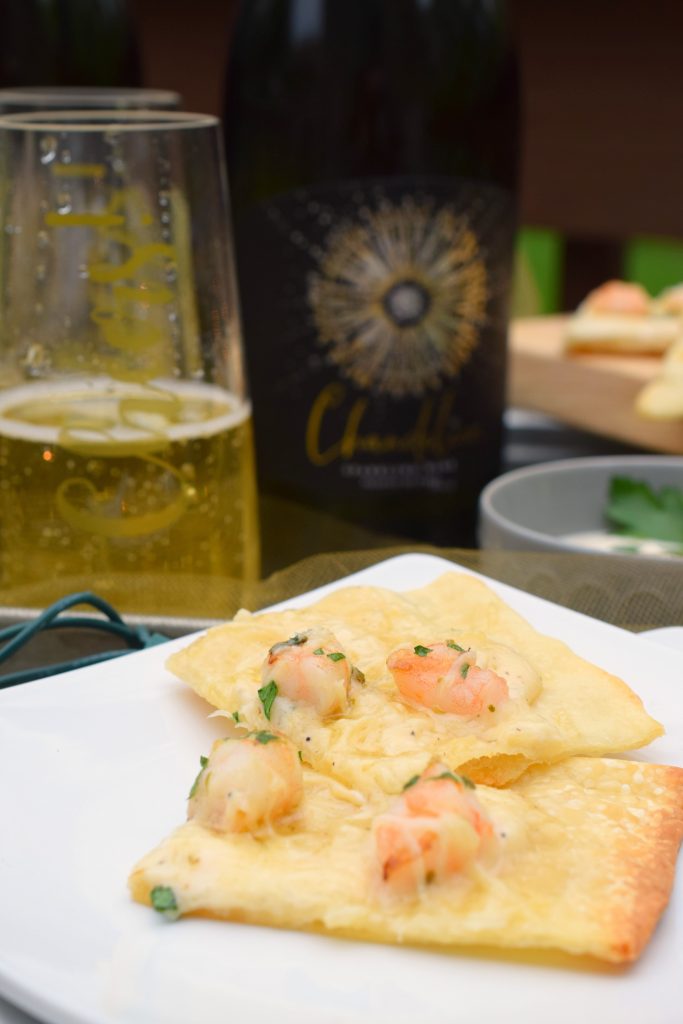 Wouldn't you agree that summer evenings are simply the BEST? Here in Michigan we truly have the most amazing summer evenings, and after the long winter seasons that we endure everyone I know is excited to spend time outdoors as much as possible. Fireflies and birds chirping, just a couple of the many reasons to enjoy summer evenings.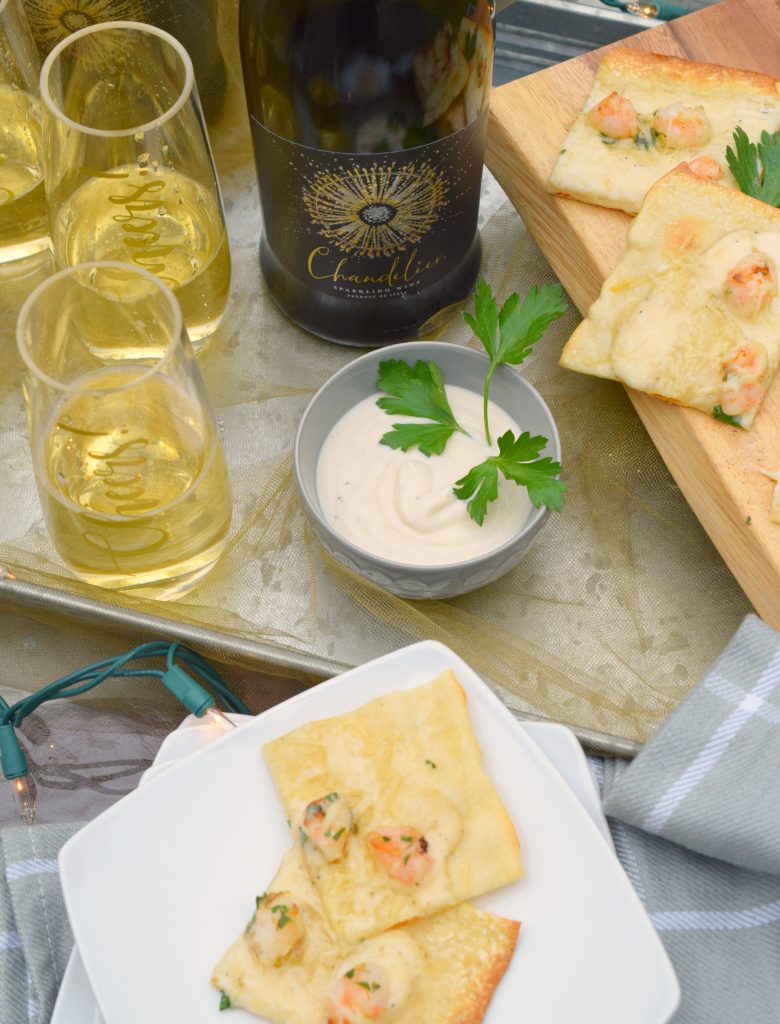 We find ourselves opting to stay in on weekend nights versus heading out with the crowds. Why not enjoy a warm summery evening in our own yard, sitting on the deck or enjoying a bonfire? Somehow this just sounds more appealing and cozy. Our schedules are more flexible during the warm weather months too, we can have a later meal and stay outdoors longer enjoying nature. These are the nights when I tend to prepare a lighter dinner accompanied by something to light up the occasion, or just a Friday night.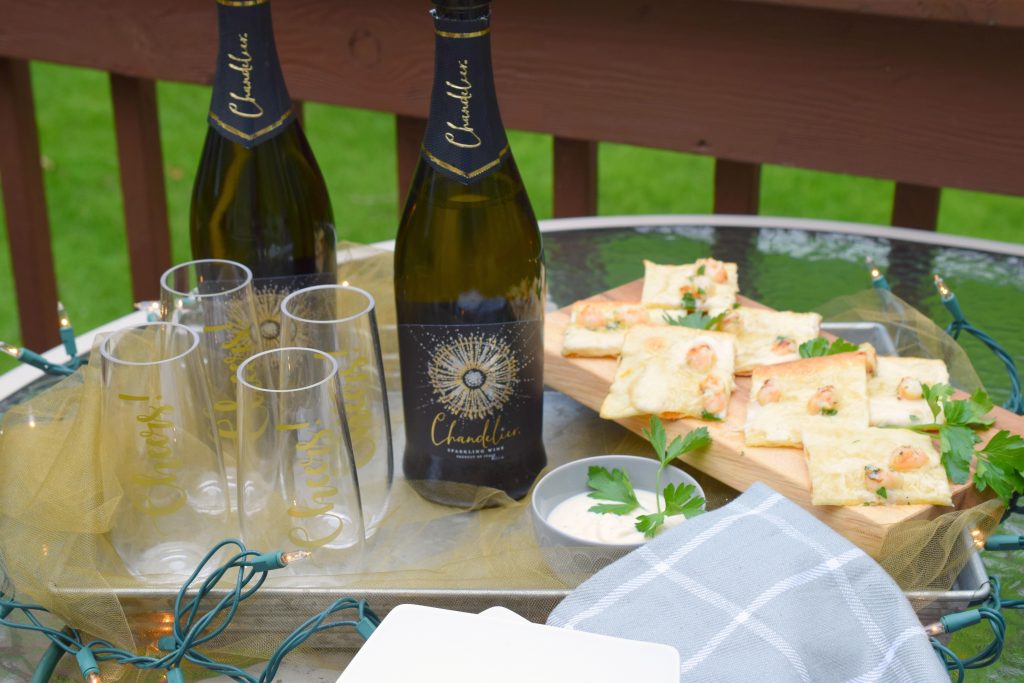 On this particular evening, we enjoyed a wonderful meal of Grilled Shrimp Alfredo Flatbread alongside Chandelier Sparkling Wine. It was an amazing pairing that I cannot wait to share with you!
Chandelier Italian Sparkling Wine is light and crisp with soft acidity. Delicate bubbles fill the mouth while refreshing notes of apple, bright citrus, and ripe pear dance upon the palate. Dazzling the senses with every sip, this wine is sure to be the center of attention. You can find Chandelier Sparkling Wine at your local grocery store, so pick up a bottle when you are planning this delicious dinner.
This food and beverage pairing was perfect for an evening dining alfresco. Grilled Shrimp Alfredo Flatbread is such a simple light dinner or appetizer, you'll find yourself making excuses to remake this wonderful dish as soon as possible. You could easily pair Chandelier Sparkling Wine with grilled lobster tails doused in garlic butter or Thai chicken curry with cashews. I assure you it will highlight these dishes wonderfully.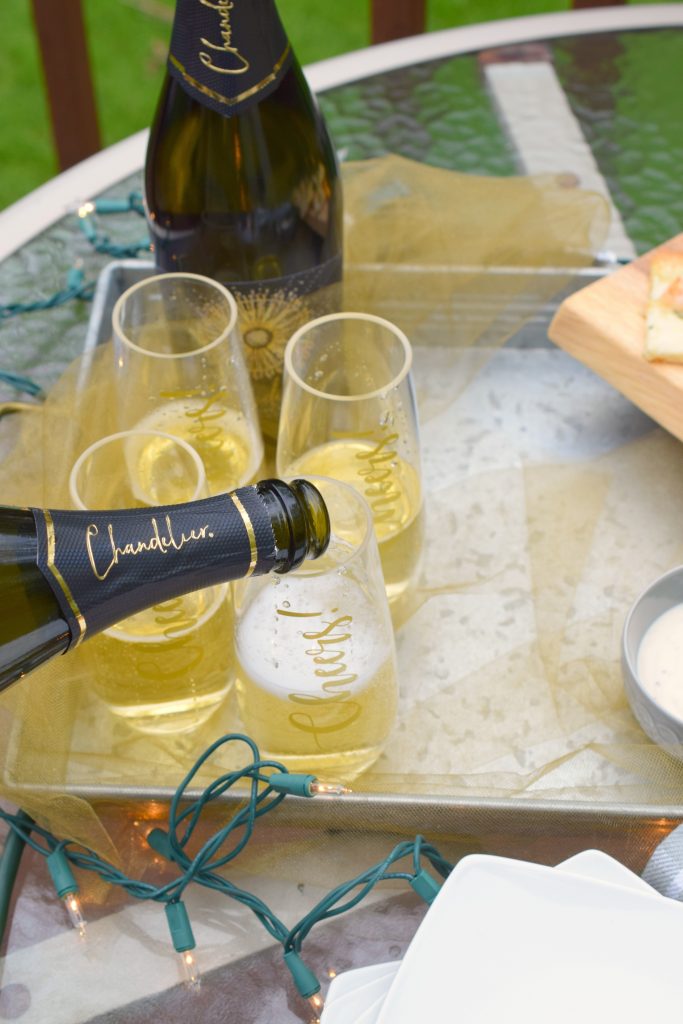 With delicate bubbles pouring out from each bottle of Chandelier Sparkling Wine, you'll notice the aromas of fig, sweet floral, and bright citrus linger on the nose and excite the senses. Chandelier comes to life on the palate boasting refreshing notes of apricot, honeysuckle, and ripe pear. Balanced acidity and soft effervescence give way to a light, lively finish. Doesn't it sound like a great way to enjoy a summer evening? Pop open a bottle, this is a wine worth toasting.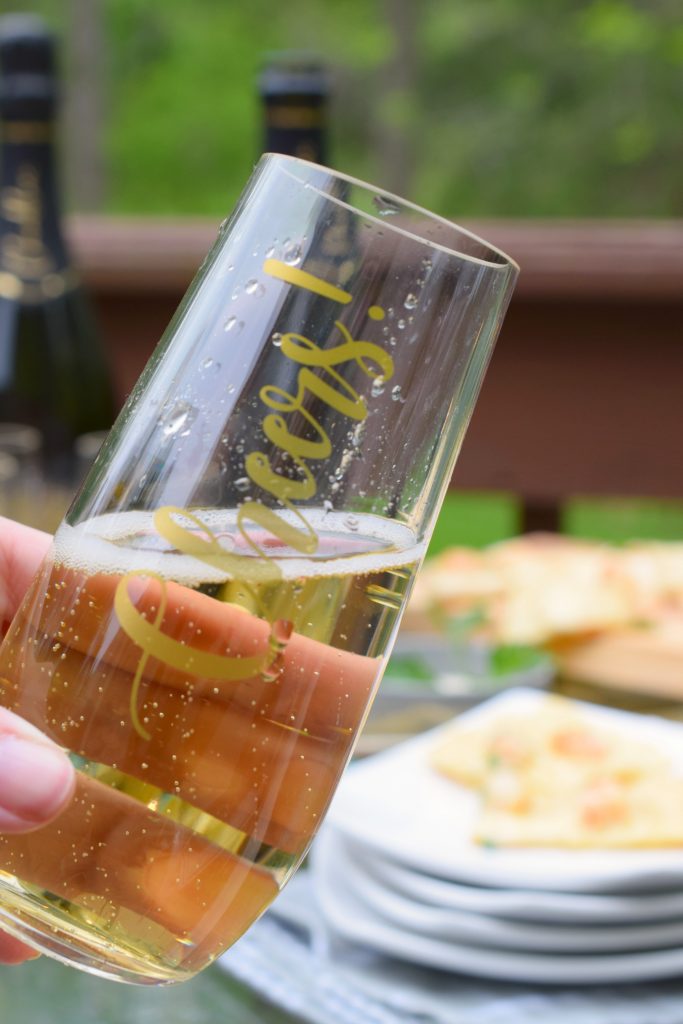 Let me share with you how to make the Grilled Shrimp Alfredo Flatbread. This is a simple recipe and I'm sure you will enjoy it as much as we do.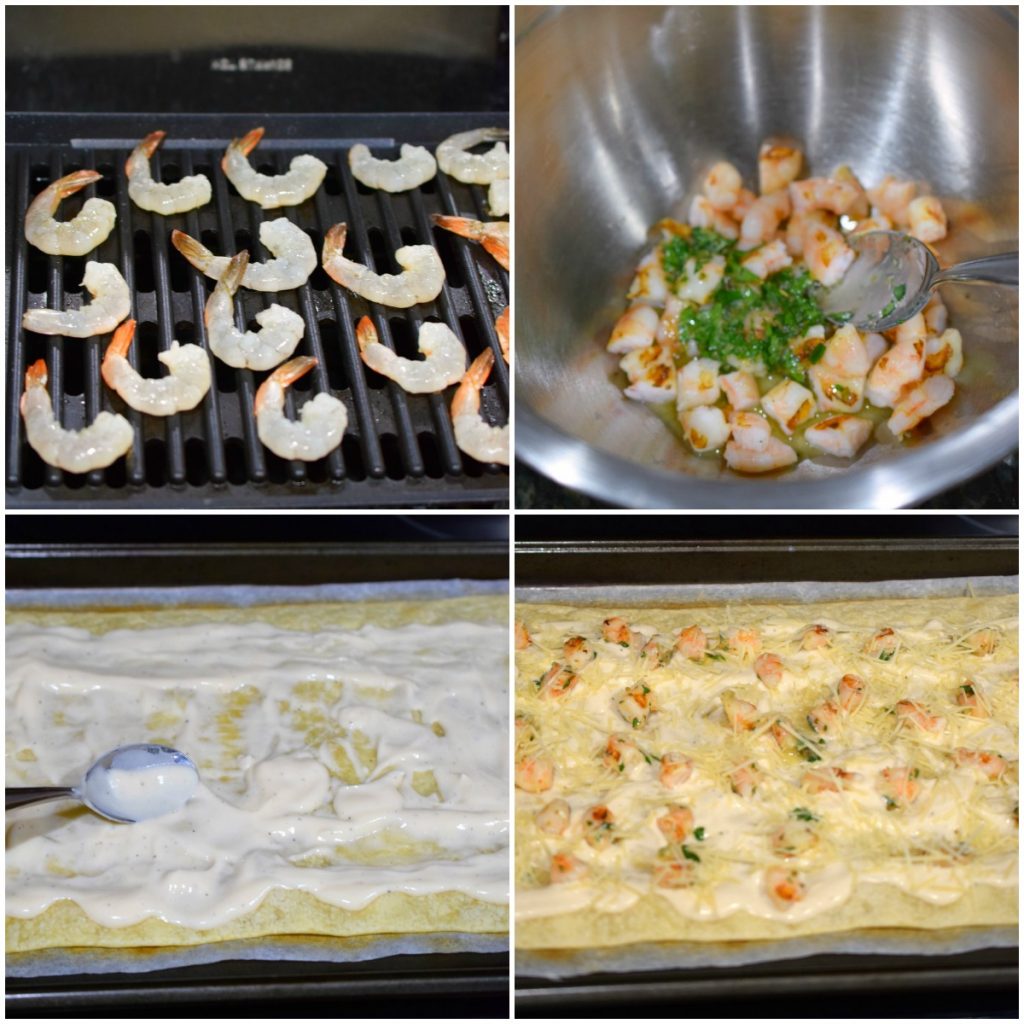 Grill shrimp, remove tails and cut into bite-sized pieces.
Mix together: shrimp, melted butter, chopped parsley, garlic powder and Italian Seasonings.
Parbake refrigerated flatbread.
Spread flatbread with Alfredo sauce, top with shrimp mixture and shredded parmesan cheese. Return to oven to heat through.
Make an excuse to get outside and enjoy the amazing summer nights and all of their glory. Also be sure to enjoy some delicious food and great beverages such as Chandelier Sparkling Wine which will bright every occasion with its dazzling sparkle.
Follow Chandelier Sparkling Wine: