Rigatoni & Italian Sausage Skillet Meal is a hearty one-pan dish that's easy enough for weeknights. Loaded with flavor you'll love this simple dish.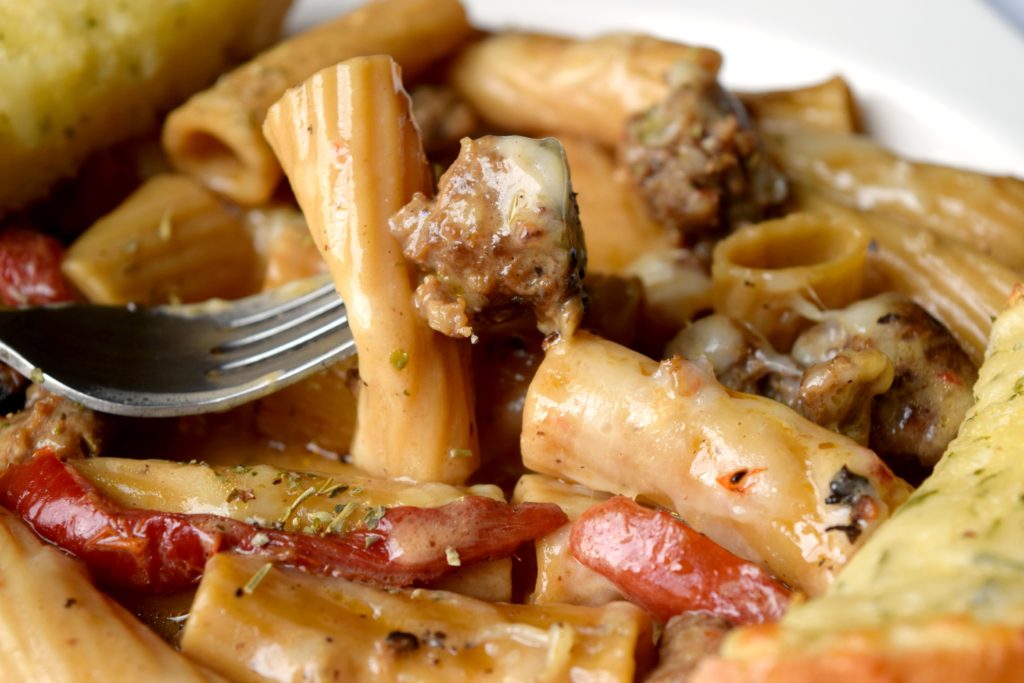 This is a sponsored conversation written by me on behalf of Barilla® and Johnsonville®. The opinions and texts are all mine.
Have you ever challenged yourself to really stick to a budget? Whether it be for miscellaneous expenses, clothing or groceries, it's usually harder to stick to than you originally imagined. For me, I have a hard time sticking to a budget for groceries.
I'm fairly frugal and enjoy a good bargain, I use coupons and stick to my list, that part isn't the problem. My problem lies in the fact that our house is somewhat of a revolving door, which I'm perfectly happy with but it makes sticking to a grocery budget sometimes a bit tough.
My stepson splits time between our house and his biological mom's house. This year he's a senior in high school, he also works part-time and he drives. Some nights he's here, some nights he's not and most nights I just don't know if he'll be here for dinner or not. I'm flexible, it isn't too big of a problem.
I definitely have to account for the nights he just shows up or shows up with a friend or two. Now mind you these are teenage boys, and they can pack away some serious amounts of food. I'm fairly certain the term "bottomless pit" was completely describing teenage boys! WOW, they can pack it away and then come back for more in like an hour.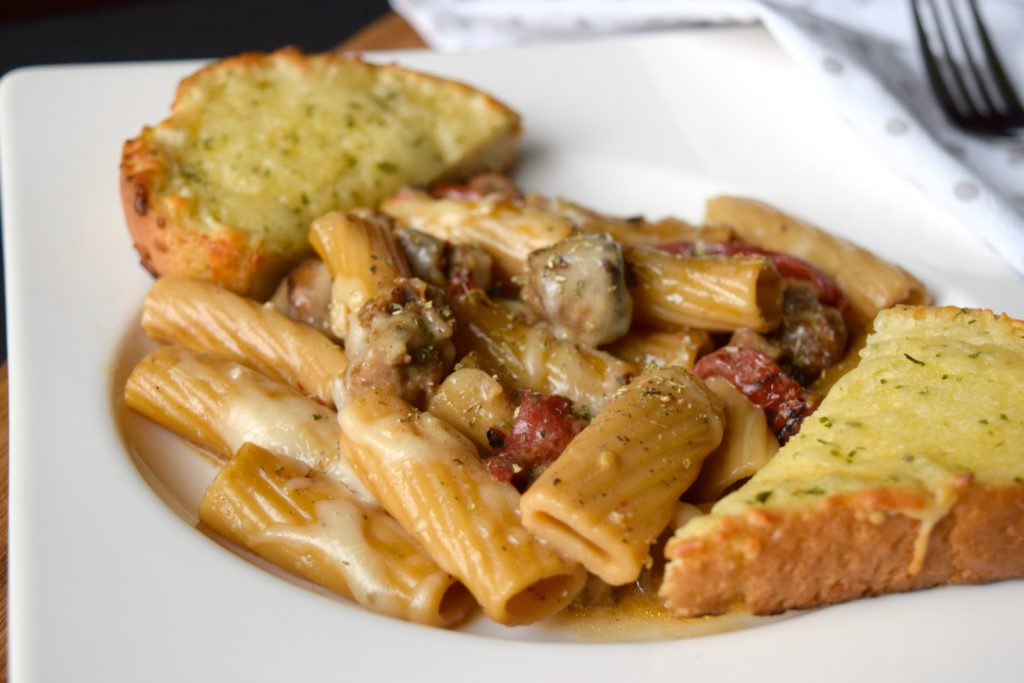 These are the times I'm happy to have a budget-friendly dish that will feed a crew. I'm talking a dish that costs under $10 to prepare and will leave everyone satisfied. Rigatoni & Italian Sausage Skillet Meal is just such a dish, trust me it is simple and hearty.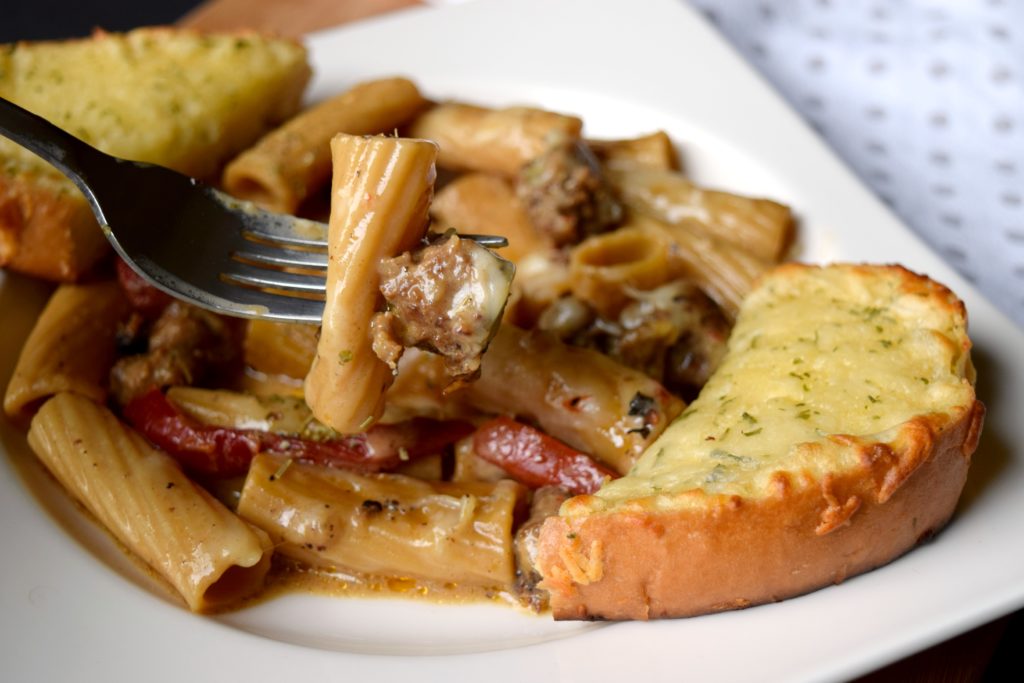 The basis begins with Johnsonville Mild Italian Sausage Links and Barilla Rigatoni. Additional items are ones that I almost always have on hand in the fridge or pantry: chicken broth, mozzarella cheese, roasted bell pepper, and heavy cream.
Johnsonville Mild Italian Sausage is fantastic because all the flavors are built right in, you know the flavor will be great. Barilla is ideal because of its versatility. There's a reason its Italy's #1 brand of pasta.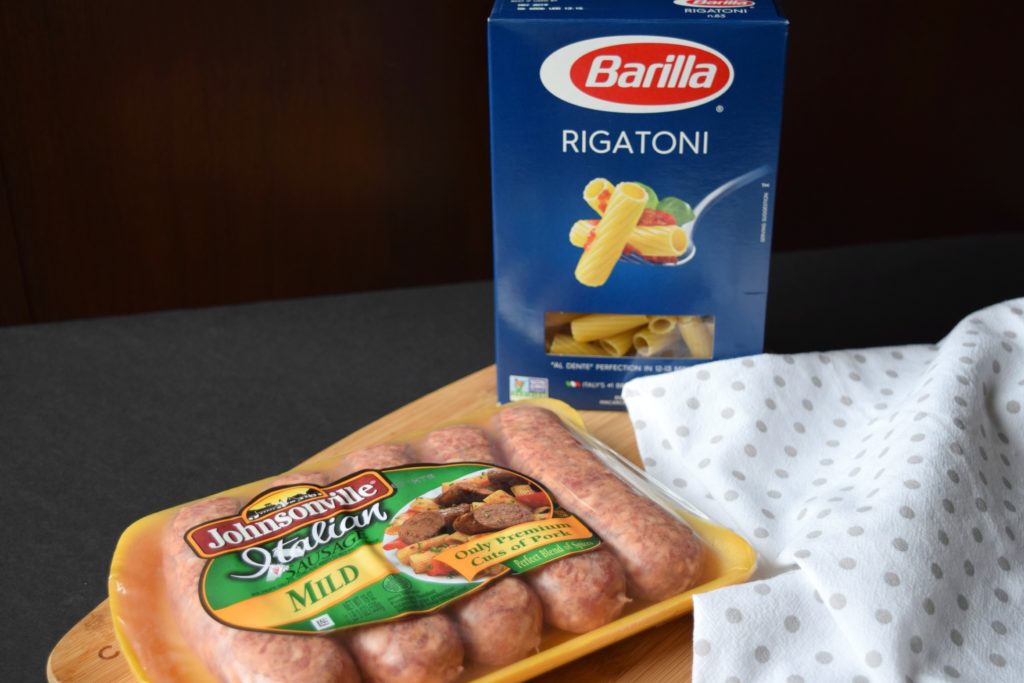 The inspiration for this uncomplicated meal hit me while I was shopping at Kroger. While shopping there I picked up both Johnsonville Mild Italian Sausage and Barilla Blue Box Rigatoni.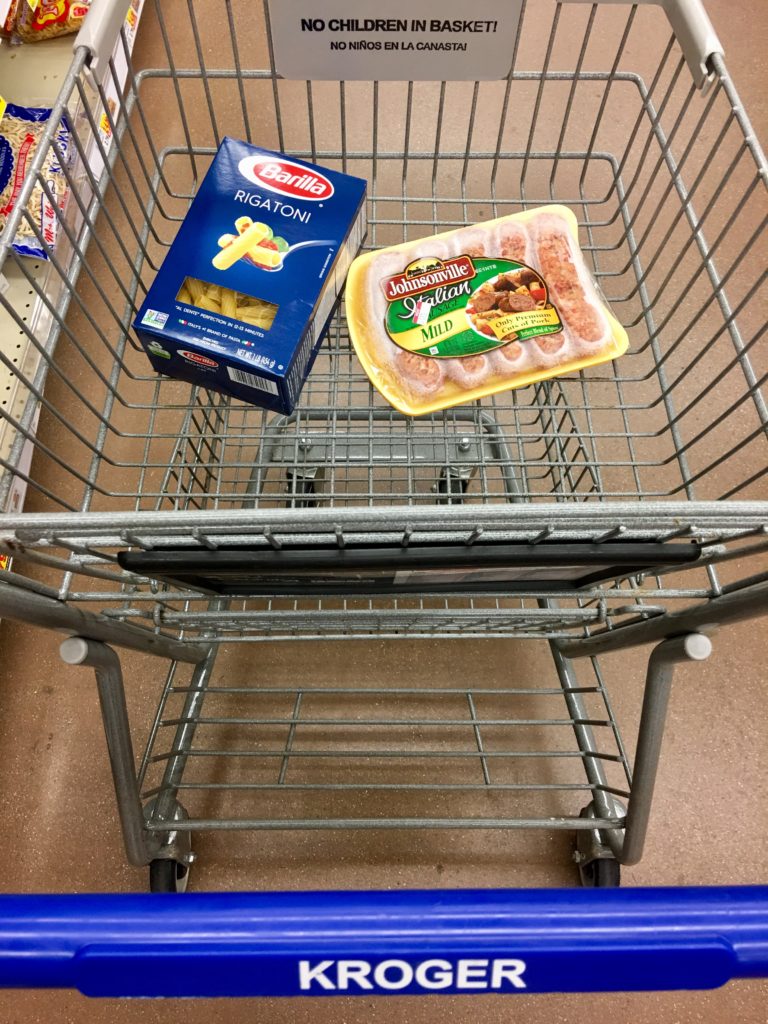 I knew right then and there I had the beginning of a tasty meal. I was able to feed my family a nice dinner for under $10, how amazing is that? No more worrying when my stepson shows up with a carload of friends, I've got this covered!
Other easy pasta dishes: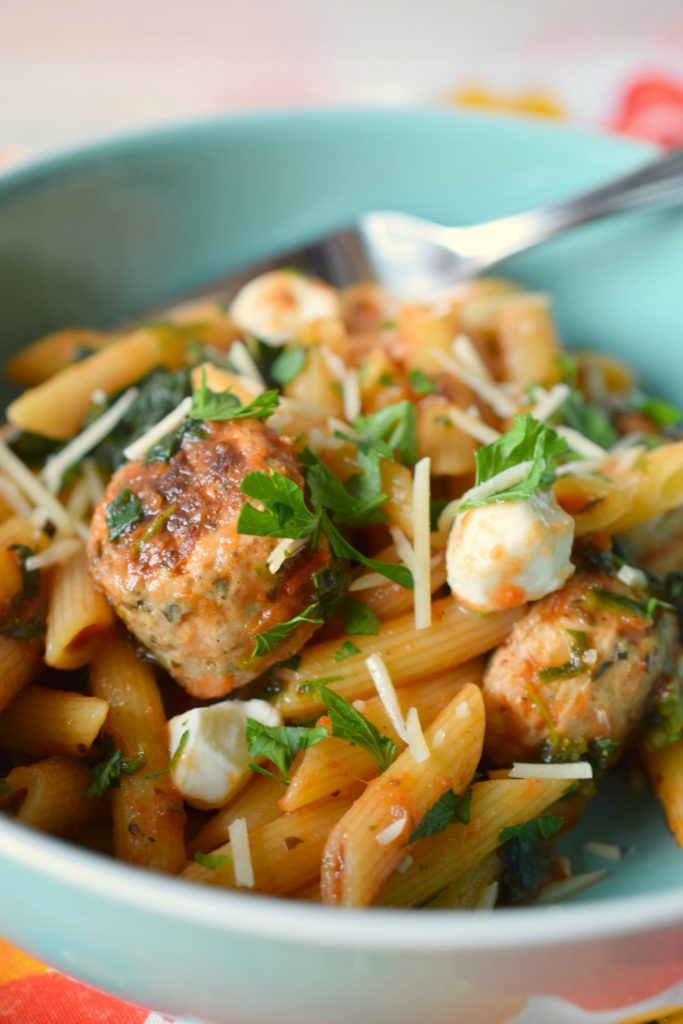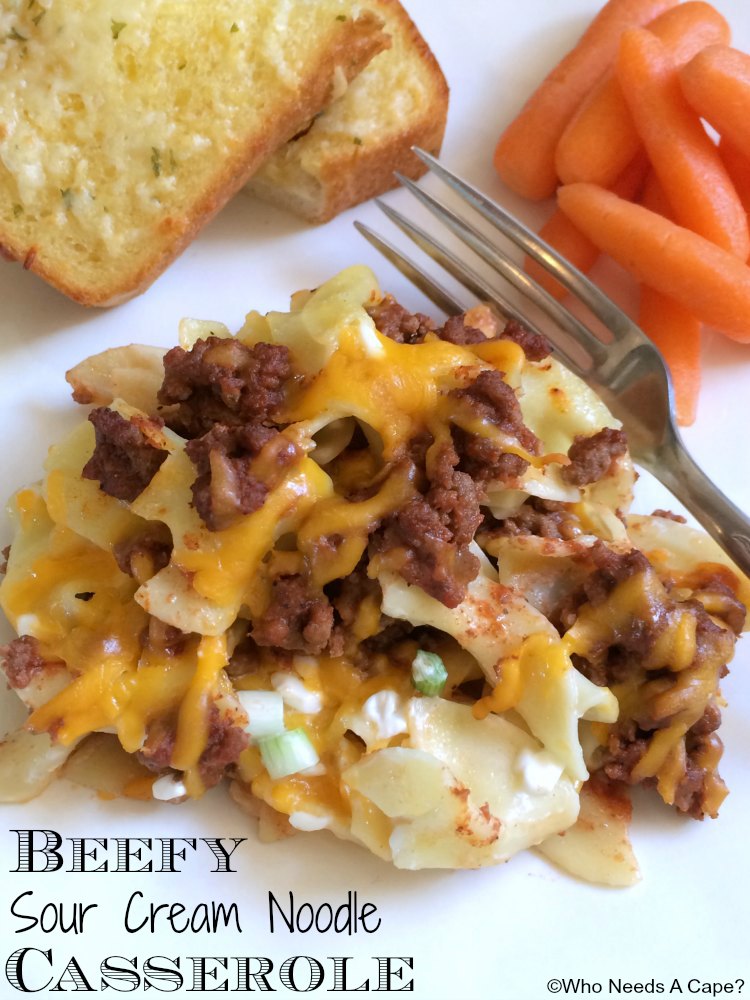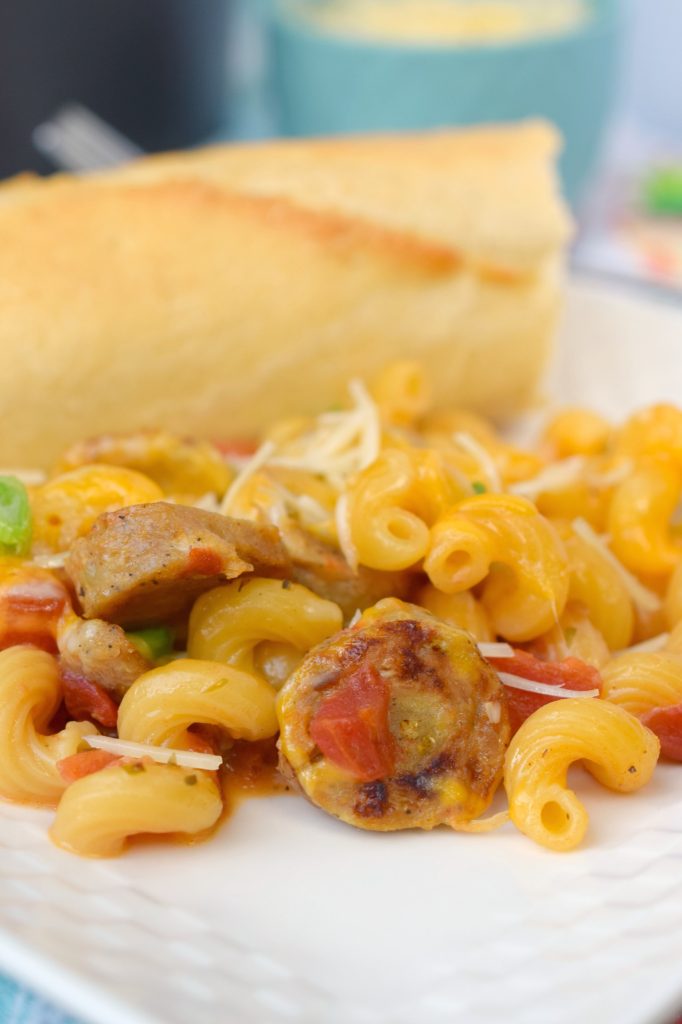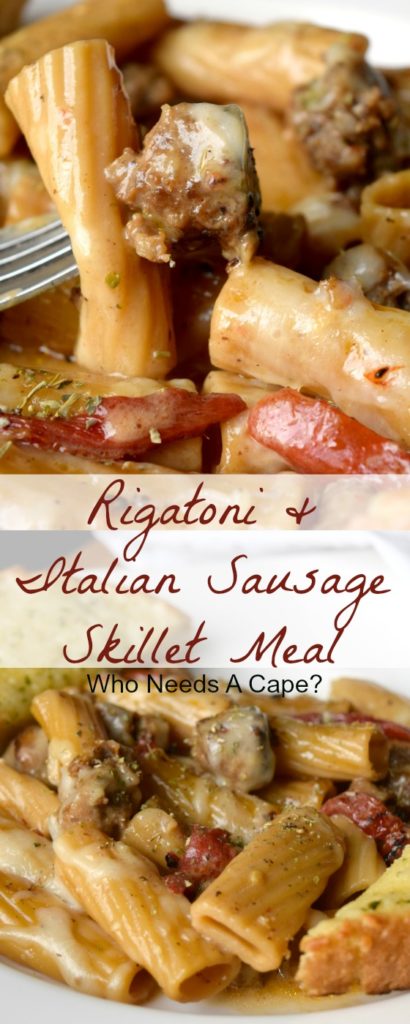 .