This shop has been compensated by Collective Bias, Inc. and its advertiser. All opinions are mine alone. #ToraniSauceObsession #CollectiveBias
The best flavors of the holiday season come together in this easy to make Layered Peppermint Holiday Dessert. Serve for Christmas or anytime, so yummy!
Layered Peppermint Holiday Dessert
One of my favorite things about the holiday season is planning our menus. I'm a list maker (yes, old school paper and pen), I begin by listing out dates which I know I'll be planning meals for and start listing off which recipes I intend to make.
I like to use a lot of my old faithful recipes because they are tried and true and I'll be honest the family expects them. Each year though I throw in a few new recipes and this year one of them is this delicious gem.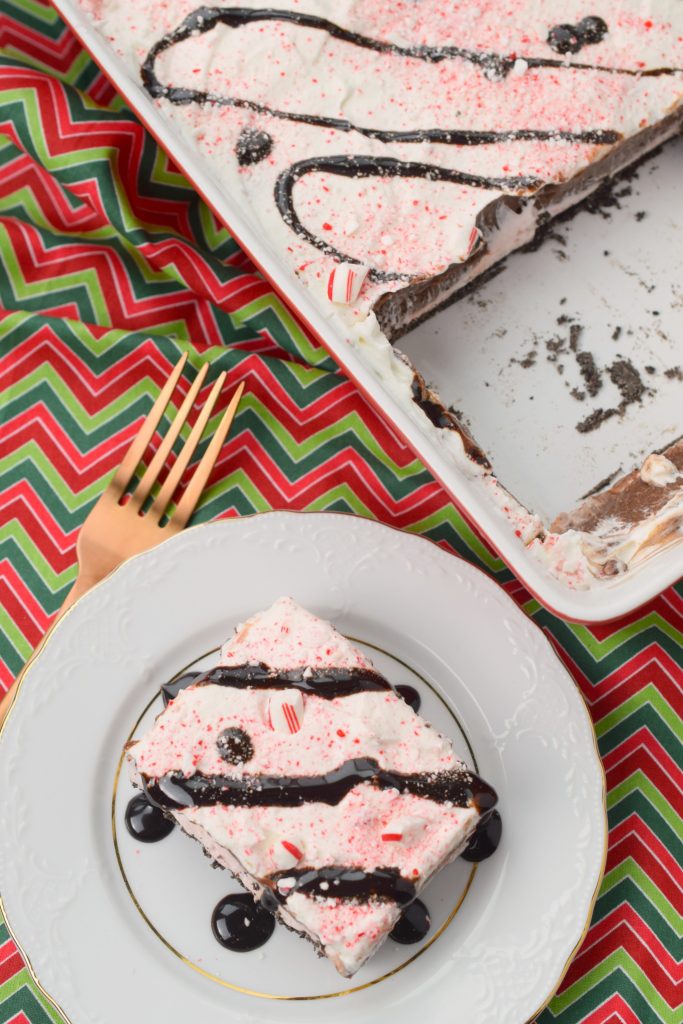 Layered Peppermint Holiday Dessert is an easy to make no-bake dessert that will feed a crowd. This is exactly the type of dessert I love making for our large extended family.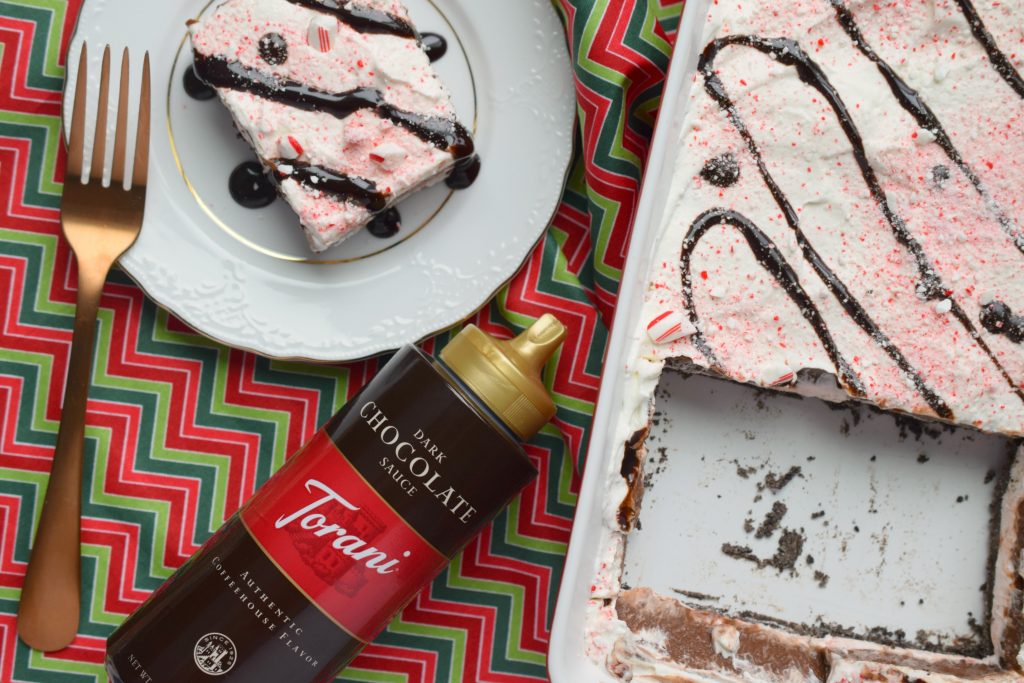 Let me tell you about the item that took this dessert to "over the top" delish. Torani Dark Chocolate Sauce, which I found at Meijer was exactly what this dessert needed to send it off the charts. It was really easy to find Torani Sauces in the ice cream topping section at Meijer.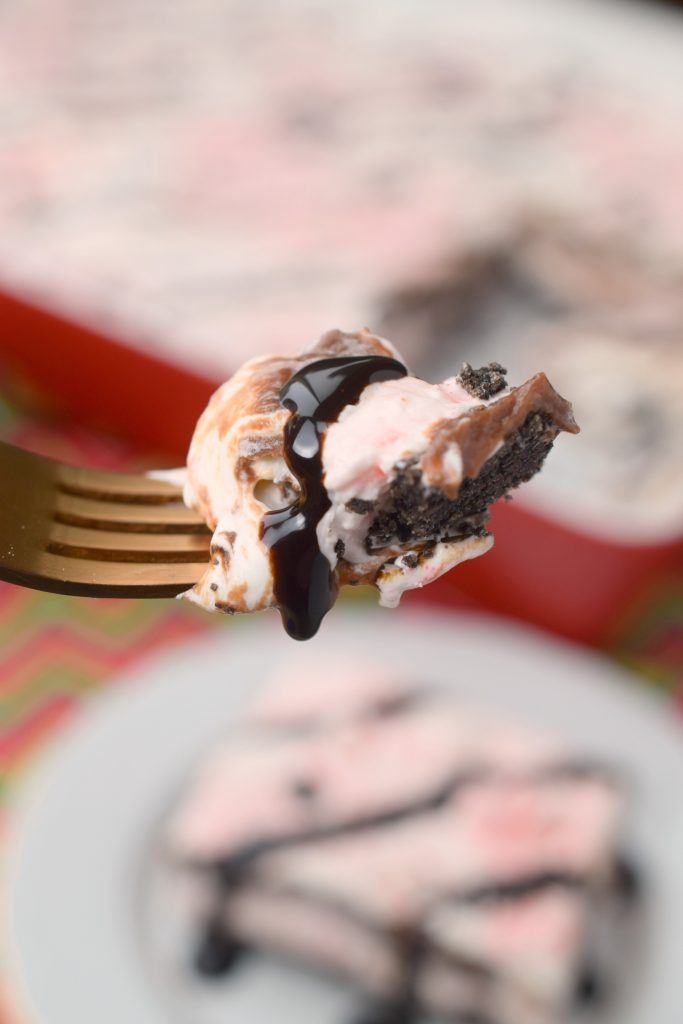 Do you see that drizzle over the top, yes that's Torani Dark Chocolate Sauce and let me tell you it is amazing. Torani Sauces are must-have items for the entire holiday season. You can also find the sauces in Caramel and White Chocolate.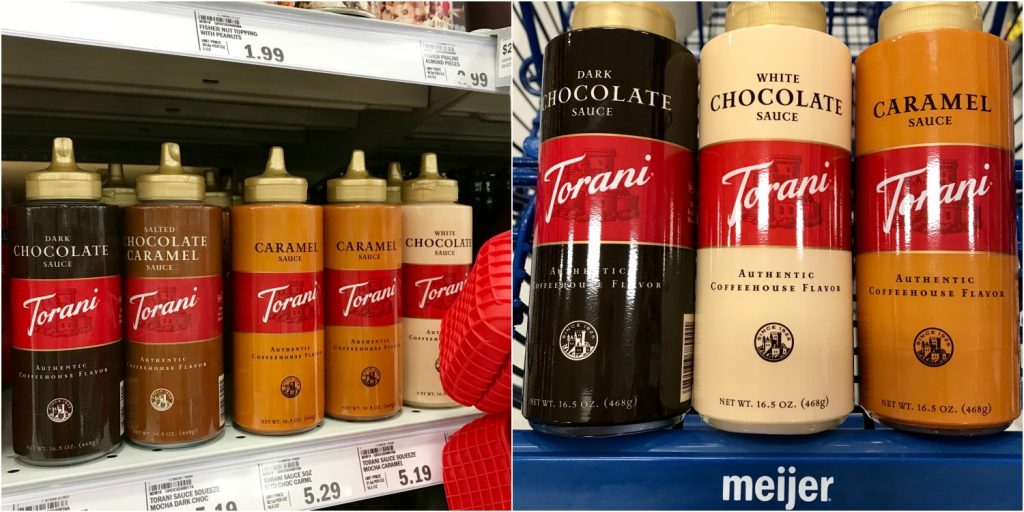 Torani is a flavor expert, with products that create delicious beverages and desserts. A 3rd generation family owned business that has been crafting amazing drinks in the café industry for over 90 years. Your holiday creations will be fantastic with a touch of Torani Sauces, everything from delicious mochas and as dessert toppings.
What I love about Torani Sauces is they are made with real, simple ingredients like pure cane sugar & natural flavors. And the flavors are just perfect for so many of my favorite holiday recipes, plus they are so versatile to use. I could easily have used Torani White Chocolate Sauce on this dessert too.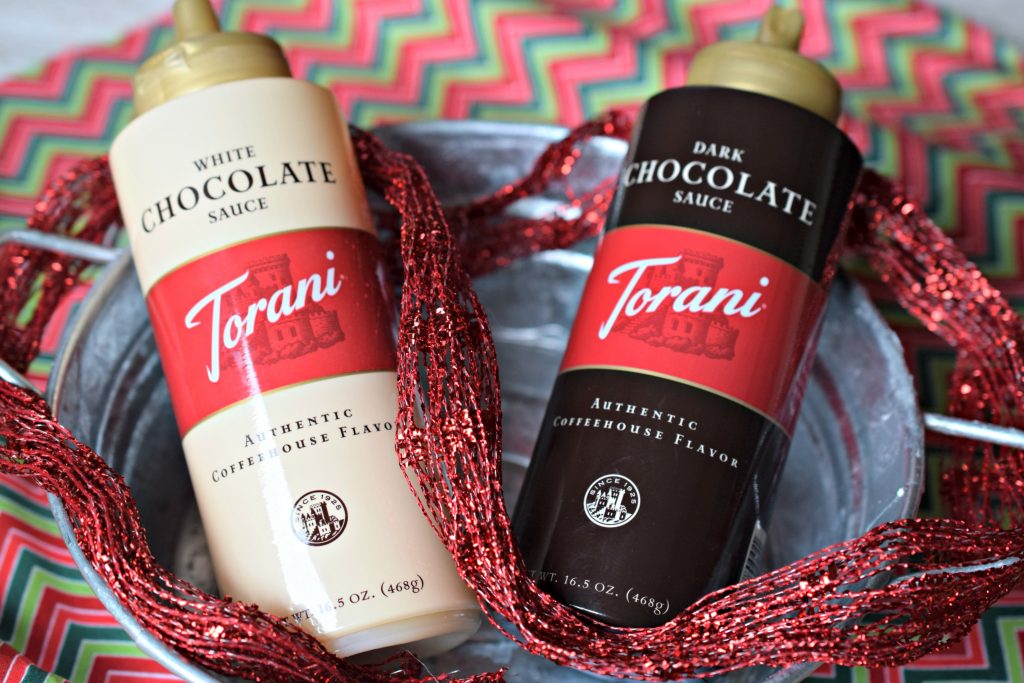 Now let me share with you how to make your own Layered Peppermint Holiday Dessert.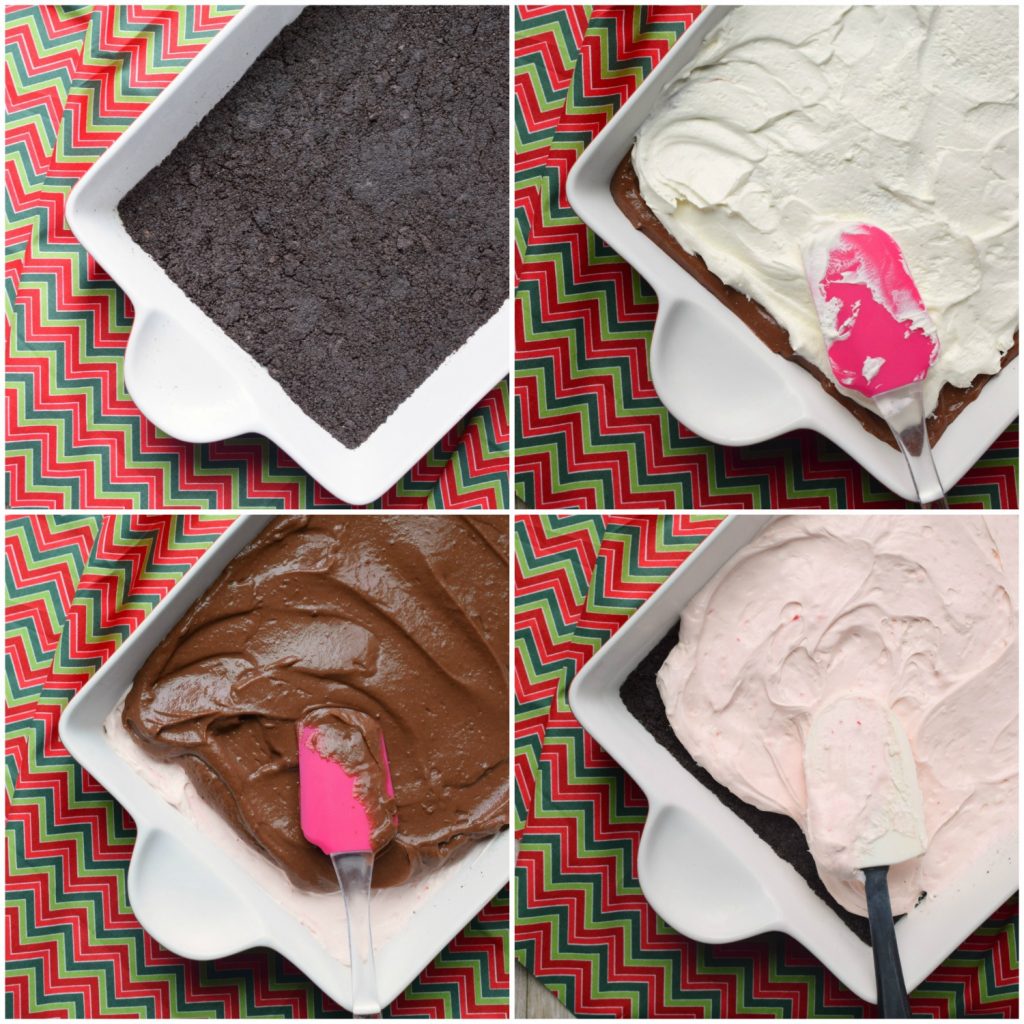 Layer #1 spread crushed chocolate sandwich cookie mixture in bottom of the pan.
Layer #2 spread peppermint cream cheese layer over cookie layer.
Layer #3 spread chocolate pudding over top of peppermint cream cheese layer.
Layer #4 spread whipped cream layer.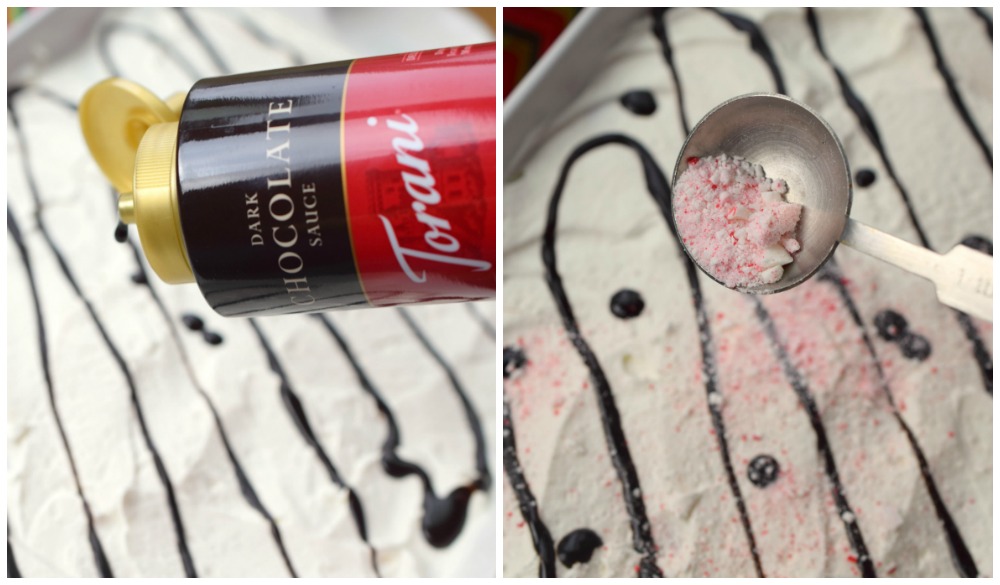 And to finish off, generously drizzle Torani Dark Chocolate Syrup over the top after refrigeration. Sprinkle with crushed candy canes just prior to serving. I know you're just going to love this dessert for the holiday season. Stop into Meijer and load up on Torani Sauces so you'll be prepared for drinks and desserts of all sorts.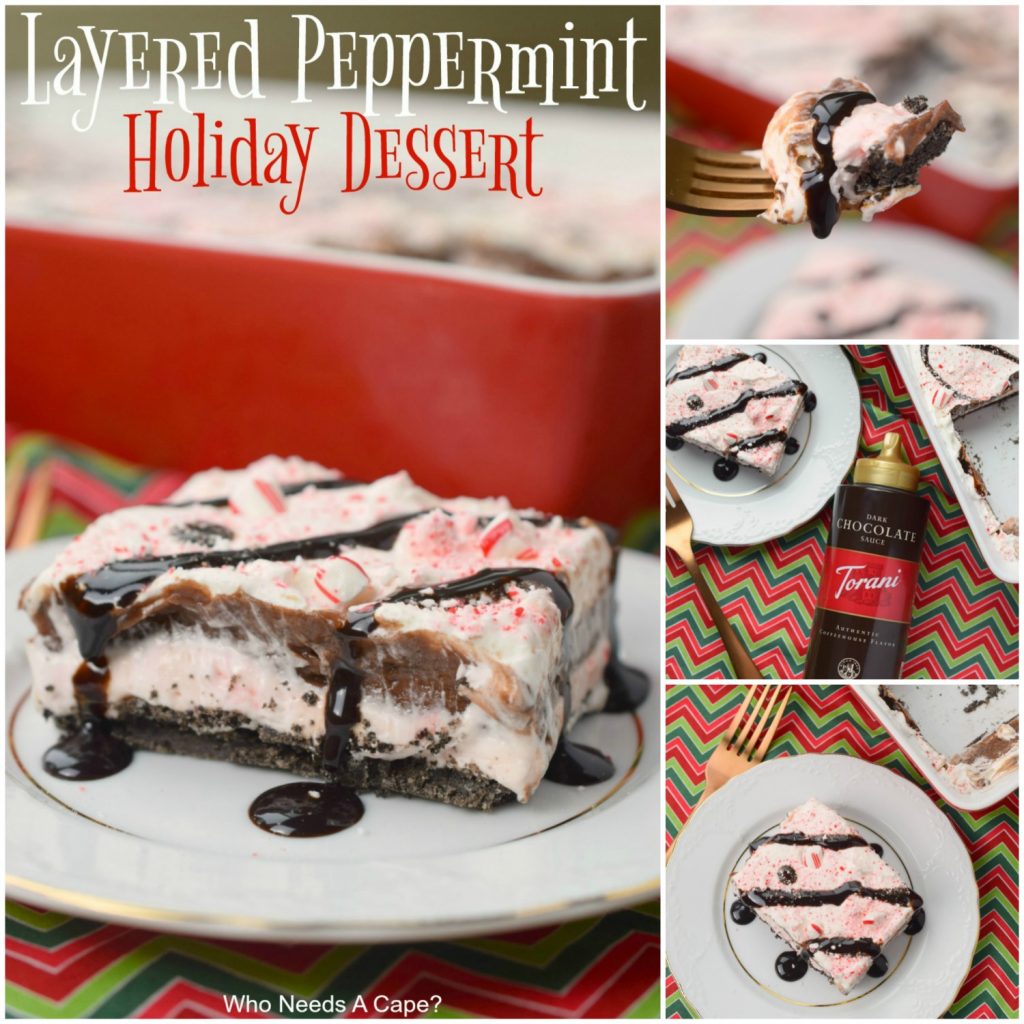 Some tips for making Layered Peppermint Holiday Dessert:
Add crushed candy canes just prior to serving or they will ooze into the top layer.
Use an 8 oz tub of non-dairy whipped topping, it is divided between 2 of the layers.
Big fan of peppermint flavor? Add in 1/2 t peppermint extract to the cream cheese layer.
Refrigerate remaining dessert immediately after serving.
Layered Peppermint Holiday Dessert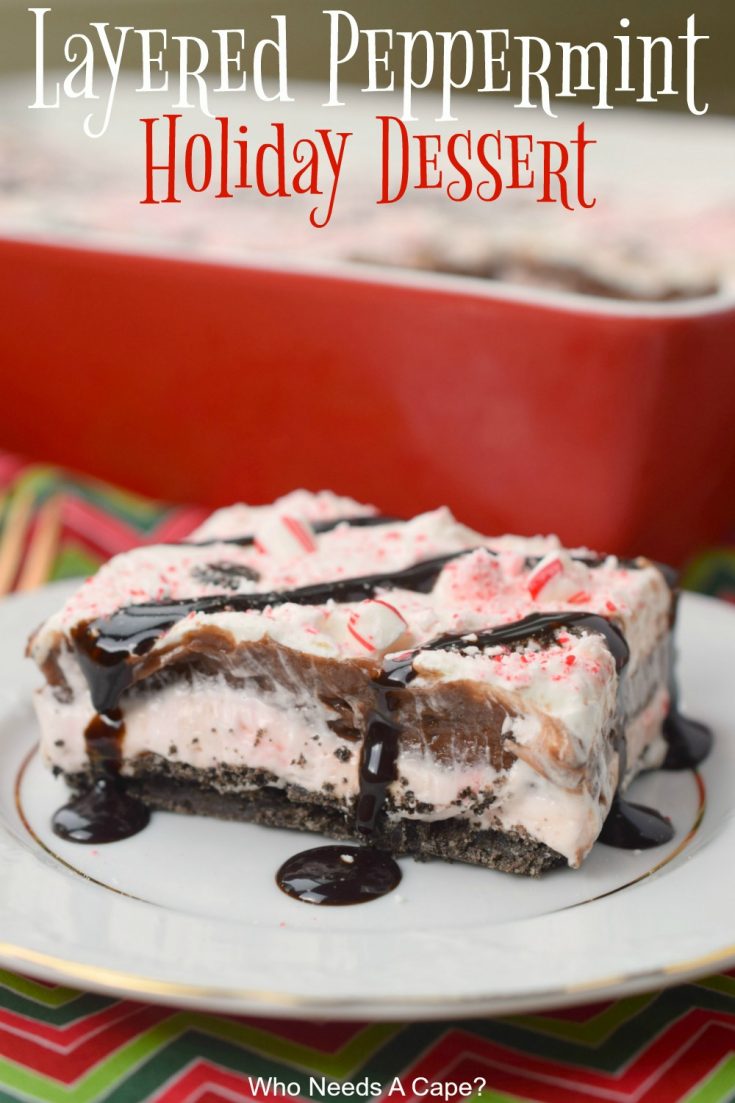 Ingredients
Layer 1:
1 1/2 cups (approximately 20) chocolate sandwich cookies, crushed
1/4 cup butter, melted
2 T sugar
Layer 2:
8 oz cream cheese, softened
1/3 cup sugar
2 T milk
1 1/4 cups non-dairy whipped topping
1/4 cup candy canes, crushed
Layer 3:
2 3.9 oz packages chocolate instant pudding
3 cups milk
Layer 4:
1 3/4 cup non-dairy whipped topping
Topping:
2 oz Torani Dark Chocolate Sauce
1/4 cup candy canes, crushed
Instructions
Combine together: crushed chocolate sandwich cookies, melted butter and sugar. Spread into bottom of a 13x9 baking pan. Refrigerate at least 30 minutes.
With electric mixer beat cream cheese. Add in sugar, milk, non dairy whipped topping and crushed candy canes, mix until combined. Spread over cookie layer. Refrigerate.
Beat pudding mixes with cold milk for 2 minutes. Let stand for 5 minutes. Spread over top of cream cheese layer. Refrigerate at least 30 minutes.
Spread remaining non-dairy whipped topping over chocolate pudding layer. Refrigerate a minimum of 4 hours.
Just prior to serving drizzle with Torani Dark Chocolate syrup and crushed candy canes.