Cranberry White Chocolate Breakfast Cookie is the perfect way to start your day off with a nutritional boost! Tasty and good for you – you're going to love this!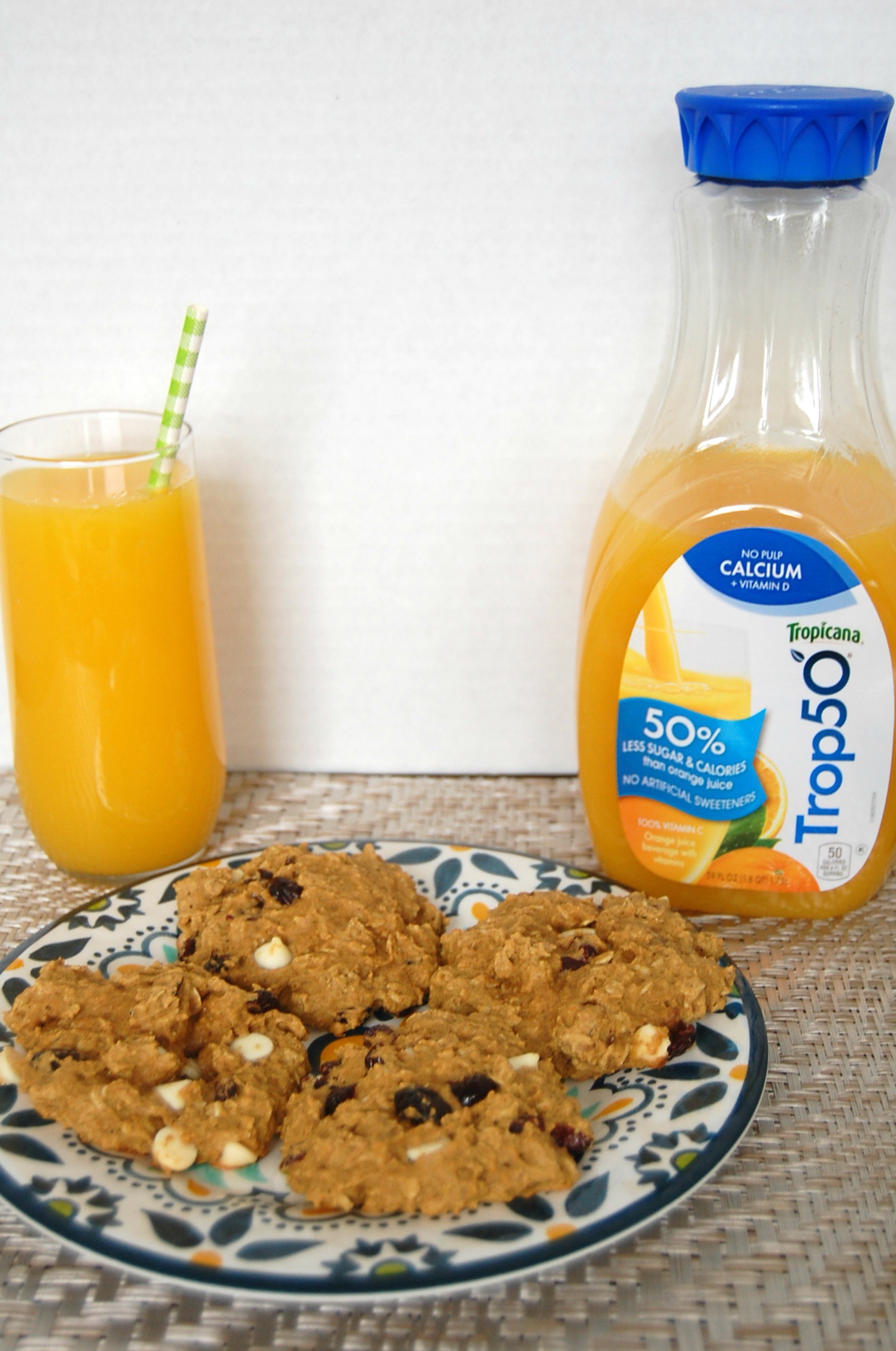 Who here needs to pack as much nutrition in as few as calories as possible? Yup my hand is held up high! I need to pack a punch, but not a punch of calories. Yup, it's not as easy as it sounds. I have a few good things to tell you about though…SO…on we go to a Cranberry White Chocolate Breakfast Cookie and a nice delish glass of Trop50 Juice Beverage. It's the absolute perfect way to start off another crazy day. Delish, easy, some vitamins – it's the perfect breakfast on the go combo!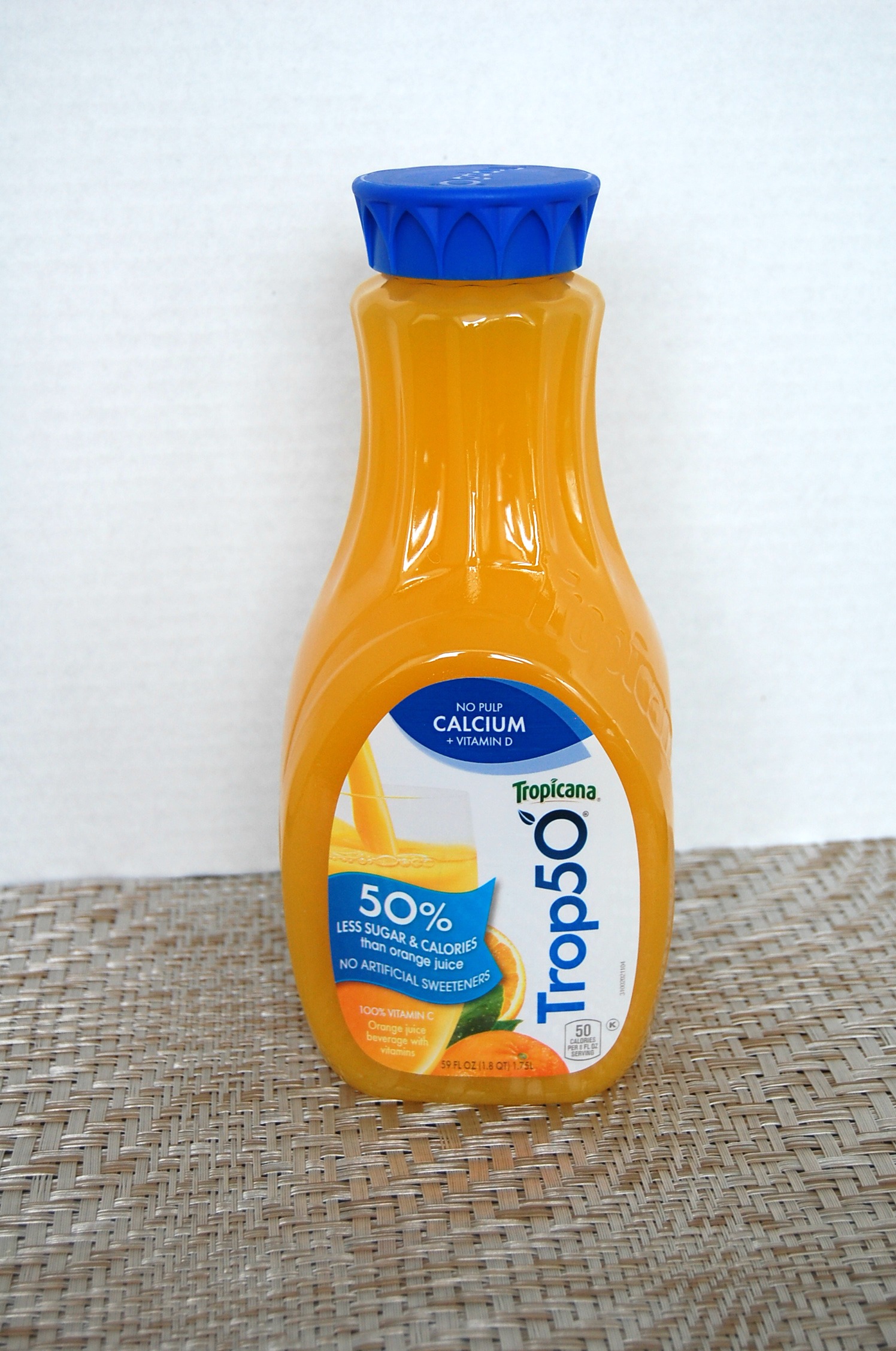 Trop50 is the perfect morning drink! I LOVE Orange Juice in the morning, and I can have the delish taste of OJ with 50% LESS calories and sugar. You guys…it's perfect. I'm still getting 100% of my Vitamin C for the day (in an 8 oz glass), I'm still getting potassium that I need – I'm getting all the benefits of Orange Juice and I'm not having to spend a lot of calories to have it (and again the taste – YUM!).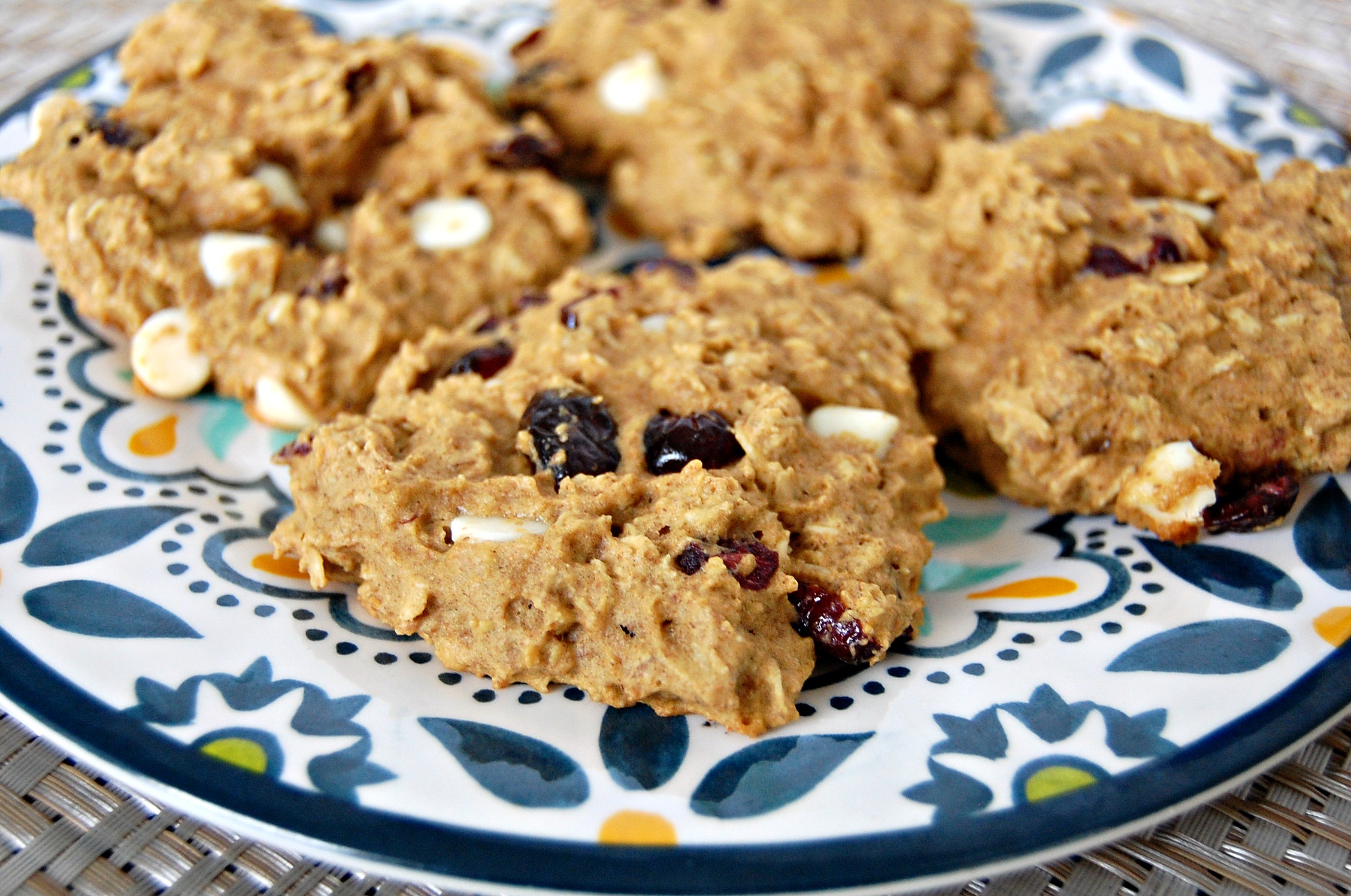 My other trick to starting my day off on a great note is Cranberry White Chocolate Breakfast Cookies. They are so easy to make (recipe makes 12) and after I've cooled them I just put them in baggies to be ready for the week. I'm full, I can eat them in my car or at the table, and I've added some nutrition to my morning. I feel better when I start the day off on a good nutritional breakfast. You're going to love them!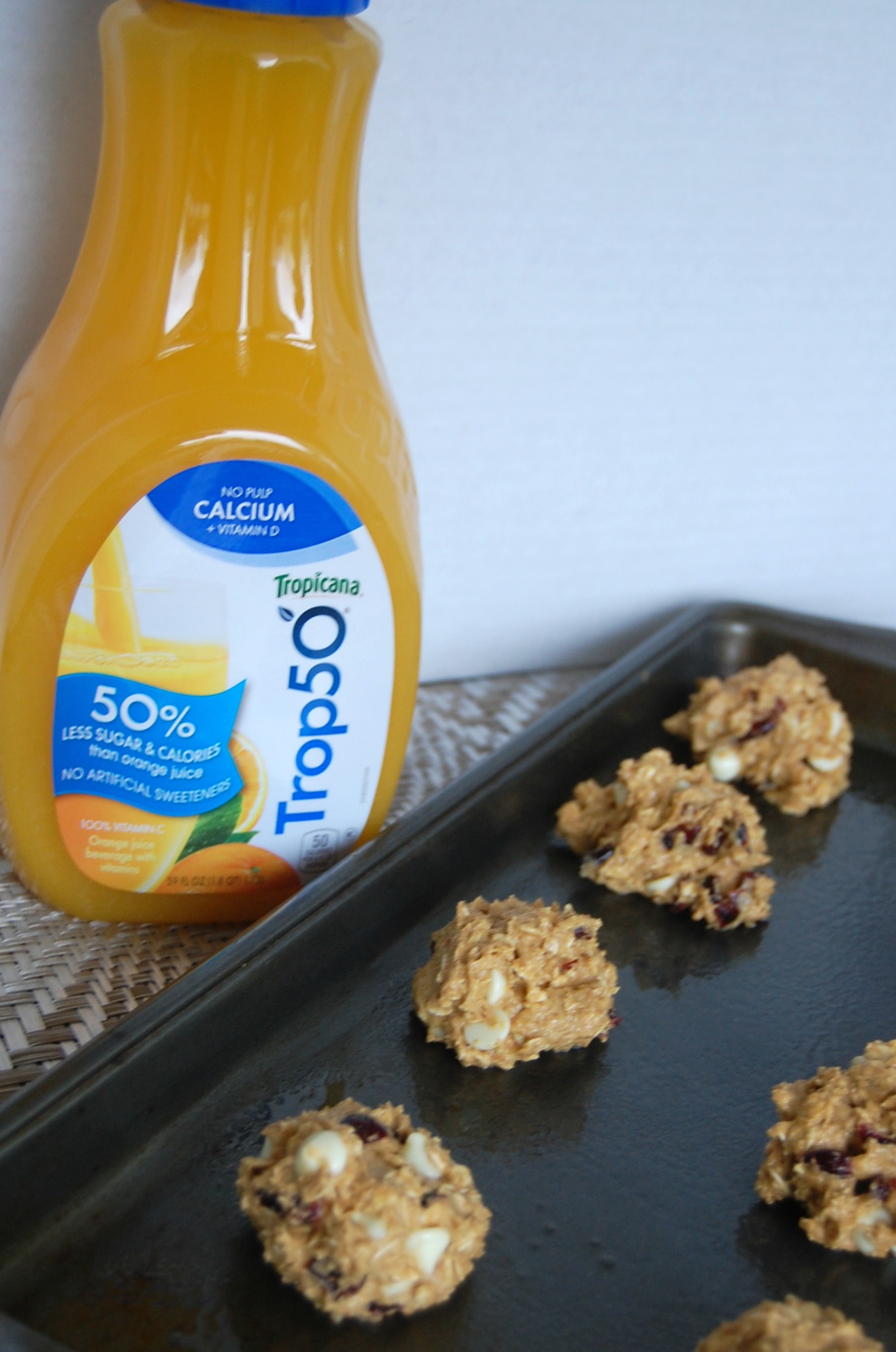 To make Cranberry White Chocolate Breakfast Cookies you're going to need (Printable Version Below):
3/4 C whole wheat flour
1/2 C flour
1/2 tsp baking soda
1/4 tsp salt
2 Tbsp butter
1/4 C vegetable oil
1/4 C brown sugar
3 Tbsp white sugar
1 egg
1/4 C (1 small jar) butternut squash baby food
2 tsp vanilla
1 C rolled oats
1/2 C craisins
1/3 C white chocolate chips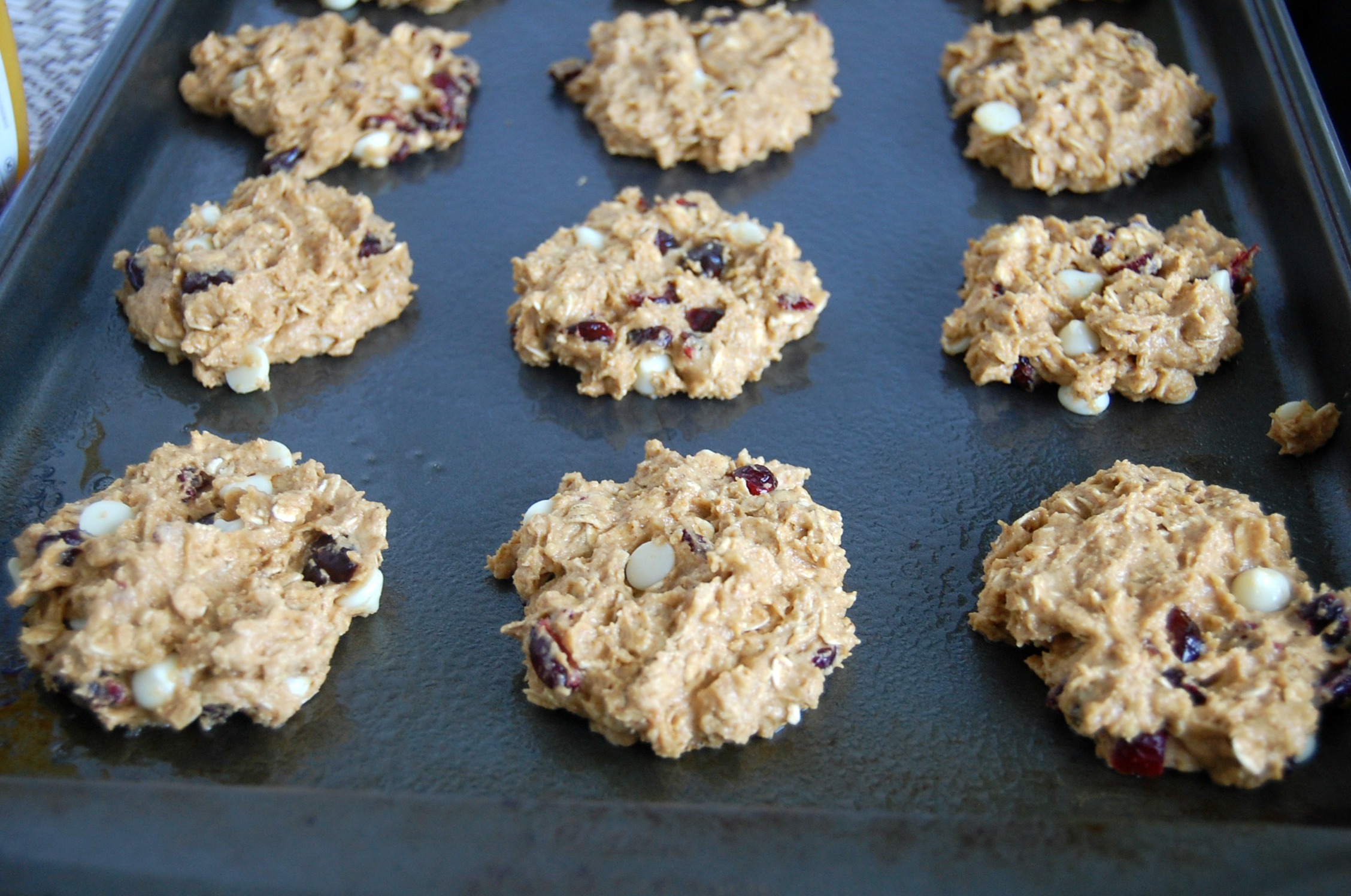 These are so easy to make!
Preheat oven to 350 degrees
in a small bowl mix together flours, baking soda, salt and set aside
beat together butter, oil, egg, and sugars until well mixed
beat in egg, butternut squash, and vanilla
add remaining ingredients and beat for 30 seconds
roll dough into 2-3 inch balls (the dough is STICKY it's ok it should be)
Smash balls down until dough is round and about 1/4 inch thick
Bake on a GREASED cookie sheet for 15 minutes
That's really it! You guys are going to enjoy your easy breakfast routine with Trop50 and a Cranberry White Chocolate Breakfast Cookie! It's the perfect morning! Tell me how you're going to use your delish Trop50? AND What's your breakfast in the morning???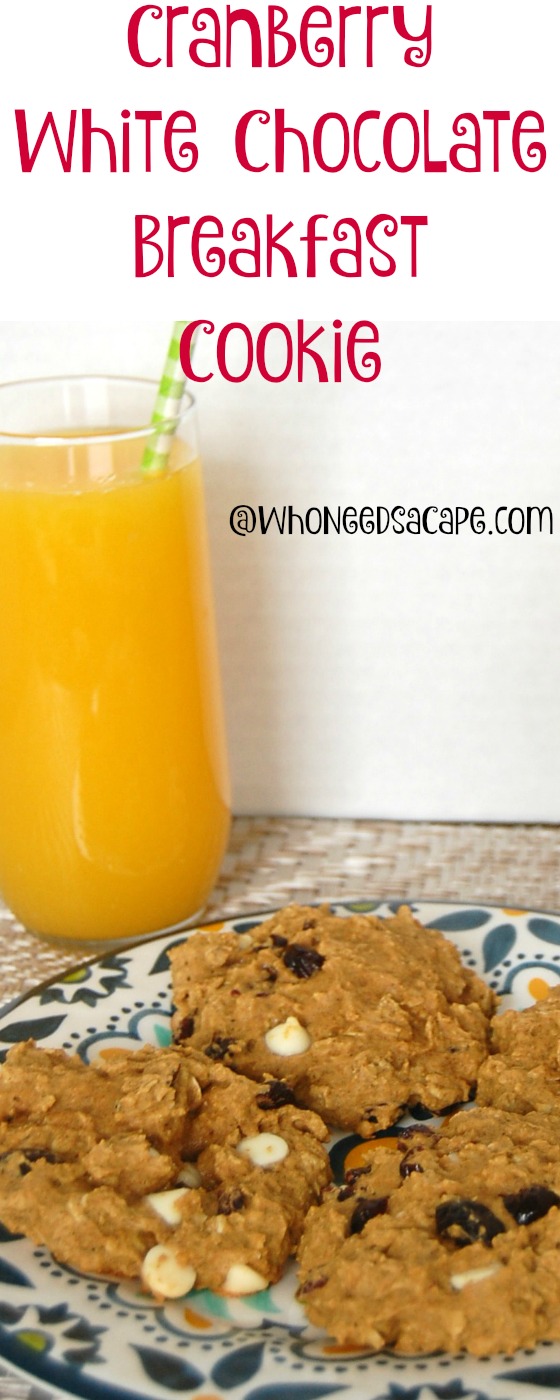 I was selected for this opportunity as a member of CLEVER and the content and opinions expressed here are all my own.