You'll love this flavorful Cheesy Potato & Sausage Foil Packet! Perfect for camping or grilling the flavors blend together to make a great meal.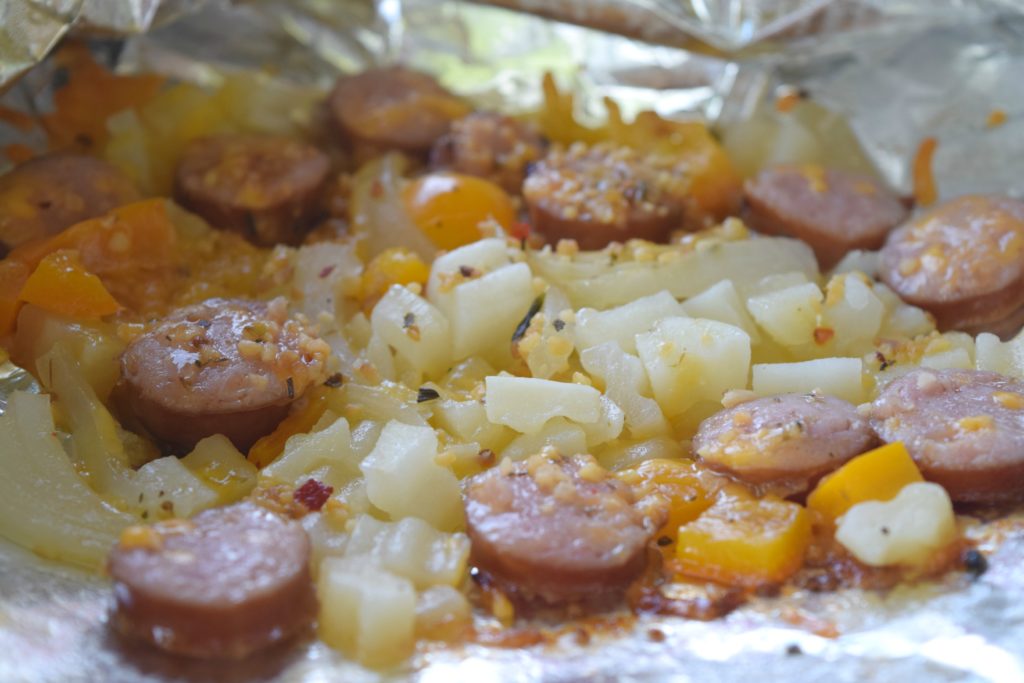 This is a sponsored conversation written by me on behalf of Johnsonville. The opinions and text are all mine.
Camping, glamping, tenting, RV'ing all of these activities not only get you actively outdoors but usually involve something else. Hunger! Yes, hunger! Think about it, while camping there's usually activities involved am I right? Hiking, biking, swimming, walking, whatever the activity it usually winds up leaving you hungry.
I've camped in a variety of ways through the years. As a kid, we had a motor home, but as an adult, I tent camped A LOT. I've even camped in a dilapidated pop-up camper which surprisingly survived hurricane force winds in Massachusetts during what was a hurricane. Not our best move but we were young and this was before mobile phones and internet service everywhere. Anyhoo, since that trip, I've decided to camp either in cabins or larger RV's which provide a few luxuries including a kitchen.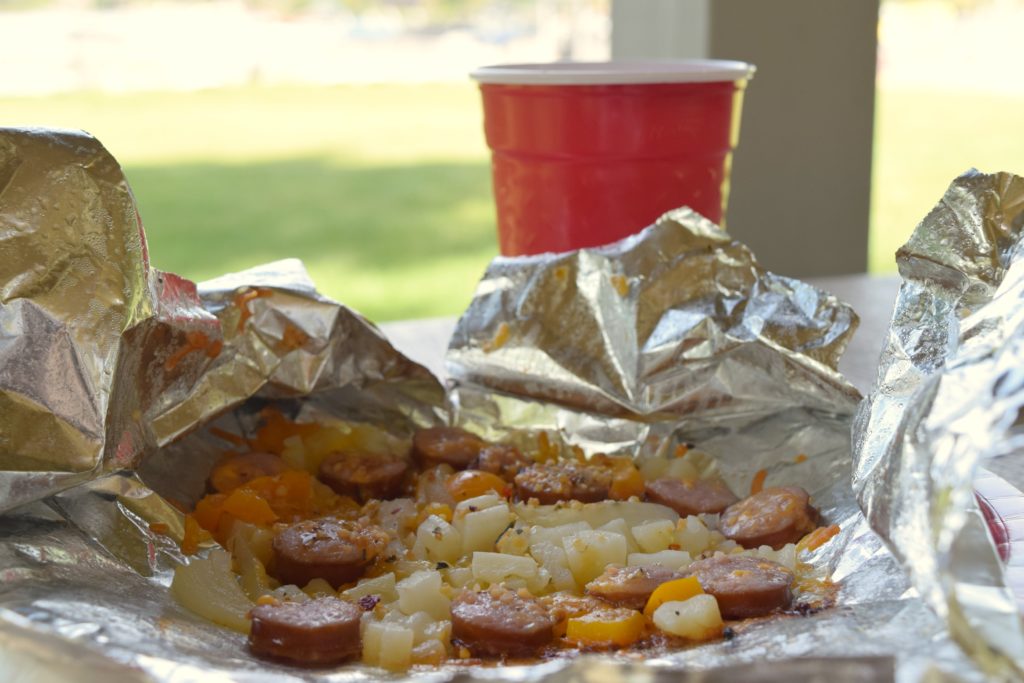 Back when we were tent camping, we'd camp with my parents from time to time and my mom and I tried a variety of recipes each trip. There's no reason to skimp on meals when camping, heartily delicious food is easy to prepare. One thing we quickly learned is that foil packets are an awesome way to easily prepare a meal when camping. Not familiar with foil packets? Well then, let me tell you about them. Basically, you take some veggies, potatoes, meat, and seasonings and tightly seal it into heavy-duty aluminum foil and cook over the campfire or grill. Easy and there's minimal cleanup!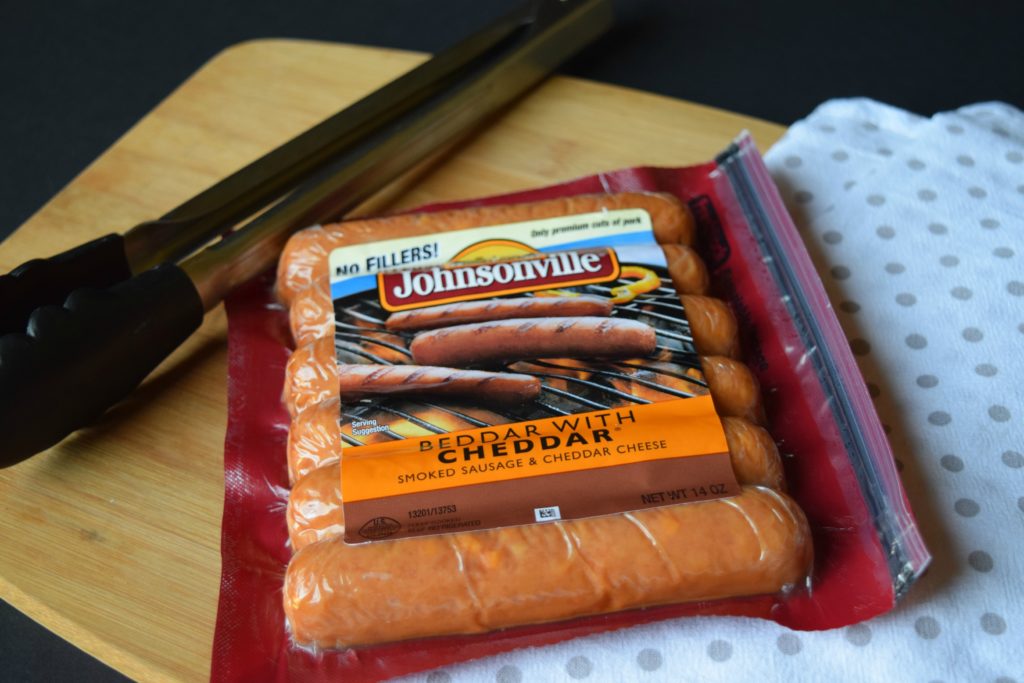 The recipe I'm sharing with your today begins with Johnsonville Fully Cooked Smoked Sausage. Fully cooked is essential for easy camping recipes, such a time saver, and a huge convenience. I chose to use Johnsonville Beddar with Cheddar Sausage Links for this particular foil packet. I like Johnsonville because there's no fillers, just the good stuff.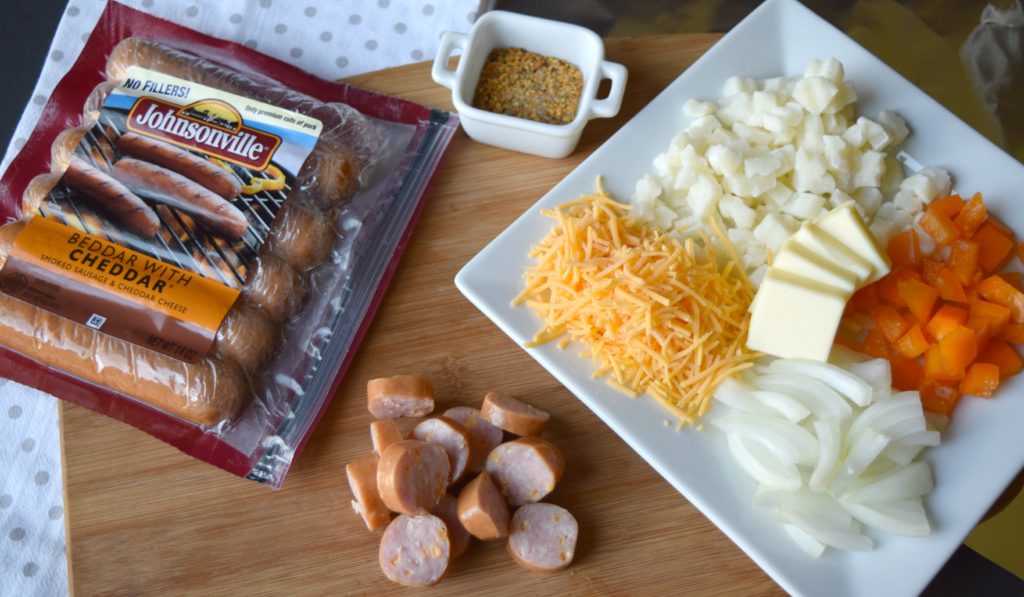 Into the packet, I also added: diced potato, onion, bell pepper, shredded cheddar cheese, butter a touch of seasoning! After the packets are folded nice and tightly they get popped onto the grill for about 15 minutes! So delish!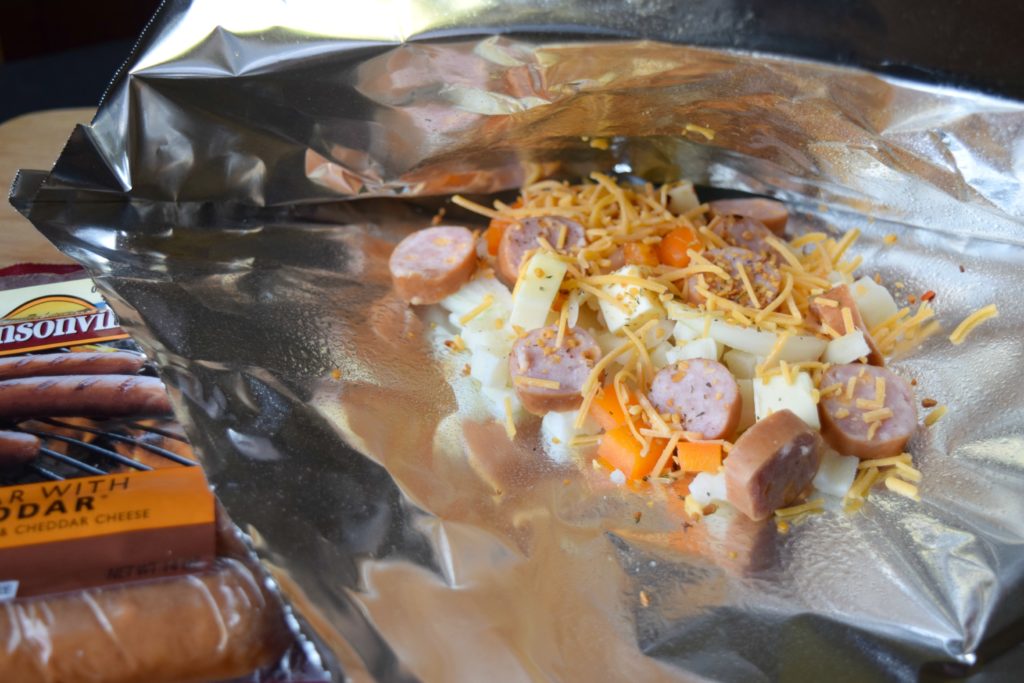 Johnsonville Fully Cooked Smoked Sausages are available in a wide variety of flavors including Stadium Style Cooked Brat Links, Jalapeno and Cheese Smoked Sausage Link, and Smoked Brats. There are many other varieties to choose from including the new smoke-cooked Naturals: White Cheddar Smoked Sausage, Jalapeno Smoked Cheddar Sausage and Andouille Smoked Sausage.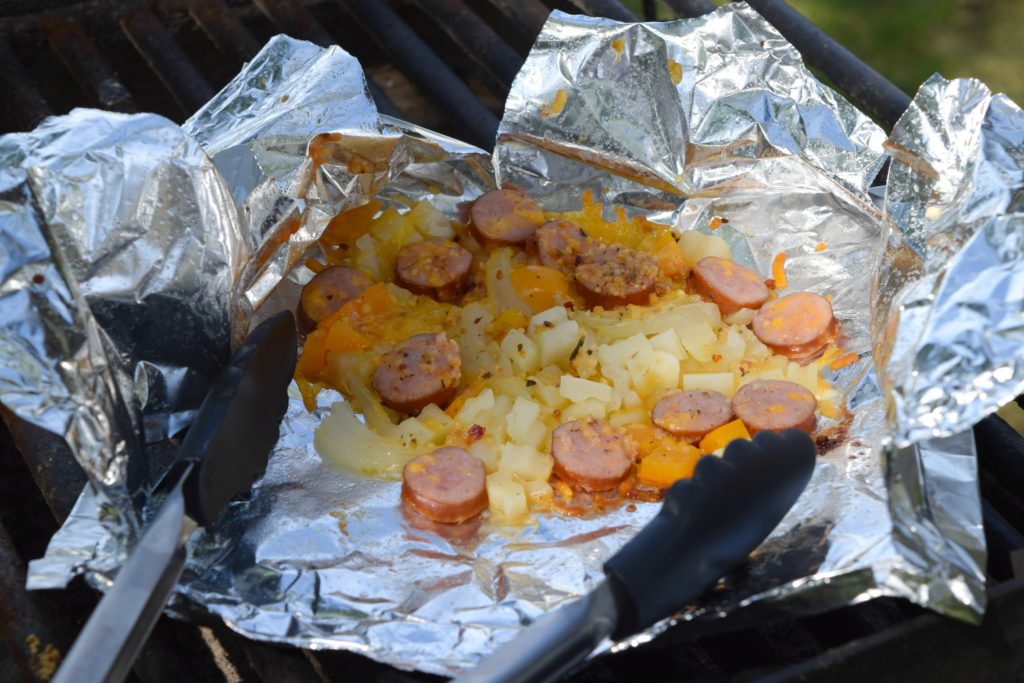 Follow Johnsonville: Pinterest | Facebook | Instagram
Other great recipes to try:



Yield: 4 servings
Cheesy Potato & Sausage Foil Packet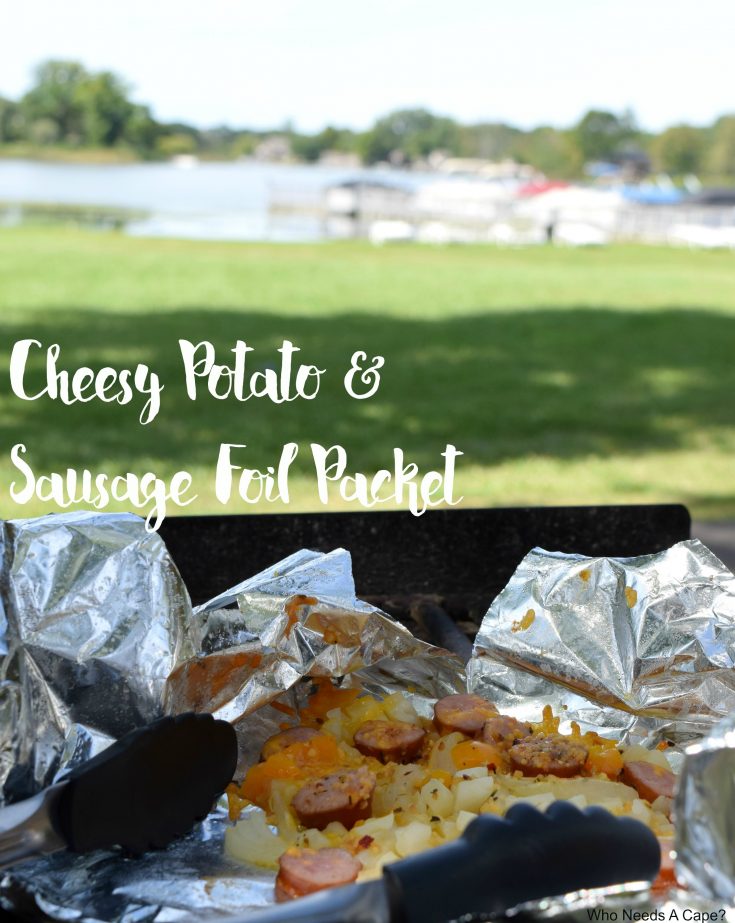 Prep Time 10 minutes

Cook Time 15 minutes
Ingredients
1 14 oz pkg Johnsonville Fully Cooked Smoked Sausage, sliced into 1/2" pieces
2 cups diced potatoes
1 cup onion, thinly sliced
1 cup bell pepper, diced
1 cup cheddar cheese, shredded
4 T butter, cubed
Salt & pepper
Instructions
Heat grill or campfire.
Tear 4 sheets of heavy-duty aluminum foil into 18" lengths. Spray with non-stick cooking spray. Divide contents between the 4 sheets of aluminum foil, placing items in the bottom 1/2 of the foil.
Fold the top 1/2 of the foil over to meet the bottom edge, crimp all 3 open edges tightly. I roll each edge twice.
Place over indirect heat approximately 15 minutes. Remove from heat and allow to cool prior to cutting open the foil. Use caution when opening foil, it will release steam.
Notes
I used frozen diced potatoes, fresh would work great too just diced very small. Add in any veggie you desire just cut the pieces small. I've also added in a touch of grill seasoning, it helps the potatoes come alive.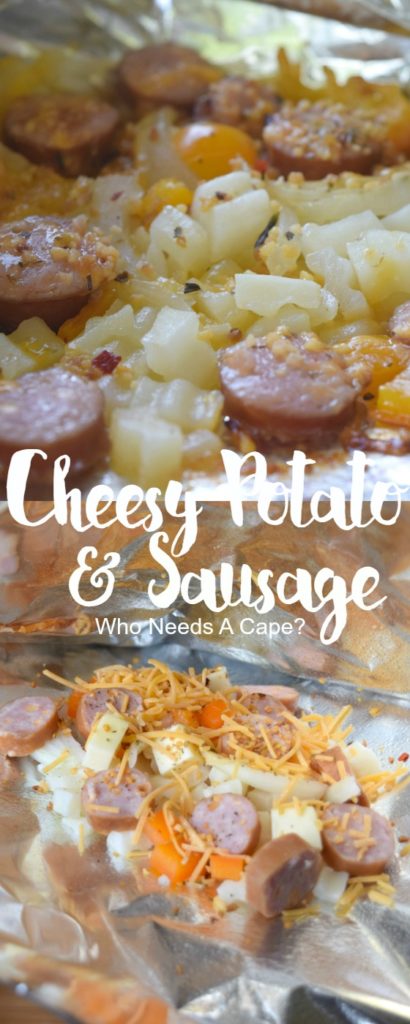 This is a sponsored conversation written by me on behalf of Johnsonville. The opinions and text are all mine.