Jumping into freezer meals? Then you need the 20 Meals in 2 Hours Shopping List, detailing the ingredients you'll need to fill your freezer!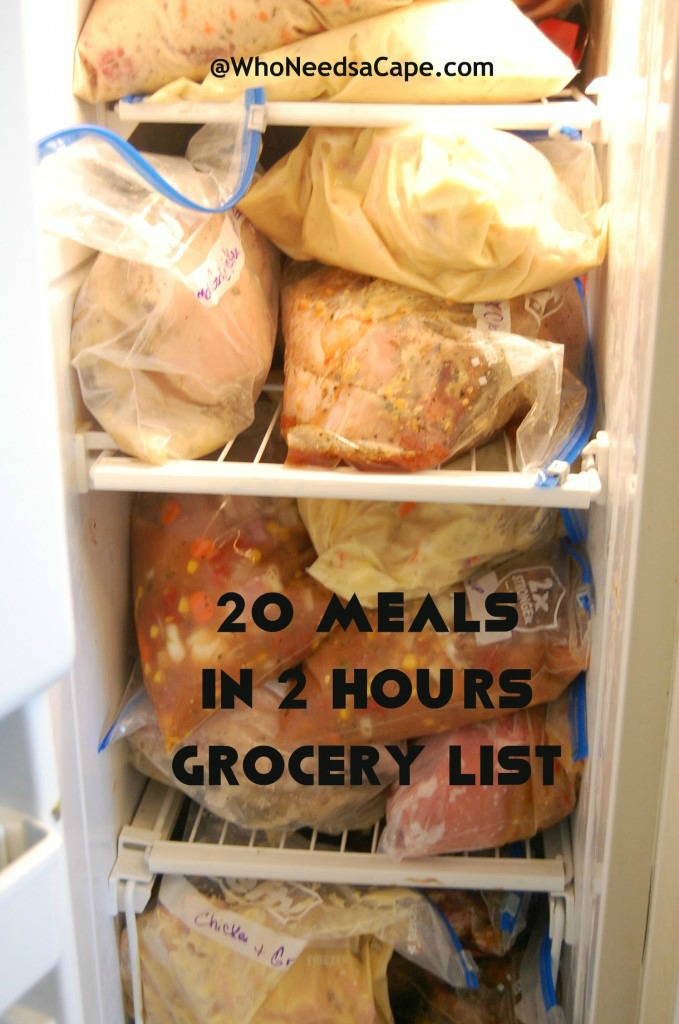 Here's the list for the 20 Meals in 2 Hours Slow Cooker/Freezer meals post!  Don't be intimidated (I would be lol) because a lot of these things you already have in your house, I'm sure. When making this list for myself, I wrote a separate list of things I actually had to buy and it was A LOT smaller. 🙂
As a side note, this list includes only what is being frozen. So for example, the biscuits used in the chicken and dumplings dish are NOT on the list. Anything that is added after cooking for 6 hours is NOT on the list. 😉 But I would write that ingredient on the freezer bag (i.e., dumplings needs biscuits and milk – it's on the bag so I know when I pull it out of the freezer).
Meat:
Chicken Breast (13 pounds)
Stir Fry Beef (3 pounds)
Stew Meat (or cubed steak) (3 pounds)
Stew Meat (or top round cut into cubes) (3 pounds)
Pork Chops (4–6 pounds)
Pork Loin (2, 4 pound roasts)
London Broil (2 london broils at least 1-1/2 to 2 pounds each)
Veggies – Canned and fresh
Frozen bag of pepper/onion stir fry mix (2)
Baby Carrots (5 pounds)
Garlic (29 cloves)
Onions (3 pounds, chopped)
Shredded Carrots (1 cup)
Salsa Verde (3, 16-ounce jar)
Rotel Tomatoes with green chilis (4)
Limes (6)
Corn (1 cup)
Lemon Juice
Dairy Items
Romano Cheese (1 1/2 cup)
Butter (8 tbsp.)
Pantry Items
Soy Sauce (2 small jars or 1 large container because you need at least 2-1/2 cup)
Beef Broth (1-1/2 cup)
Chicken Broth (2 14.5 ounce cans plus 1 cup)
10 ounce can of French Onion Soup (2)
10 ounce can of Cream of Mushroom Soup (2)
10.75 ounce can of Cream of Chicken Soup (6)
12 ounce jar of chicken gravy (2)
Worcestershire Sauce (1/2 cup)
Meat Tenderizer
Balsamic Vinegar (2 cup)
Honey (4 tbsp. & 2 cup)
Crushed Basil
Olive Oil (2/3 cup)
Veg Oil (1/2 cup)
Red Pepper Flakes
Rosemary
Oregano
Cumin
Chili Powder
Seasoning Salt
Parsley
Garlic Powder
Garlic Salt
Sugar
Salt/Pepper
Don't forget to buy Gallon Size Freezer bags!