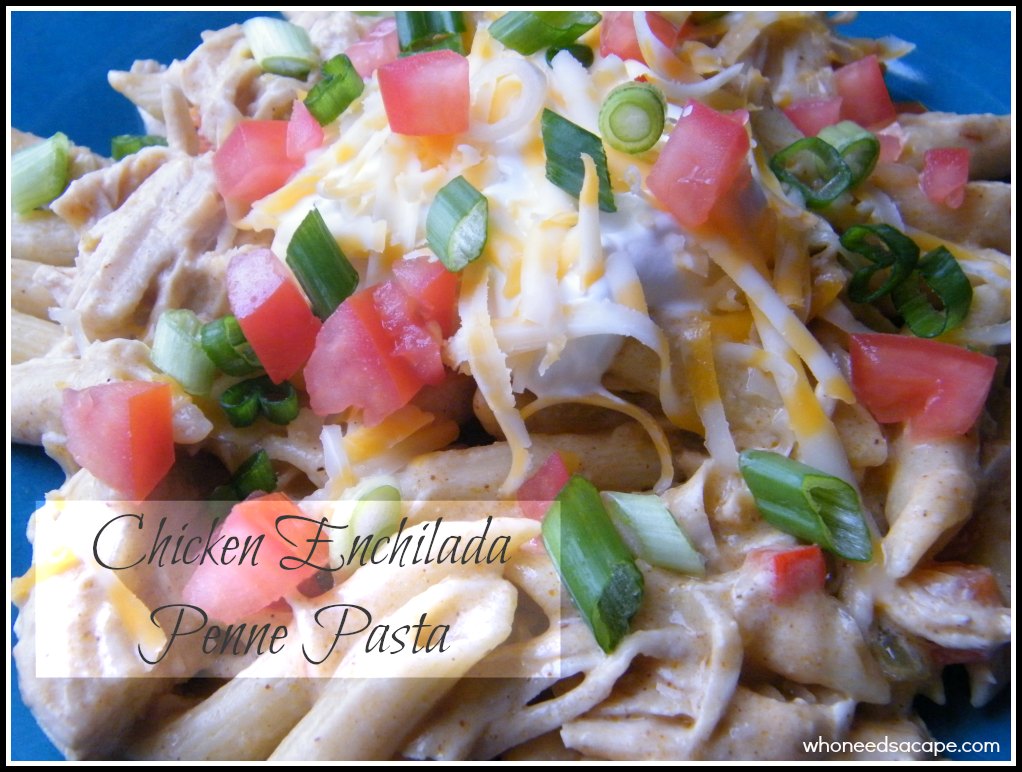 If I could eat Mexican food everyday, I'd be a happy lady!  I've always enjoyed the flavors,  I spent many a meal at different Mexican restaurants with my family growing up.  Enchiladas are one of my favorite meals, beef, chicken, seafood, love them all.  Now I also enjoy pasta, especially with a flavorful sauce.  So you can only imagine my elation when these 2 favorites collide in a dish packed with both of these combined!  Yep, this one is a keeper!  You can add more spice in the form of Tabasco Sauce or additional Chili Powder, I kept it on the mild side for the younger ones.
Chicken Enchilada Penne Pasta
Ingredients
3 chicken breasts, cooked & shredded
2 T olive oil
3 garlic cloves, minced
1/2 cup onion, diced
1 bell pepper, diced
1 4oz can diced green chiles
1/2 t salt
1 t chili powder
1 t cumin
2 10oz cans green chile enchilada sauce
2/3 cup red enchilada sauce
2 cups shredded Colby Jack cheese, or your preference of cheese
1 cup sour cream
1 box Penne pasta, cooked & drained
Instructions
Cook and shred chicken, you can also used pre-cooked rotisserie chicken & shred, this is up to you.
In large sauce pan, heat olive oil over medium heat, add onion, garlic and bell pepper, cook approximately 5 minutes, stirring occasionally.
Add shredded chicken, spices, and both enchilada sauces. Stir together & let simmer on low 10 minutes.
Add shredded cheese, stirring until melted. Stir in sour cream, just until heated through at low temperature.
Add sauce to drained pasta and mix together.
You may add additional toppings such as: diced tomato, sliced green onion, additional sour cream, black olives or chopped avocado.
http://whoneedsacape.com/2013/02/chicken-enchilada-penne-pasta/