This shop has been compensated by Collective Bias, Inc. and its advertiser. All opinions are mine alone. #ThinkOutsideTheWipe #CollectiveBias
Enjoying the Rock Painting craze that's swept our nation? Make a Rock Painting Caddy to contain the craft supplies & find out what helps with the mess.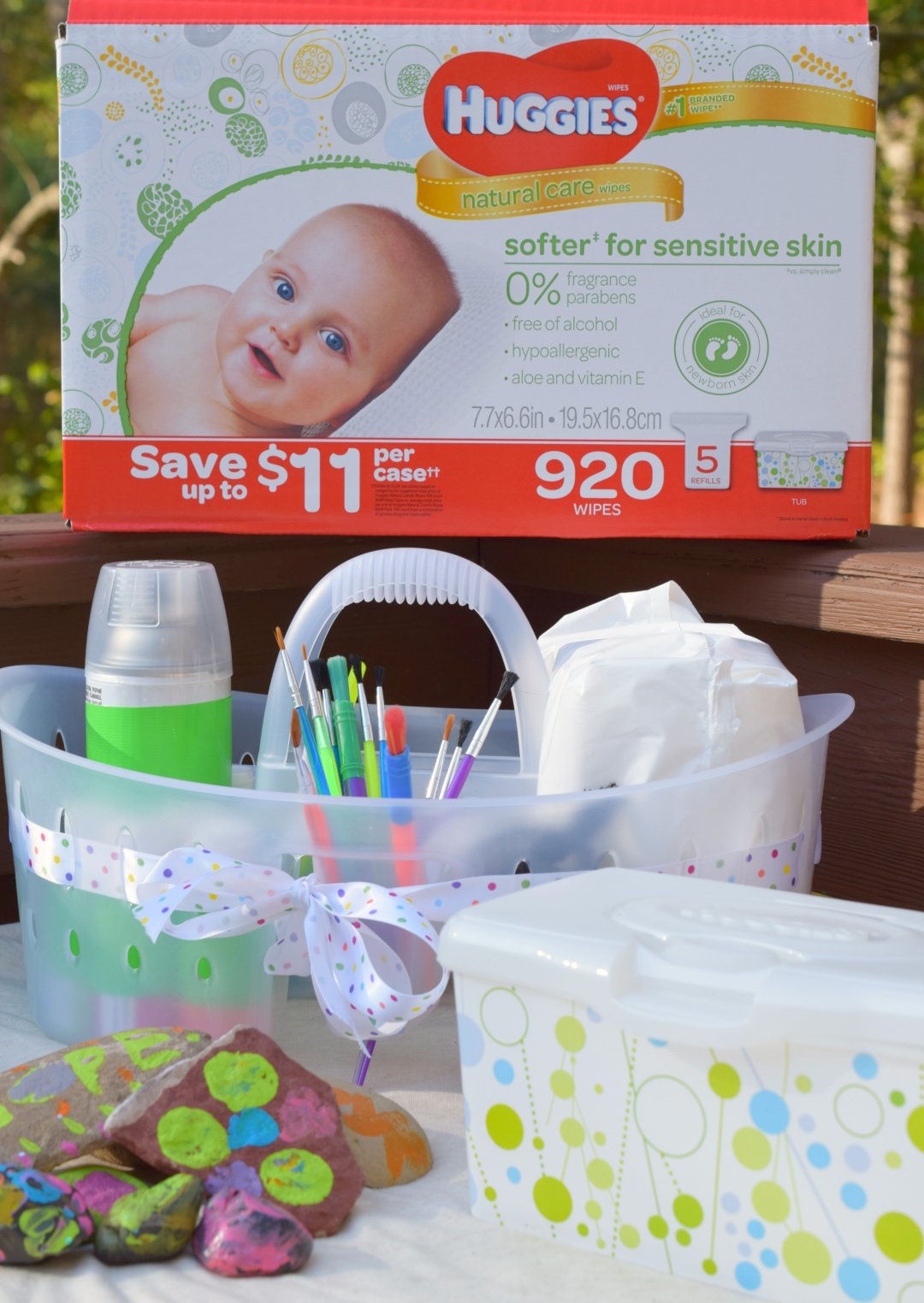 If you are interested in using Huggies® Natural Care® Wipes in your next creative adventure, that's great! Simply hover over the photo to click through to Samsclub.com to purchase them!"
If you've been following along in recent months you may have noticed quite a few posts that are camping related. To recap almost a year ago we bought a 37′ motor home, a cabin on wheels. We camped nearly every weekend this spring, summer and now fall and have had some great fun embracing the RV lifestyle. Now with that said, I've learned that smaller spaces require a lot more forethought when packing up yourself, the hubby, a minimum of two kids and the dog…we call come with a ton of stuff, we just do!
I've begun limiting what we bring, being creative with storage and implementing items that serve a two-fold purpose. Take for example items that my kids love to use: games, books, toys and crafting supplies. These can overwhelm a small space in no time. Resourcefulness is key and I cannot wait to share with you what I recently put together with my girls to help with their new-found obsession of painting "Kindness Rocks".
Let me start with a small explanation, if you aren't familiar with Kindness Rocks. Recently a trend swept our country of painting rocks and leaving them in locations where others can find them. Now part of the fun is painting the rocks, creativity can shine or a simple message painted message of kindness is great too. Placing them is the next fun part, you don't want to place them in areas they'll never be found, the point is you'd like others to find your Kindness Rock.  Once a rock is found no matter how great it is, the hope is that the finder will then place the rock in a different location and let someone else join in on the fun. Joining a local Facebook group for painted rocks is a fun way to see if yours have been found and shared online.
As I mentioned we've spent a fair amount of time at campgrounds and we started painting Kindness Rocks at our campsite. Fun, right? Of course, BUT what I was not thrilled at the prospect of paint coming inside our motor home which has very lightly colored fabrics, floors and leather. NOPE!
Plus the amount of fun painting supplies quickly grew out of control. We needed organization and fast! That's how our Rock Painting Caddy was born. I needed something to contain the supplies and mess.
The mess part was actually very easily fixed with a trip into my local Sam's Club. I picked up Huggies® Natural Care® Wipes which are perfect for spills and messes that inevitably happen during painting projects. As a Sam's Club member you get more bang for your buck and as a budget conscious mom, I love that. Plus have you tried their Scan and Go service? This is a great way to make shopping more convenient, you really should try it.
Huggies Natural Care Wipes are ideal for hands and faces as they are infused with a touch of aloe. They are also hypoallergenic and free of harsh chemicals. There's no alcohol, parabens and MIT. The portable packs are fantastic for stowing away all over the place even in small RV cabinets or inside a Rock Painting Caddy. Huggies Natural Care Wipes are clinically proven to wipe away 99% of germs…YES!
Now let me show you how simple it is to make your very own Rock Painting Caddy. Of course depending upon the type of caddy you purchase you may or may not be able to weave ribbon along the outside.
Materials Needed:
Plastic Caddy (I used one from the bath department)
Ribbon
Painting Supplies (brushes, rocks, paints, etc)
Huggies Natural Care Wipes
Take ribbon and run through the outside of plastic caddy and tie ribbon into a bow. If your caddy does not have holes simply make a bow from ribbon and attach firmly.

Organize all painting supplies in the caddy.
Add Huggies Natural Care Wipes into caddy for easy access.
Now that all of our rock painting supplies are easily contained and transported, I can pop our Rock Painting Caddy into a storage area in our motor home until we need it again. And the messes, well we'll just say we contained those too with Huggies Natural Care Wipes from Sam's Club.