This Easy Snowman Cake is a fun dessert to make with your kids. With easy pantry items you can create a friendly winter snowman for your next party.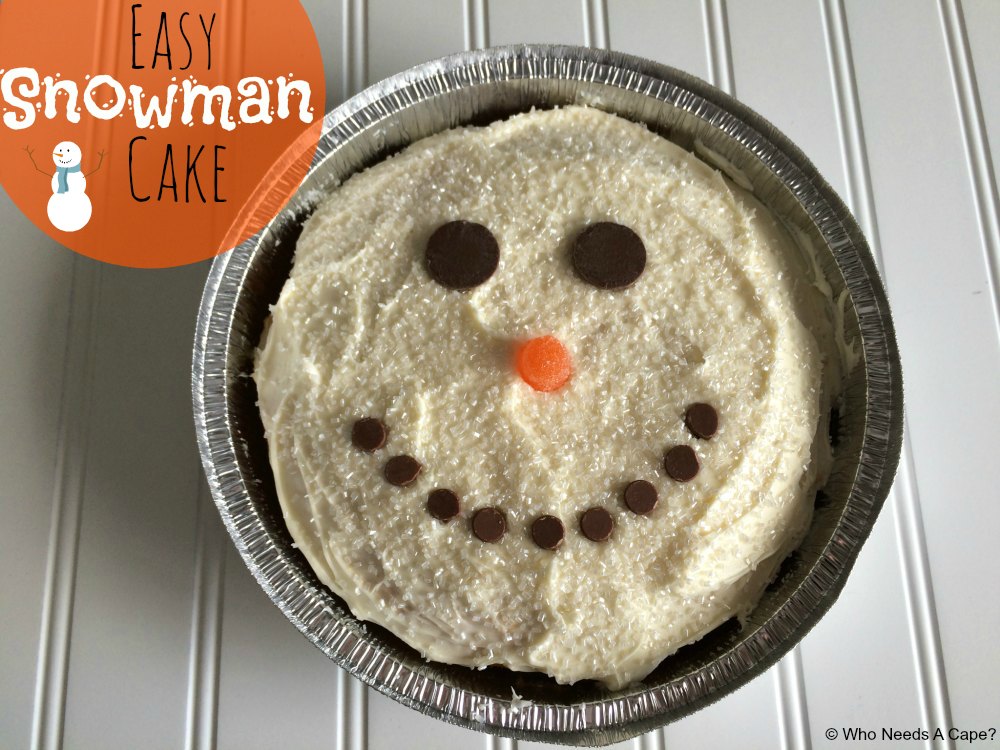 I'll start by saying this post isn't all that complex, but I just had to share!  This Easy Snowman Cake came about because my 6 year old's elementary school was hosting a winter carnival.  All sorts of carnival games, food, fun and of course the ever popular CAKE WALK!  Who doesn't love a cake walk?  Leaving with something yummy is worth enduring other games that are almost impossible to win (seriously, have you tried the ring toss? I'm horrible at that!)
I immediately signed up and figured I would prepare some cupcakes and call it good.  Then I got to thinking about snowmen, it is winter in Michigan after all, so we see our fair share of them adoring yards around town.  Then it hit me how easy it would be to make a single-layer snowman face that was simple, smiley and irresistible.   So I bought a couple of disposable 8″ foil cake pans with clear plastic lids, didn't wanna cover the little guys cuteness.  Then I used:  1 box of cake mix, 1 tub of white frosting, orange gumdrops, some chocolate chips, shimmery white sprinkles and for those big brown eyes…Candy Melts, you know the ones that you melt and dip all sorts of things in.  They wound up being just the right size, bigger than a chocolate chip, the scale is just perfect.
Had both of my girls help with this and they were delighted that they turned out so cute.  The cakes had a lot of nice compliments at the cake walk and fit in with the winter theme perfectly.  So if you're looking for a cute and easy cake to make with the kids this may be just the one for you!
If you're looking for other kid friendly baking, we have that too!