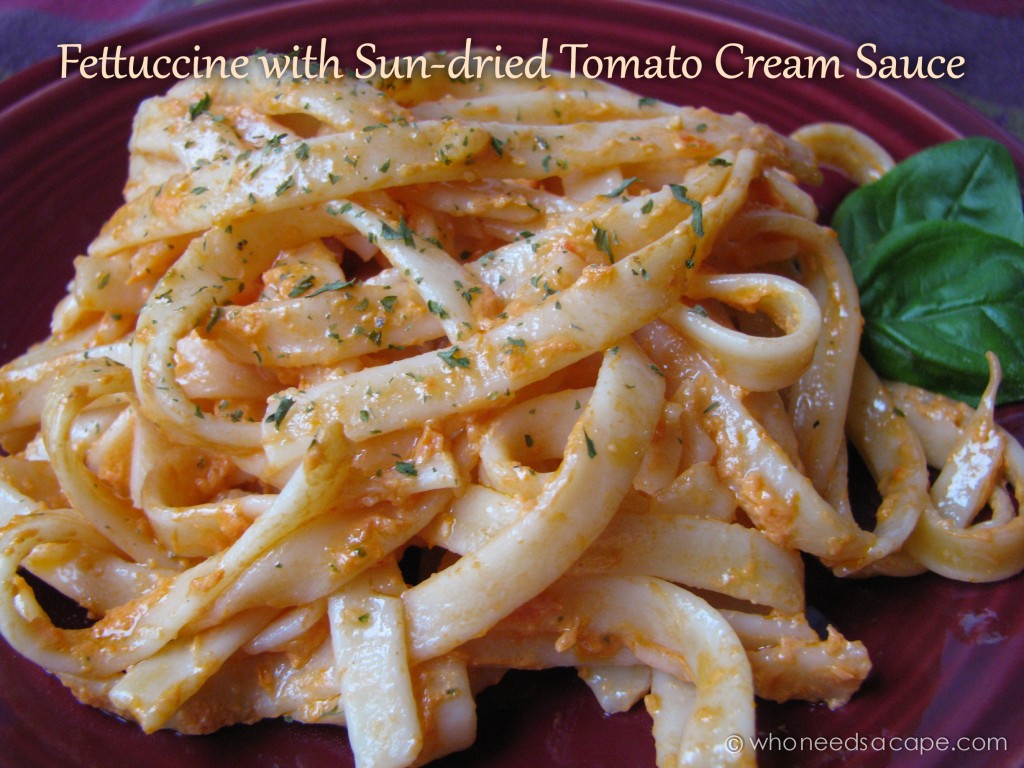 What do you do when you're tired of making "regular" sauce for your pasta? You can try this tomato cream sauce instead. I've just recently discovered how fun and flavorful sun-dried tomatoes are, so this was a great recipe to try, especially because of how great the tomatoes work with the garlic.
Fettuccine with Sun-dried Tomato Cream Sauce
From Philadelphia Cream Cheese's "Finest Recipe Collection," page 52.
Ingredients
2/3 c. sun-dried tomatoes
3–4 garlic cloves
8 oz. cream cheese, softened
1/2 tsp. dried oregano leaves, crushed
1/4 c. butter
1/4 c. sour cream
1 lb. fettuccine, cooked and drained
1/4 c. olive oil
Salt and pepper
2 tbsp. chopped fresh parsley
Instructions
Cover tomatoes with boiling water; let stand 10 minutes. Drain.
Place tomatoes and garlic in food processor or blender; process until coarsely chopped. Add cream cheese and oregano; process until well blended.
Melt butter in medium saucepan; stir in cream cheese mixture and sour cream. Cook until thoroughly heated.
Toss hot fettuccine with oil.
Add cream cheese mixture. Season with salt and pepper to taste.
Sprinkle with chopped parsley. Serve immediately.
http://whoneedsacape.com/2013/05/fettuccine-with-sun-dried-tomato-cream-sauce/