Why not combine a beloved cocktail and a dessert into one amazing pie? That's what you'll get with a Fuzzy Navel No Bake Cheesecake! YUM!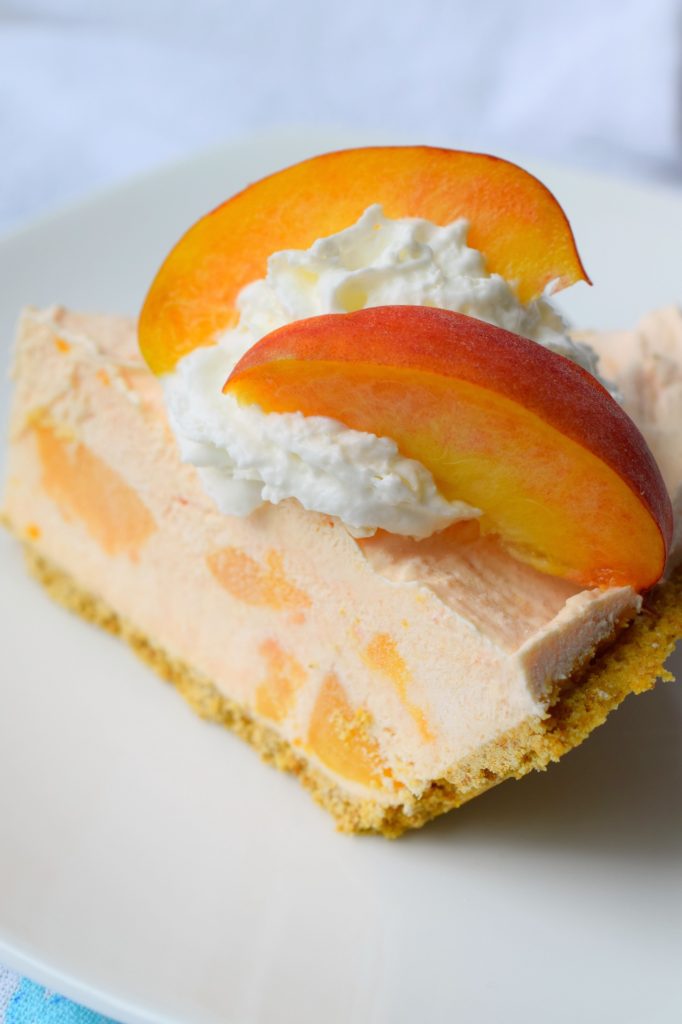 Fuzzy Navel No Bake Cheesecake
Welcome to my first post for #CookoutWeek 2018! In fact, this is my very first time participating in this delicious summer event and couldn't be more excited to share the journey with other bloggers and our followers. What could be better than loads and loads of great food for cookout season?
Let's get right to the reason we're here as I happily debut this amazing Fuzzy Navel No Bake Cheesecake! Yes, indeed I went there, a boozy dessert that's fruity and fun! Summer is the perfect time for a cocktail inspired dessert!
Yes, Fuzzy Navel No Bake Cheesecake is inspired by the beloved Fuzzy Navel cocktail. In my younger years, this was a very popular cocktail because it goes down easily, and it only has 2 ingredients.
You definitely don't need to be a mixologist to whip one up. The thought hit me, why not mix in the same sweet and fruity flavors into an easy no bake cheesecake and just like that I had the perfect dessert for summer entertaining.
Why Limit Happy to an Hour? author unknown
This is a great dessert to make ahead of time. I love being able to prep dishes ahead of time especially when I'm the one hosting a cookout.
You can even freeze this pie (I may have enjoyed a frozen piece and it was amazing) just make sure you get it in the fridge for at least 4 hours after preparing to let it firm up.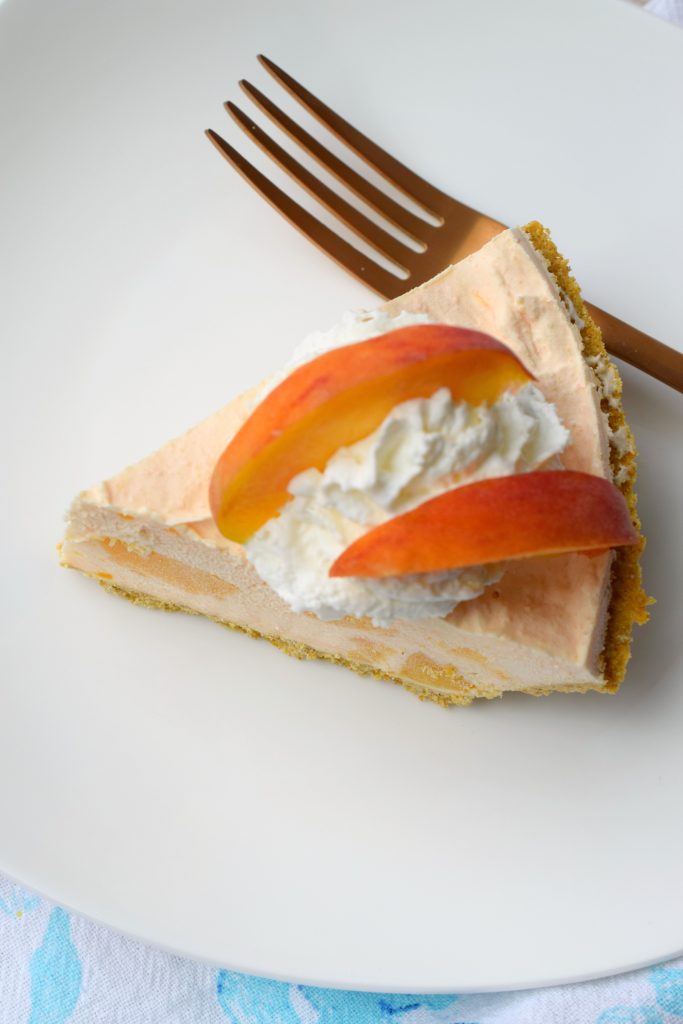 The basis of this no bake cheesecake is fairly simple and it begins with cream cheese and a pre-made graham cracker crust. Into the cream cheese, the "Fuzzy Navel" components get mixed and then blended with whipped cream. That's it, there's nothing complicated here at all.
Now if you aren't familiar with what a Fuzzy Navel is, let me assure you it has nothing to do with belly buttons.
What exactly is in a Fuzzy Navel cocktail? Just two basic ingredients:
Peach Schnapps
Orange Juice
Yes, there's also a version floating around which uses vodka and is referred to as a "Hairy Navel"…no, just no! I'll stick with a Fuzzy Navel thank you very much. If you prefer a pie with no alcohol, no worries you can simply omit the Peach Schnapps for the drained peach juice!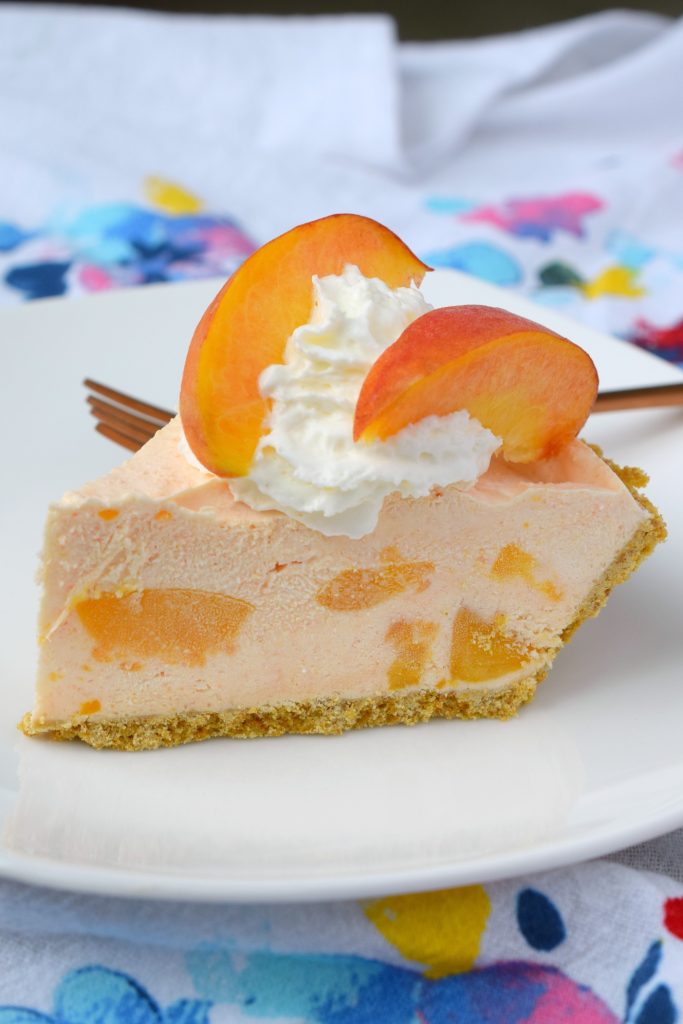 Cheesy Artichoke Loaf is my next recipe addition for #CookoutWeek. Scroll all the way to the bottom so you don't miss any of the delicious additions to #CookoutWeek! YUM!
Now tell me what's your favorite cookout recipe? Comment below!
Yield: 6-8 servings
Fuzzy Navel No Bake Cheesecake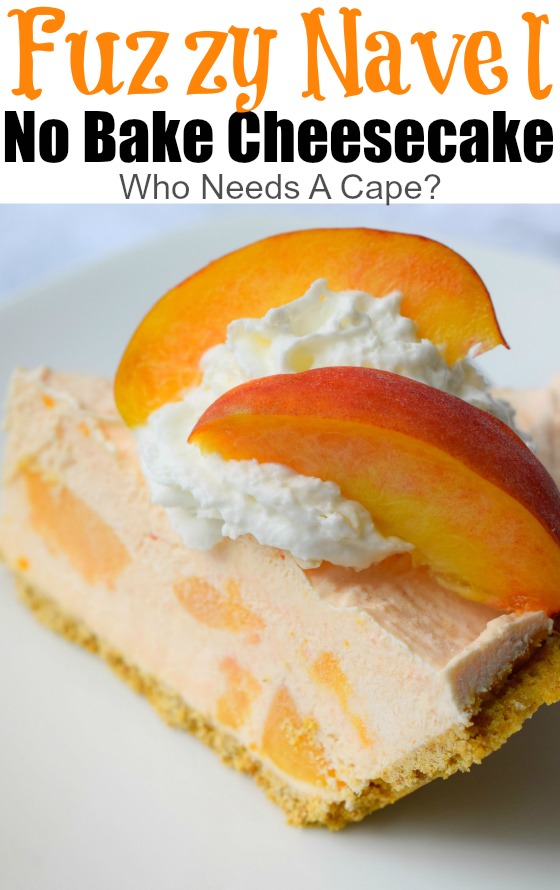 Ingredients
1 8 oz packages cream cheese, softened
1 3oz box Orange flavored Jello
1 8 oz can peaches, drained & chopped
1/3 cup Peach Schnapps
8 oz Cool Whip, thawed
1 graham cracker crust
Instructions
In mixing bowl using electric mixer beat cream cheese until fluffy. Pour in packet of Jello and continue mixing.
Add Peach Schnapps and diced peaches, mix until combined.
Stir in Cool Whip until mixed thoroughly.
Spoon into crust and cover.
Refrigerate a minium of 4 hours prior to serving.
Notes
Simply omit Peach Schnapps and substitute the canned peach juice if you prefer a pie with no alcohol. If your crust is shallow, you may have enough filling for two smaller pies. Pie may be frozen, thaw in refrigerator approximately 2 hours prior to serving.