French Onion Salisbury Steak is a deliciously hearty meal that's easy enough for weeknights. Serve over mashed potatoes for the ultimate comfort meal.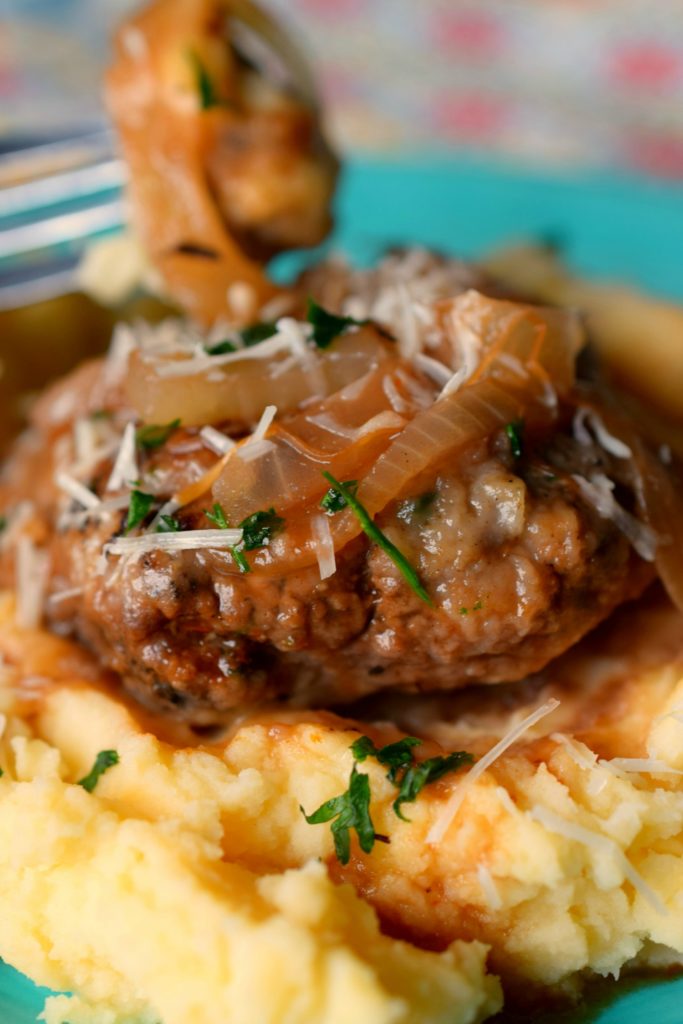 French Onion Salisbury Steak
Friends, one of our favorite blogger events has rolled around again…FREAKY FRIDAY! We've been participating in this fun blogger recipe swap for the past couple of years and always look forward to the next round.

If you've missed previous Freaky Friday events, in a nutshell, you are secretly assigned another participating bloggers website. From their site, you choose to make one of their recipes for your site. Then the big reveal happens for all participants the morning of…you guessed it FREAKY FRIDAY! The blog that I was assigned this round: Platter Talk-Food, Wine, Friends. 
I've been in blogging circles with Dan of Platter Talk for quite a few years now and know many of his recipes by sight. Let me tell you a little about Platter Talk if this is a new blog for you. Platter Talk is run by Dan & Scott…together they have 6 boys (yes 6) and they love to cook!
I see pictures on Facebook frequently of their boys following in their footsteps and tackling kitchen prep and cooking! Dan & Scott enjoy time at their picturesque cabin and are always cooking up something delicious. You simply must follow them!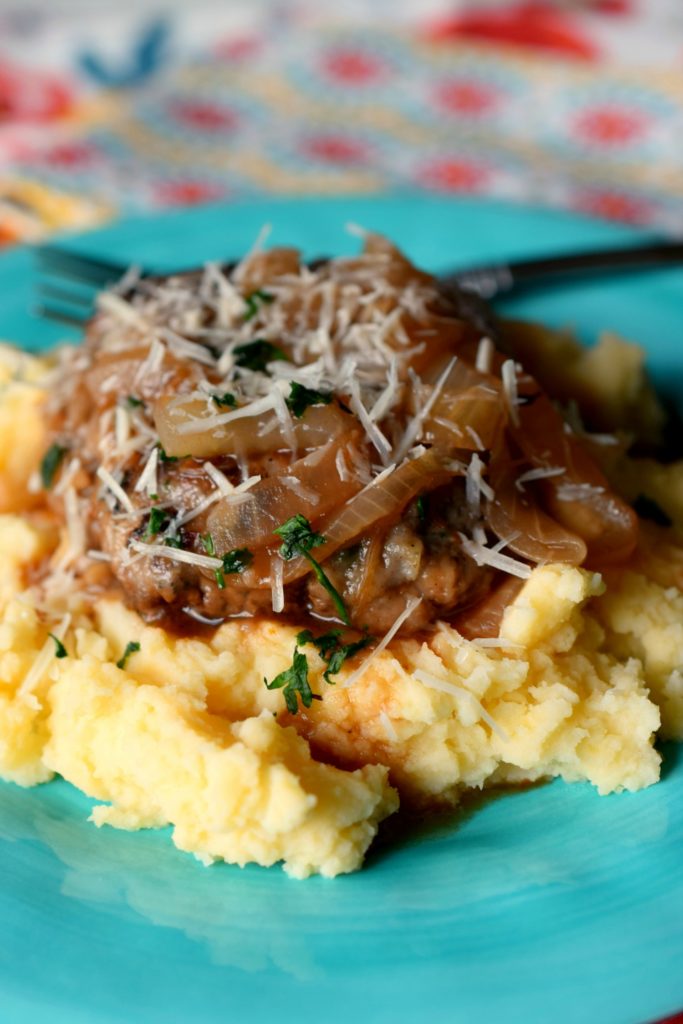 As I perused their extensive portfolio of recipes I stumbled on quite a few that I knew my family would enjoy. The Sky-High Chocolate Salted Caramel Cupcakes are oh so tempting. I also knew my family would dig into their Taco Beef Noodle Casserole, no doubt about it.
Ultimately though I went with comfort food: French Onion Salisbury Steak! The Platter Talk version is served with Cheesy Garlic Toast which sounds amazing. I opted to use mashed potatoes only because I have some of the fussiest kids on the planet…end of story.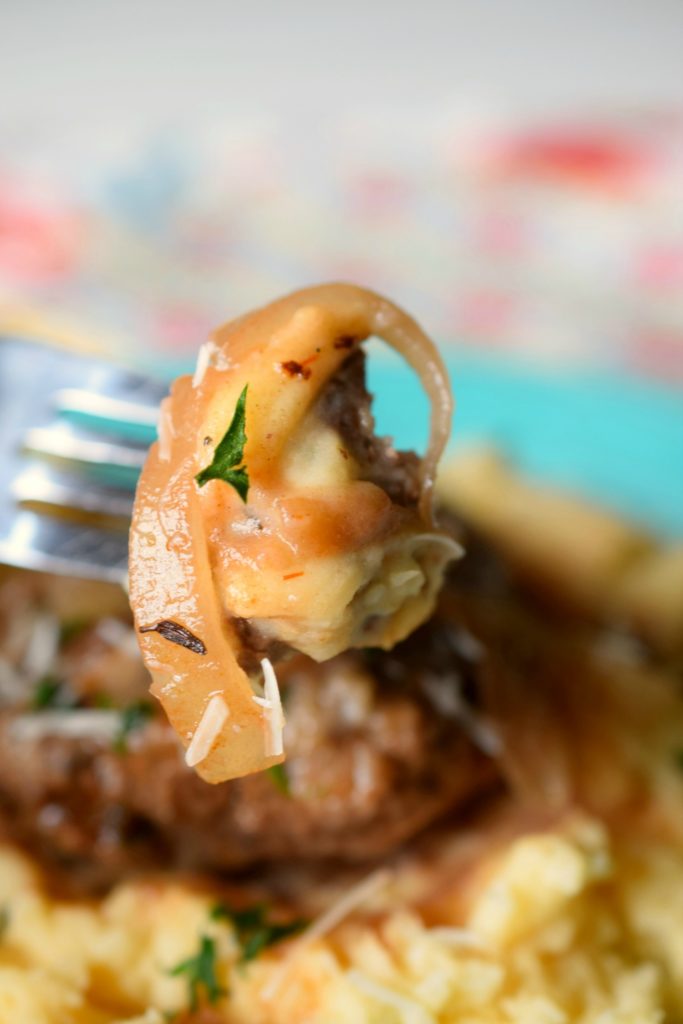 This dish did not disappoint! Quite honestly I love a good one pan meal that the whole family will love. The sauce was flavorful, the meat tender, the onions…the whole dish was tasty, tasty, tasty!
Simple enough for weeknights, the recipe delivers big flavors with minimal prep! I was in and out of the kitchen and enjoying dinner in no-time. You'll love the recipe, thanks, Dan & Scott for a new family favorite! 🙂
---
Previous recipes from Freaky Friday: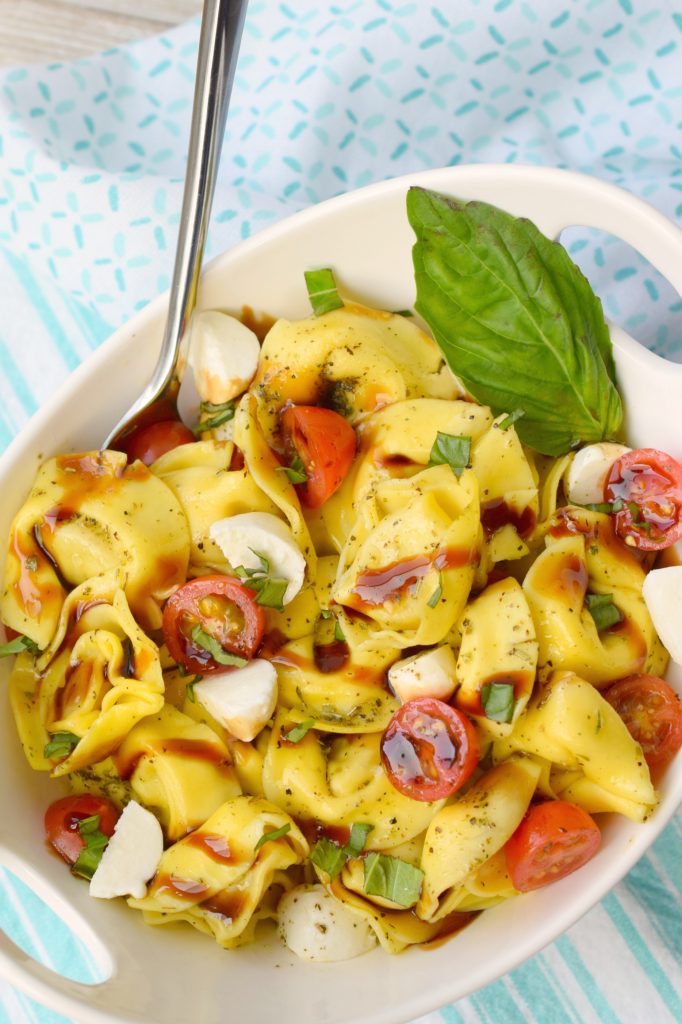 Yield: 4 servings
French Onion Salisbury Steak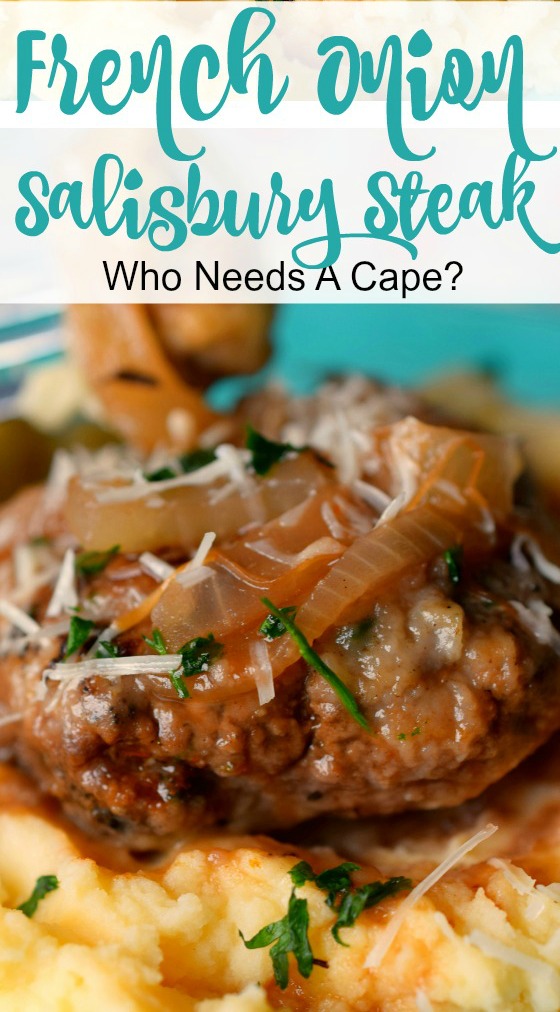 Ingredients
1.25 lbs ground sirloin
1/4 cup fresh minced parsley
1 t kosher salt
½ t black pepper
2 T all-purpose flour
1 T olive oil
2 cups onions, sliced
1 t sugar
1 T garlic, minced
1 T tomato paste
2 cups beef broth
¼ cup dry red wine
¾ t kosher salt
½ t dried Thyme
For Garnish:
2 T minced fresh parsley
Parmesan cheese, shredded
Instructions
Combine ground sirloin, parsley, salt & pepper. Divide evenly into 4 equal portions and shape each into ¾–1"-thick oval patties.
In shallow dish place 2 T all-purpose flour; dredge each patty in flour. Reserve 1 t flour.
Heat 1 T oil in a saute pan over medium-high heat.
Add patties and saute 3 minutes on each side, or until browned. Remove from pan & set aside.
Add sliced onions and sugar to pan; saute approximately 5 minutes.
Stir in garlic and tomato paste; saute approximately 1 minute, or until paste begins to brown. Sprinkle onions with reserved flour; cook 1 additional minute.
Stir in broth and wine, then add the salt and Thyme. Return patties to pan and bring liquid to a boil.
Reduce heat to medium-low, cover, and simmer 10 minutes. Sauce will slightly thicken.
Garnish with parsley and Parmesan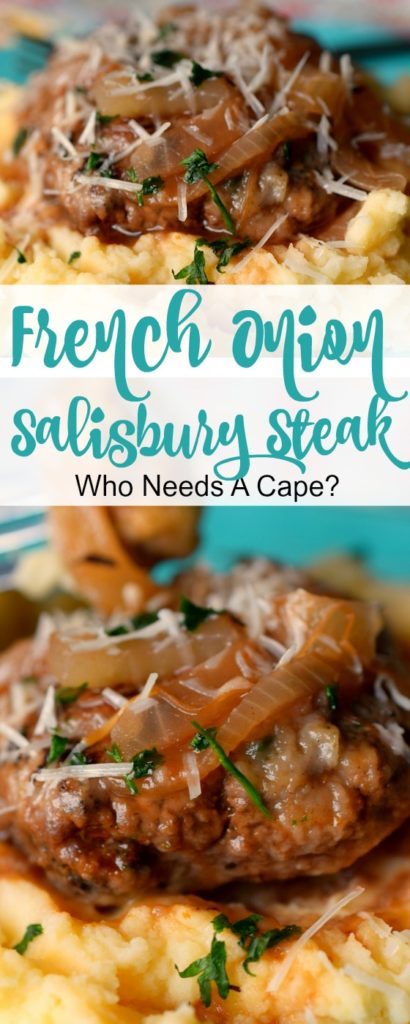 An Affair from the Heart – Easy Homemade Refried Beans
Take Two Tapas – Pineapple Hummus with Smoked Paprika
LeMoine Family Kitchen – Sausage Hash Brown Nests
Full Belly Sisters – Blueberry Dutchbaby
Who Needs a Cape? – French Onion Salisbury Steak
Plattertalk – Lemon Loaf Cake
Hostess at Heart – Teriyaki Chicken Bowl
Life Currents – Blue Cheese, Fig, and Caramelized Onion Palmiers
Lisa's Dinnertime Dish – Baked Lemon Glazed Donuts
Bowl Me Over – Southwest Chicken Salad Bowl
A Dish of Daily Life – Chicken Carbonara Pasta
Aunt Bee's Recipes – Summer Corn Salsa
A Kitchen Hoors Adventures – Bourbon Banana Bread
Seduction in the Kitchen – Honey Roasted Strawberry Cheesecake Smoothie