This shop has been compensated by Collective Bias, Inc. and its advertiser. All opinions are mine alone. #CarnationSweepstakes #BetterBreakfast #CollectiveBias
I know that I'm not the only busy, crazy person in the morning. The first thing I neglect in the morning? Is my breakfast. I know I'm preaching to the choir! Mornings are just rough around here, I have 3 kids going to 3 different school and yes mom does the driving. Not to mention my kids still living at home range in ages from 16 to 4, and as we all know teens love mornings (note the sarcasm there). Then we have my youngest 2 daughters, who are very and I mean very specific about what they will wear. Here's a tip that has helped me in the mornings:  pick out their complete outfits including shoes and hair accessories the night before with no exceptions. This has helped our morning routine not go haywire but its still a battle to get everyone happily dressed and out the door Monday-Friday.  So as you can see I NEED to start getting myself some energy in the morning in a nutritious way – so I came up with this yummy Chocolate Covered Strawberry Smoothie! You're going to love it!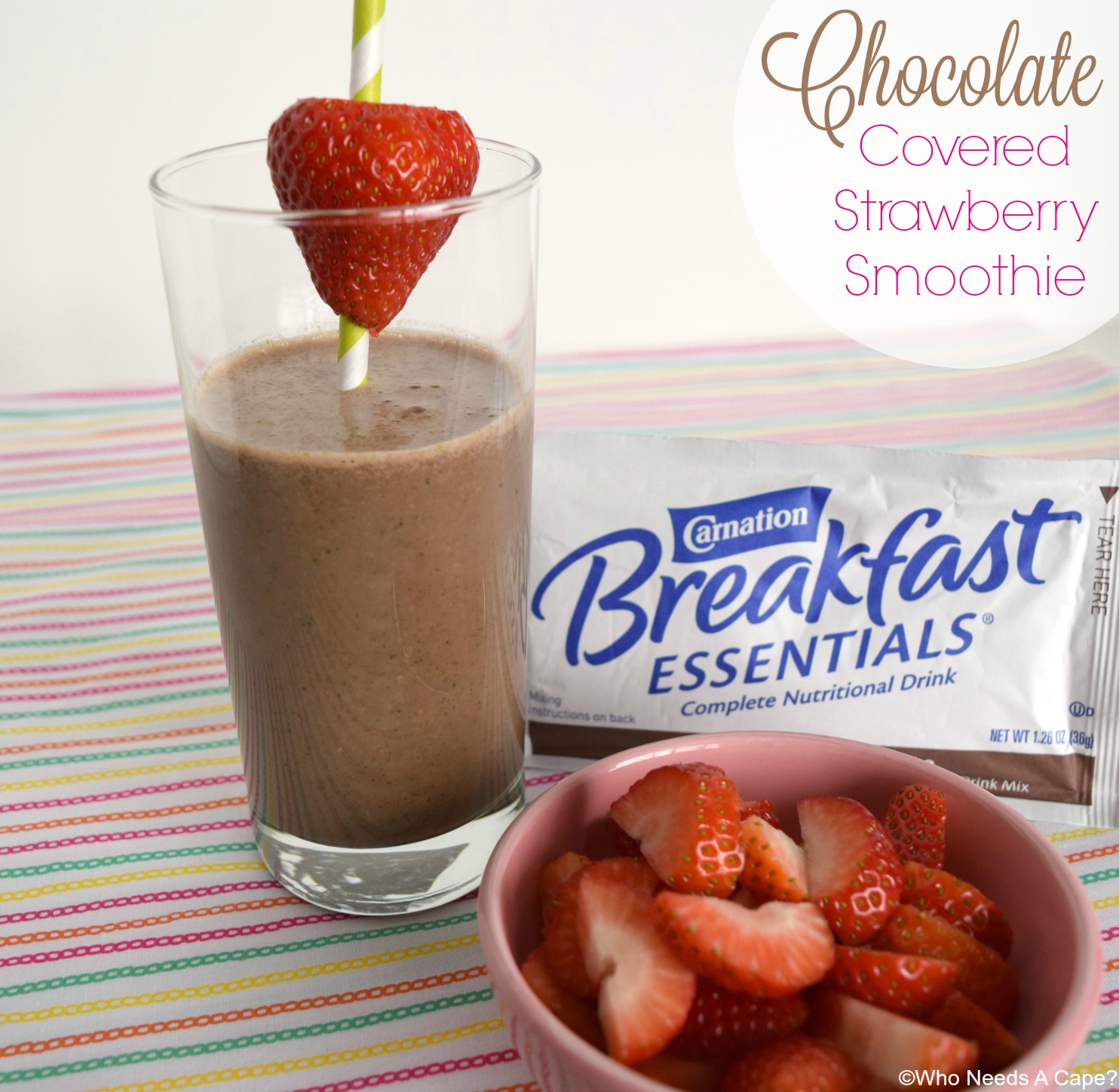 When looking for the perfect start to my day I found (or I should say – rediscovered) Carnation Breakfast Essentials®. I forgot how tasty they are and how much nutrition they provide. It was a great place to start for my get ready for the day breakfast (but don't forget it can't take all day to make it!).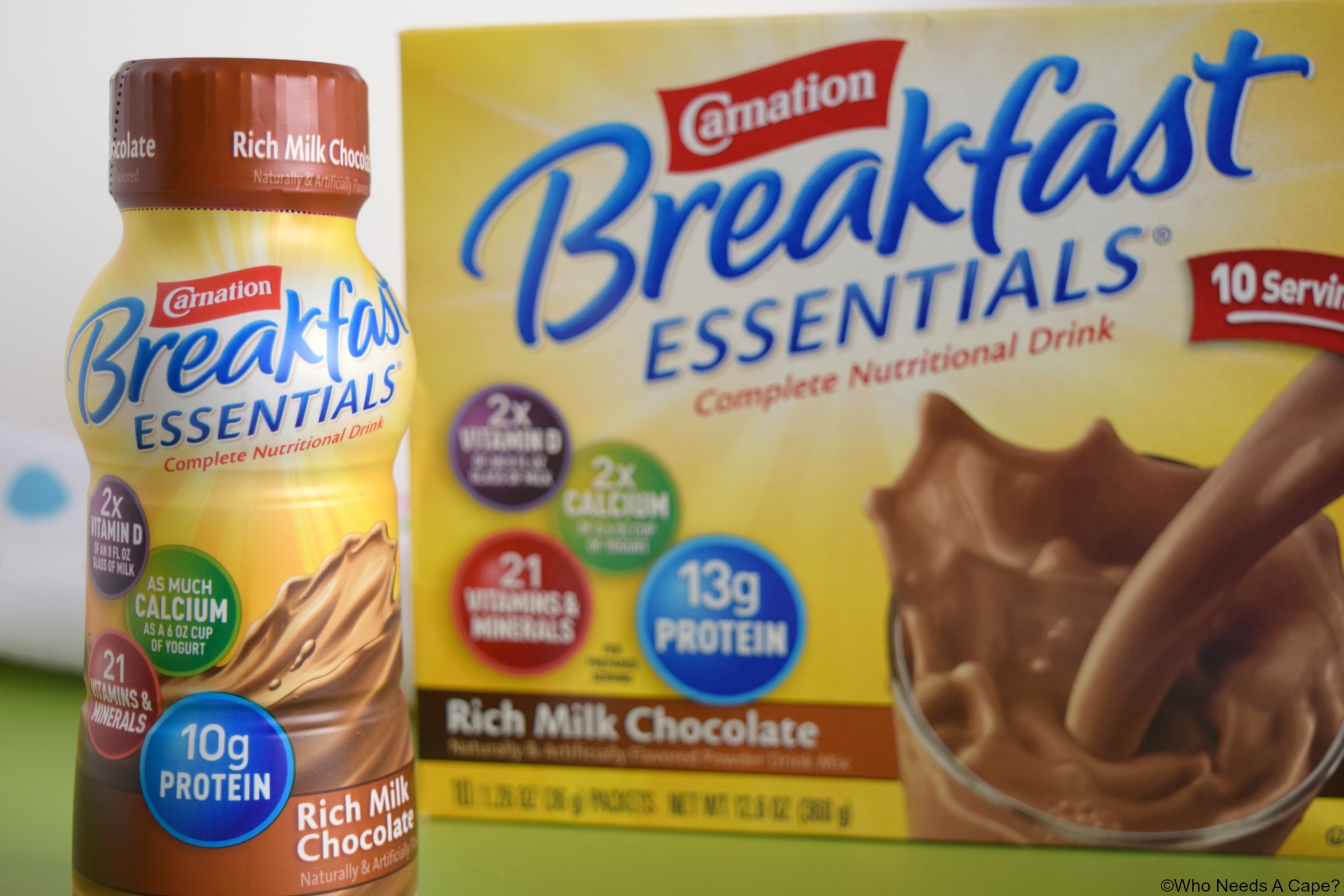 So when I rediscovered Carnation Breakfast Essentials® I realized that they were having a Sweepstakes for me! Ok other people are allowed to enter. But it's a Sweepstakes for exactly my issue (I knew I wasn't the only one struggling with my own breakfast!). Carnation Breakfast Essentials® has recognized that there are LOTS of people like me that need better breakfast habits. So they came up with the Carnation 7-Day Challenge. Want to join me in this? You know you do!
Ready to get started? Follow these easy steps:
1. Sign up at CarnationBreakfastChallenge.com.
2. Complete a simple yet fun breakfast mission for a chance to win. New prizes will be revealed every day!
3. Come back any day in February to complete missions and see new prizes. The prizes range from a Fitbit to a GoPro and other awesome stuff!
4. Head to your favorite store to purchase a Carnation Breakfast Essentials® Nutritional Product and upload your receipt for five extra entries per day
We have that settled right? You're joining me in the challenge? Now we can move on to my SUPER delicious Chocolate Covered Strawberry Smoothie.

I started my 7 Day Breakfast Challenge at Kroger. I knew I would find everything I needed to get my day started right. Kroger had a GREAT selection of Carnation Breakfast Essentials® from powder mix to Carnation Breakfast Essentials® Ready-to-Drink Bottles. I loved all the choices and picked up a couple of different options for me to complete my 7 Day Breakfast Challenge. I also picked up some baby spinach, strawberries and milk.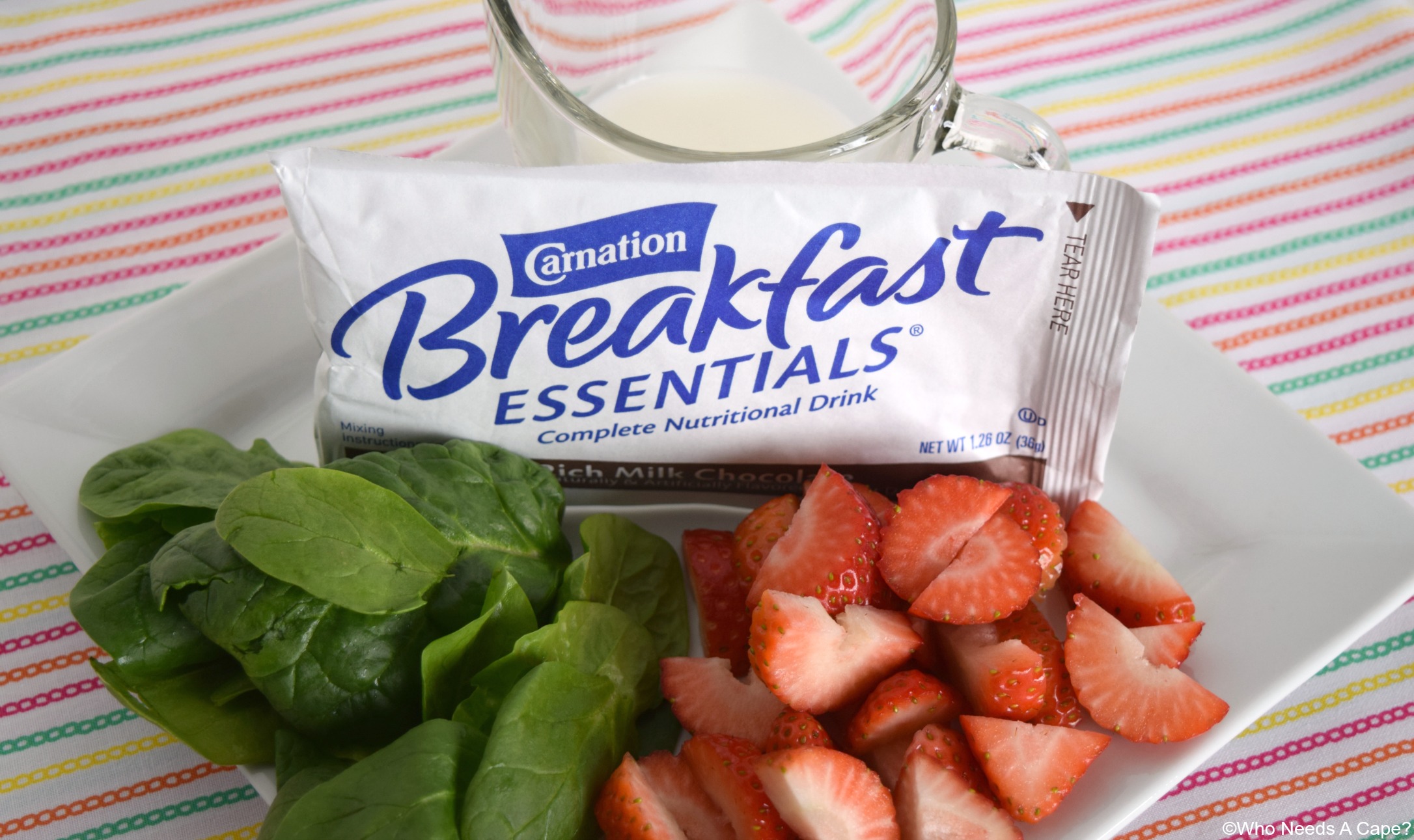 My smoothie is a green monster type of smoothie. Yes, I had veggies in my own food. This is a breakfast I could serve my kids, I already gave the recipe to my Freshman in College in the dorms! It's great for busy college kids. The flip side is that with Carnation Breakfast Essentials® Powder you can't taste the spinach and it gives you a nutritious boost.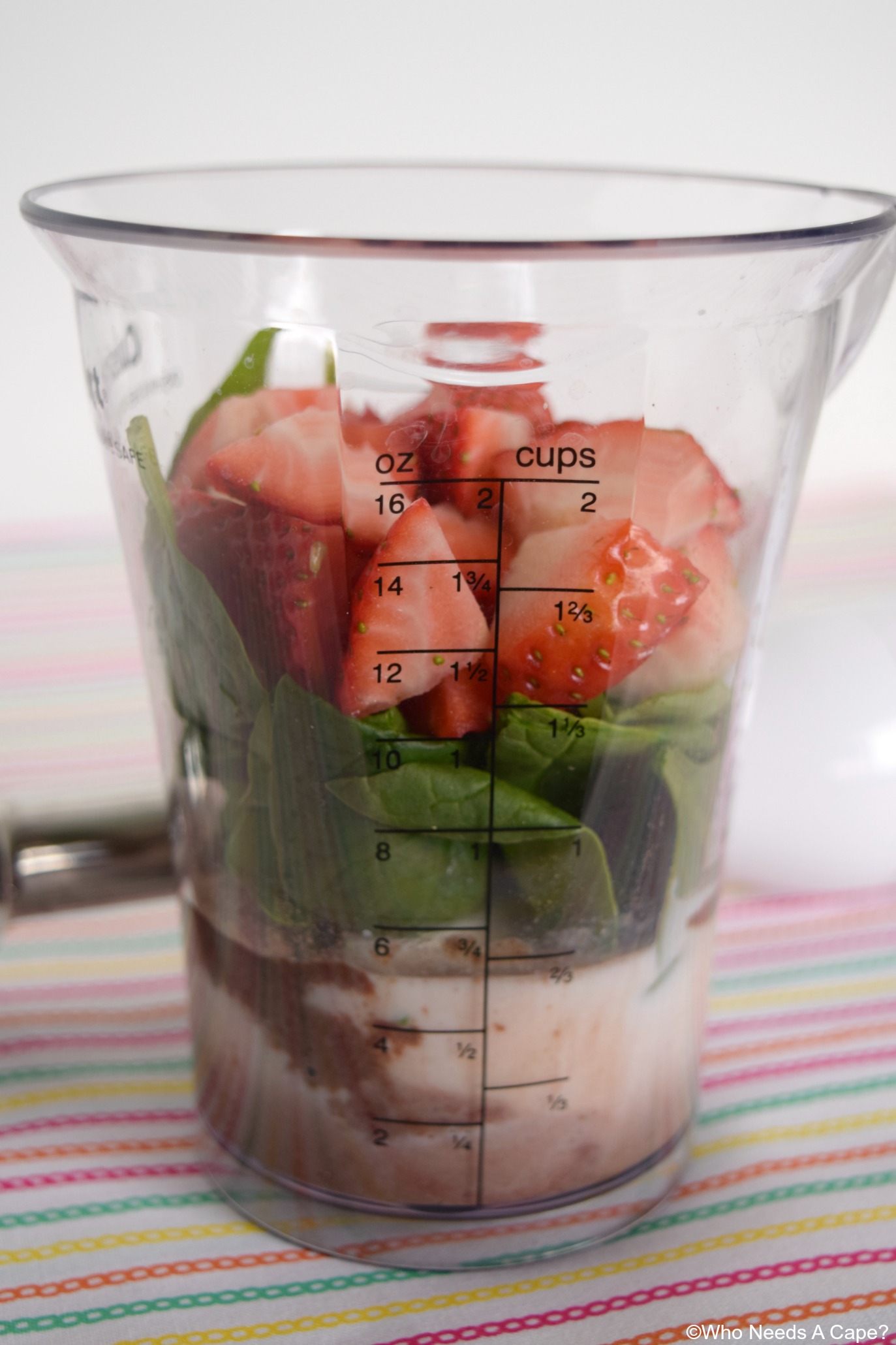 To start your 7 Day Breakfast Challenge off right you'll need:
1 (1.26 oz) package Carnation Breakfast Essentials® Rich Milk Chocolate
1/2 cup strawberries, sliced
1/2 cup baby spinach, packed
1/2 cup skim milk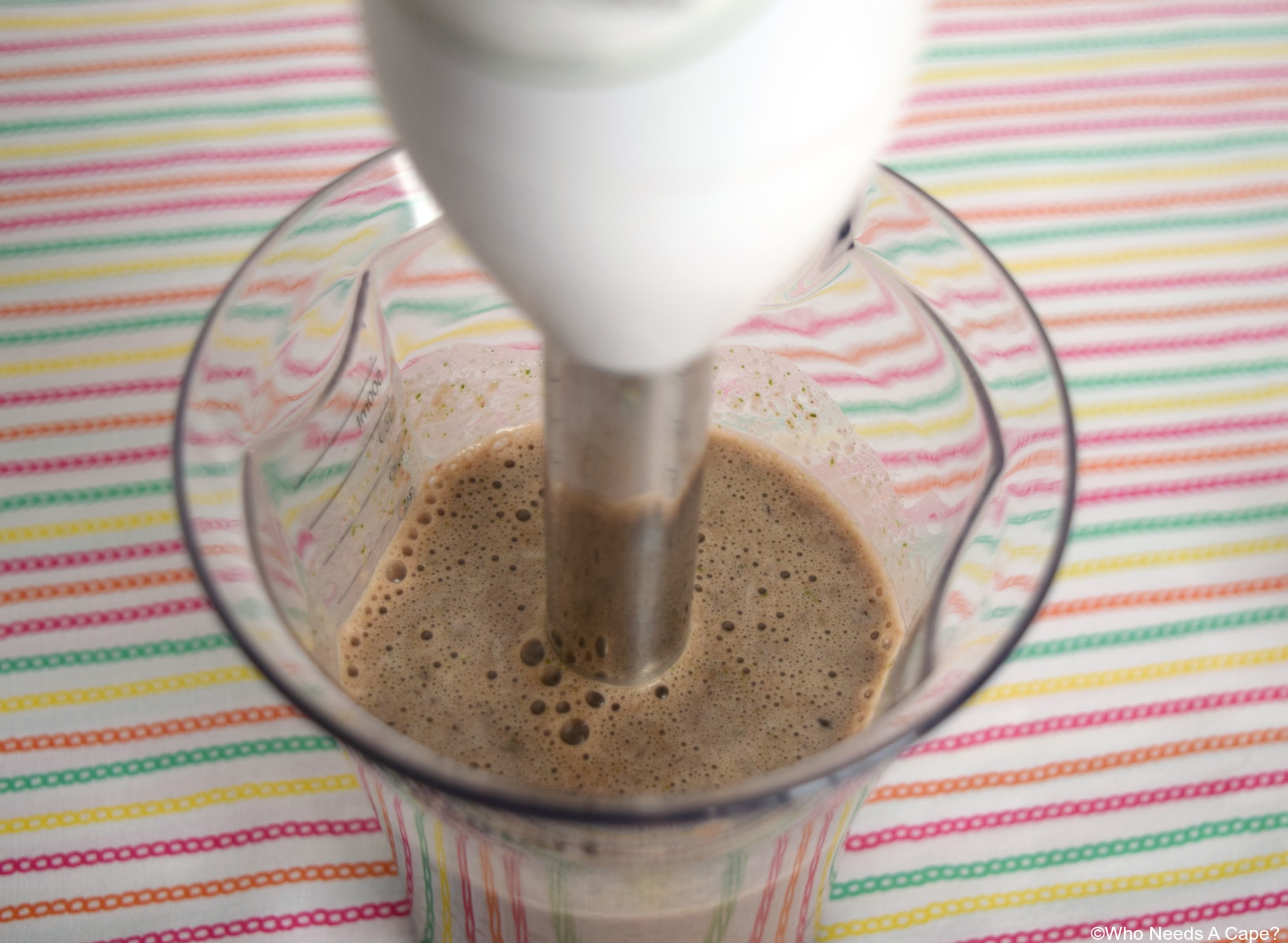 Add all ingredients into blender (I used an immersion blender) and blend thoroughly. Add desired amount of ice and blend again. Serve immediately.
Now you know my trick to starting my 7 Day Breakfast Challenge off with Carnation Breakfast Essentials® Powder. How are you going to start off your challenge? I think you should start here with Chocolate Covered Strawberry Smoothie! Let me know if you come up with something different – and REALLY let me know how you do with the 7 Day Breakfast Challenge!