Strawberry Limeade Popsicles are another great way to beat the summer heat! They are also a great for the kids to help make. Simple summer treat!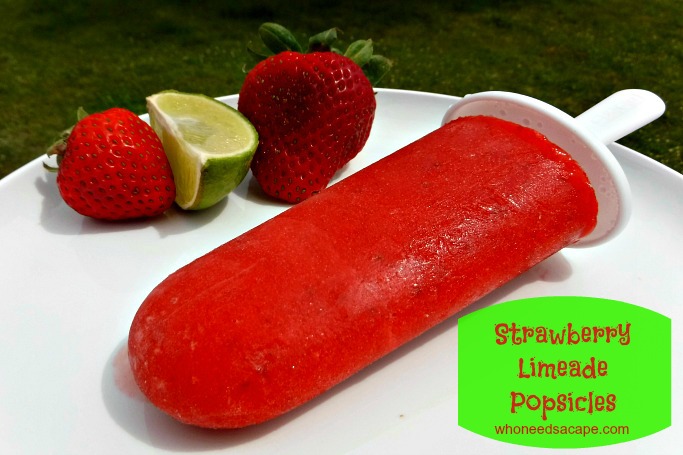 Along with an ice cream maker to beat the heat this summer I also purchased this very nice Popsicle mold. When it arrived I was just itching to make a tasty treat in them. One look in the fridge revealed strawberries and a bag of limes. Strawberry Limeade Popsicles popped into my head instantly! Refreshingly sweet with just the right amount of sour.
For these Popsicles you could use a simple syrup which is a great thing to keep on hand not only for popsicles . It is quick and easy to make and will keep in the fridge so you have it on hand. I chose to kind of make a strawberry puree this time around but in the future I will be trying the simple syrup method. If you choose to do it with the simple syrup there is no need to simmer the mixture, you can just puree it and freeze.
If you are looking for a treat to beat the heat and keep the kids cool, try these Strawberry Limeade Popsicles.
Yield: 6 popsicles
Strawberry Limeade Popsicles
Ingredients
3 c ripe quartered strawberries
1/2 c sugar
zest of 1 lime
juice of 2 limes
3/4 c water
Instructions
In a medium sauce pan combine ingredients and simmer for 5 minutes. Take off of heat and let cool.
In a food processor puree ingredients.
Pour into popsicle molds and freeze
Enjoy!