This Mediterranean Orzo Salad is the perfect addition to your meal. Whether with grilled meat or seafood, you'll love the flavors and how easy it is.

Grilling season is quickly approaching and with it comes all the warmer weather dishes!  I personally cannot wait for the abundance of spring and summer dishes that I just don't prepare during the winter.  Don't think I've ever made pasta salad or fruit salad in the winter, the freshness of fruits and veggies just isn't the same.
So with this great change in the weather, I started thinking about dishes that I haven't prepared all winter.  This Mediterranean Orzo Salad is one of them, we just love it so I just had to make it as soon as we started thawing out. This recipe originally comes from a  older cookbook that I got in a huge bag of books at our local library book sale.  It was a great find as were the other 50 some books I crammed into a brown grocery bag for $3…total score.  Anyway the cookbook is called Quick Fixes from Brand Name Mixes, this is the only recipe I've ever made from it, and of course I changed it up because, well…we're fussy around here.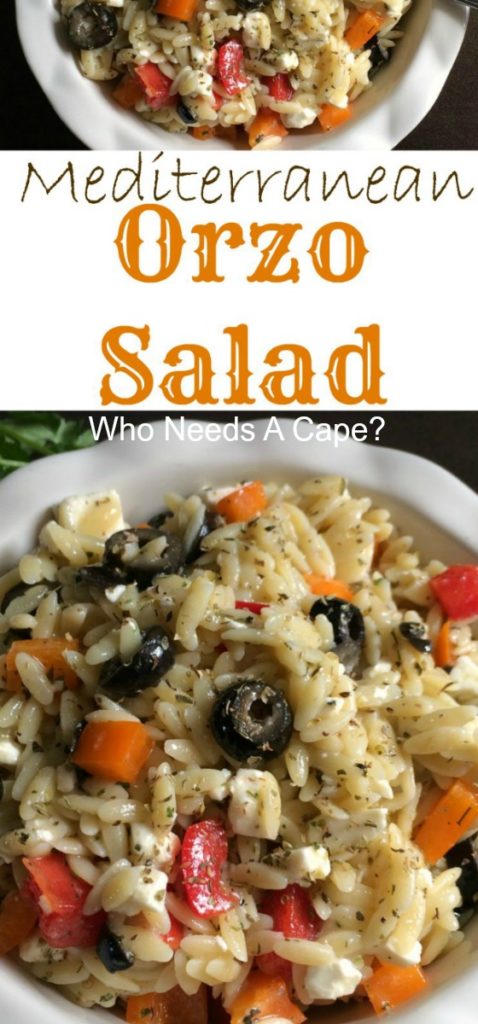 Back to this dish, and our fussy eaters (just love them, but UGH). You can certainly add in other ingredients, such as grape tomatoes, cucumber, even grilled chicken, so versatile.  I went with what I know my family will eat, and we love it. Hope you will too.
Other delicious side dishes that are easy to prepare: