Double Chocolate Zucchini Muffins are a great treat to make anytime. Breakfast, after school snack or just because. Also a great way to sneak in veggies.
I have more zucchini's coming out of my garden than I know what to do with. Every other day I am trying to come up with some recipe to throw zucchini's in. I found this recipe for Double Chocolate Zucchini Muffins recently and they sure sounded like heaven to me.
They were a definite hit with my crowd. Just enough chocolate to please even the biggest chocoholic. Plus they are healthy in my book because they have veggies in them, but shhhh! You don't even have to tell the kids, mine didn't even notice or bat an eye.
Make them for breakfast ahead of time, or for an after school snack. Or like I did, just because the call of chocolate was too much to say no to. Whatever the reason Double Chocolate Zucchini Muffins a great treat to make!
If you are looking for other zucchini baking recipes look no further than Cheesy Zucchini Cornbread Casserole or Blueberry Zucchini Bread
Double Chocolate Zucchini Muffins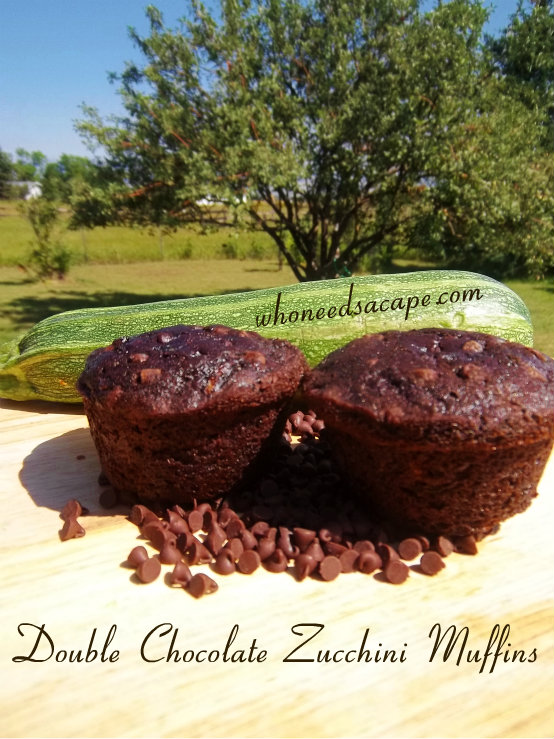 Ingredients
1 c flour
1/2 c unsweetened cocoa powder
3/4 tsp. baking soda
1/4 tsp. baking powder
1/4 tsp. salt
1/2 tsp. cinnamon
3/4 c mini semi sweet chocolate chips
2 large eggs
1/2 c melted butter
1 c sugar (I used all brown sugar but you could use regular white sugar or a combination)
1 tsp. vanilla extract
1 1/2 c shredded zucchini
Instructions
Preheat oven to 350 degrees. Spray muffin tin with cooking spray or line with paper liners.
In a medium bowl combine the flour, cocoa powder, baking soda and powder, salt, and cinnamon. Whisk together, then add chocolate chips.
In a large bowl mix together the eggs, butter and sugar. Add in vanilla and zucchini, then add in flour mixture. Stir until combined making sure to scrape down the sides.
Spoon into muffin tin and bake for 20-25 minutes. Enjoy!