Chocolate Cake with Peanut Butter Frosting the perfect dessert combining an amazing flavor combination. Bake this cake, you won't regret it!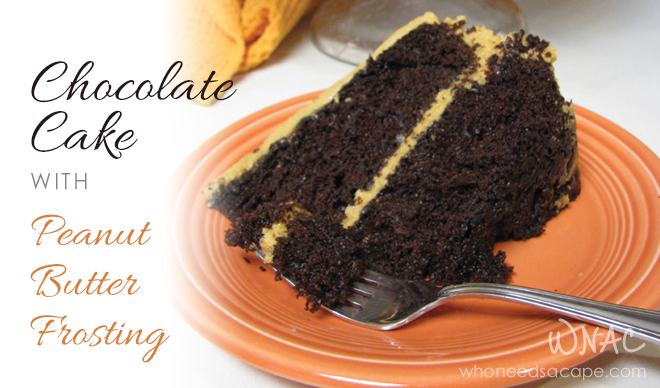 One of my absolute favorite flavor combinations is chocolate and peanut butter. They really are "two great tastes that taste great together," just as the Reese's® slogan from the '80s touted.
I had been itching to bake a cake, but didn't know what kind. Then I remembered the beyond-delicious chocolate cake with peanut butter frosting my best friend and I used to buy by the slice at our hometown's farmer's market. It was baked by an old-order Mennonite woman and we'd nearly sprint to get to her stand as quickly as possible (those slices sold out fast!). Yes, it was THAT yummy that it was worth running like a zombie was on your heels. Moist and chocolatey, with a thick layer of frosting slathered generously on top. What's not to love?!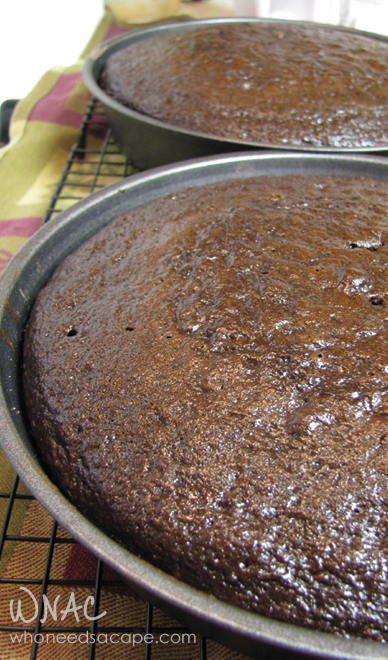 After reminiscing, I knew I'd have to make the same cake … well, as close as I could get. The chocolate cake recipe I used for my Espresso Cupcakes with Cherry Frosting post earlier in the year was perfect, which is based on Hershey's® own recipe from the back of their unsweetened cocoa canister. But I added brewed espresso to mine, which made it oh-so-delish and oh-so-moist.
After I pulled these two pans of chocolatey goodness from the oven, I couldn't wait to whip up some yummy peanut butter frosting. The frosting makes approximately 2 cups, which was enough to fully frost a two-tier round cake, so I'm sure it would be plenty if baking a sheet cake instead of a round one. (Side note: The Mennonite woman from the market baked hers as a sheet cake, and her frosting was easily a quarter-inch to a half-inch thick. Completely indulgent. 😉 ) If you choose to make a sheet cake instead, you may have to adjust your baking time slightly; just watch closely toward the end of baking as to not overbake. And lastly … don't try to frost before the cake is fully cooled. If you do, you will wind up with a slippery, oozy mess. Trust me … it's worth the time and effort to let it cool completely so it turns out the way it should.
And last but not least, be sure you have a nice tall glass of cold milk to wash it all down.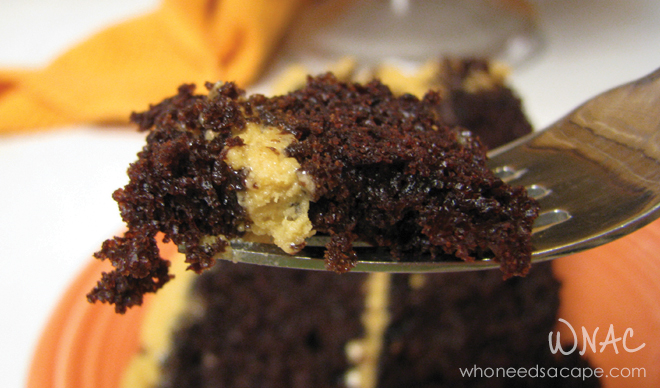 If you're like me and can't get enough of everything that's chocolate + peanut butter, check out some of our other posts celebrating this yummy food union:
Peanut Butter Frosted Oatmeal Bars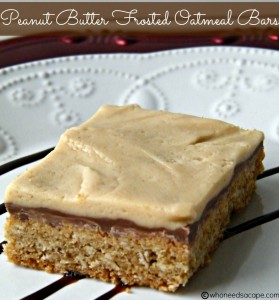 3 Layer Peanut Butter Brownies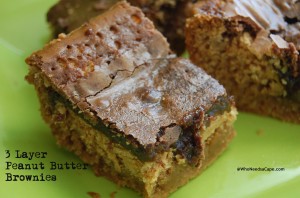 Peanut Butter Oreo Truffles (No-Bake Dessert)