White & Dark Chocolate Mint Swirl Bark – with yummy Dove Promises candy! So easy to make and fun to share perfect St. Patrick's Day dessert!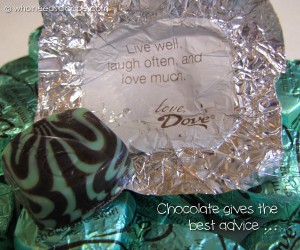 I love any type of candy "bark" but had never attempted to make my own. But I recently bought a bag (or two) of Dove® mint & dark chocolate swirl Promises pieces and thought they'd be great in a bark. I happened to have both milk and white chocolate melting squares on hand, as well as some vanilla chips, so off I went!
Bark is extremely easy to make … I know this. But after making it once, I know what I'll do differently next time — all things I might not have known going into it that first time. I was afraid of melting the Dove squares too much that they'd be difficult to work with, so they were chunkier than I was envisioning originally … but they still tasted the way I expected they would. I think crushed Girl Scout Thin Mints would work very well … or maybe Andes mints broken up. The list of yummy add-ons is endless! And I would definitely use some different melting chocolate. What I had on hand worked well, but Ghirardelli squares they were not. 😉
Now that I've done it, it'll be fun coming up with other variations … and I now completely see why lots of people make bark at the holidays to stuff into cute goodie bags. It's easy and fun to make, but even better to eat. Enjoy!
---
 Other minty treat you may enjoy:
Shamrock No-Bake Cake Batter Truffles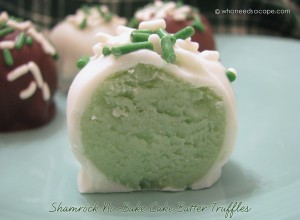 Whoopie Pies with Mint Filling