Jazz up your crafting routine with some fun and sparkly 5 Minute Homemade Glittery Playdough! Easy enough the kids can help make it too!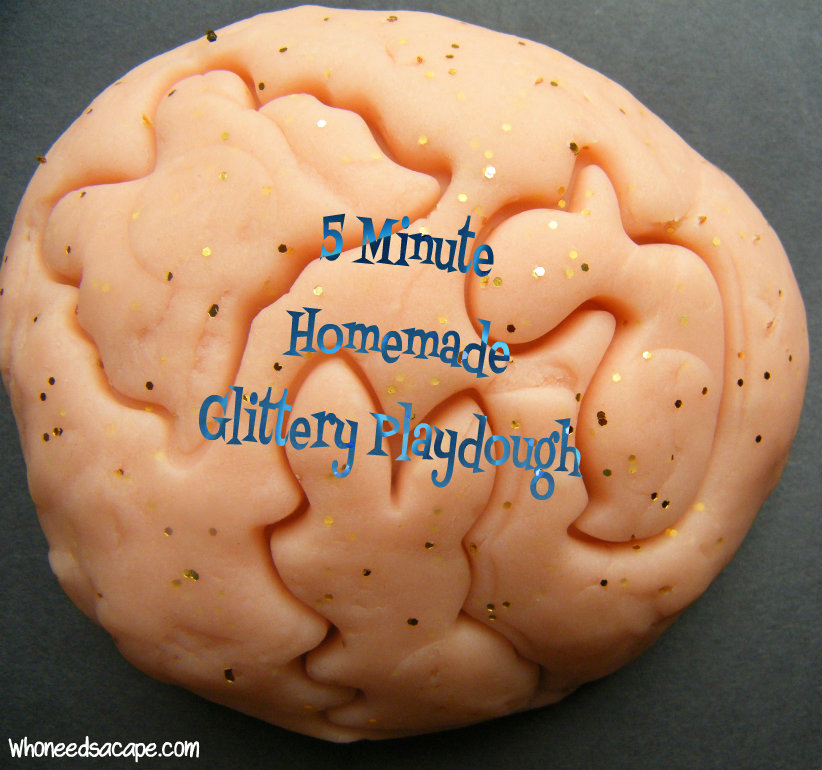 Many moons ago when my oldest daughter was a preschooler I discovered Martha Stewart.  Not that I'd been living under a rock or anything, but she was starting to show up on regular TV segments and one day was making Homemade Playdough.  I thought "what the heck" I'll give it a shot, made her recipe and my daughter really enjoyed the stuff for quite some time. I, on the other hand, felt rather domestic!
Fast forward to 2013 and I have another preschooler who enjoys dough.  This time her preschool teacher supplied each parent with a Homemade Playdough recipe that she's been using for 20+ years.  I made a batch to donate to her classroom; I'd forgotten how fast you can whip  it up in your own kitchen.  So I turned around and made a couple more batches for my 4 yr old to use at home.  But to make it just a tad more exciting and different from the gunk that comes in yellow tubs, we added GLITTER!  Nothing better than a glittery mass of dough just waiting to be rolled, cut, squished into shapes and smashed back into a big old pile once again.
If you've never made it at home before, it seems quite daunting, but please give it a whirl.  It literally only takes 5 minutes, the hardest part is allowing the dough to cool off before letting your kids play with it.  I may not  be Martha Stewart, actually quite far from it, but what I did learn is that sometimes even Martha can make the easiest recipe in the world and have it be a ball of fun.
---
Other kid related posts:
Organizing the Barbie Clutter in your Home