You won't believe how much flavor this Bacon Wrapped Cream Cheese Chicken delivers to your dinner table! It'll be a new family favorite!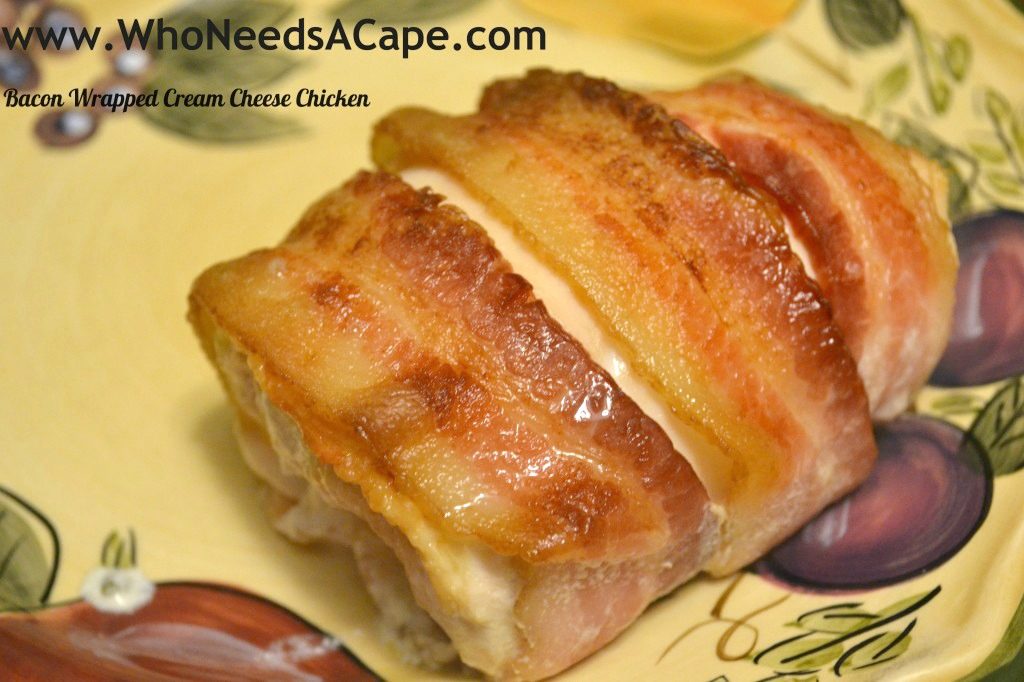 My work BFF, Jill, told me about this quick, simple and tasty meal a while ago. I made it about a year ago, but just never had the desire to pound out some chicken breasts! Really, that is the most time consuming part of this recipe. I promise.
Here are the ingredients you need:
3-4 chicken breasts (or more if you have a large family)
8oz tub of your favorite savory cream cheese- we use Chive & Onion
1 12-14 oz bacon- we use Oscar Mayer Thick Cut Bacon
Salt/Pepper
I'm serious when I say… that's it. Those are the ingredients.
Take plastic wrap, place one chicken breast in the wrap. Take your meat mallet and pound the chicken breast flat with the smooth side of the mallet. You want the chicken breast to be able to be rolled- so the thinner, the better.
Once the chicken is flattened into cutlets, take the cream cheese and spread it on "rough" side of the chicken.
Then, roll the chicken.
Take several slices of bacon and wrap it around the bacon- we typically use 3-4 for each chicken breast.
Preheat the oven to 400 degrees.
Cook till chicken is no longer pink. Depending on the size of the chicken, it could take anywhere between 20-40 minutes.
---
Bacon Wrapped Cream Cheese Chicken
Ingredients
3-4 chicken breasts
8oz tub of savory flavored cream cheese (Onion & Chive or Sundried Tomato Basil for example)
1 12-14 oz favorite bacon
Salt/pepper to taste
Instructions
Take plastic wrap, place one chicken breast in the wrap. Take your meat mallet and pound the chicken breast flat with the smooth side of the mallet. You want the chicken breast to be able to be rolled- so the thinner, the better.
Once the chicken is flattened into cutlets, take the cream cheese and spread it on "rough" side of the chicken.
Roll the chicken
Take several slices of bacon and wrap it around the bacon-Typically use 3-4 for each chicken breast.
Preheat the oven to 400 degrees.
Cook till chicken is no longer pink. Depending on the size of the chicken, it could take anywhere between 20-40 minutes.
Once cooked, add salt/pepper to taste
https://whoneedsacape.com/2013/01/bacon-wrapped-cream-cheese-chicken/