Holiday Leftover Stacks: Hash Brown Casserole, Ham and Eggs is the perfect way to use up all the deliciousness of holiday dinner for a lovely breakfast.
There is nothing better than getting 2 meals (or more) out of one "cooking". It's my favorite way to cook! I love when I can turn leftovers into something new! Making Holiday Leftover Stacks is completely the way to go! They are super yummy, they are super easy and they are perfect for using up some of your leftover potatoes and ham!
When making this dish I of course used my left over Hash Brown Casserole, but to be honest any kind of cheesy potatoes will be delish…I say that but then I'm going to say this…you should definitely try the Hash Brown Casserole – it truly is amazing. But if you're here looking what to do with your leftovers and you already have Cheesy Potatoes in the fridge? Go ahead and use those!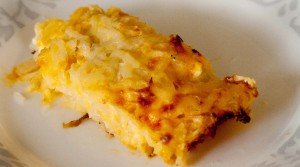 I a lot of times make our big Christmas Meal on Christmas Eve for dinner. It's my secret – that way I don't have to make a lot of food on Christmas Day and I can relax a little bit. Holiday Leftover Stacks are really perfect for Christmas Breakfast if you plan on doing a big meal on Christmas Eve. I mean Holiday Leftover Stacks are actually good for breakfast, lunch or dinner on any day…but you know what I mean!
My favorite ham would be perfect in Holiday Leftover Stacks!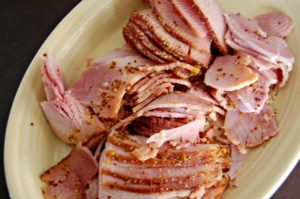 Enjoy!