Oh I know the jokes.  But I absolutely love love love meatloaf.  Sorry but true.
I once asked my mom for her meatloaf recipe and she laughed at me!  "Heather there is no recipe I just do it".  And I have picked up where she left off.  In the interest of good blogging I tried very hard to pay attention to what I was doing…but…I'm a dumper.
The one thing I do that is different from my mom, is I hide vegetables in there.  Granted it's not enough to make your days goals of veggies, but in my book every little bit helps.  It also cuts the calories.  I see no reason not to hide some veggies in just about anything I make and meatloaf is no exception.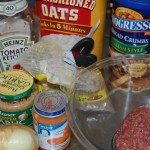 Voila, you have yourself a pretty yummy meatloaf that has some nutritional value to it!