Pretty Pink Chambord Frosting ~ Who says pretty pink frosting is only for little girls? Booze up your cupcakes for your next grown-up girly gathering!
Like most Girly-Girls, I love pink things, including pink food. And with two Mini Girly-Girls of my own, I get to indulge pink food requests on a semi-regular basis. I made Strawberry Cream Cheese back in the spring, and for my oldest Girly-Girl's fifth birthday, she requested strawberry No-Bake Cake Batter Truffles. Heck, I even made pink bubble soap last summer to satisfy their need to have all things pink.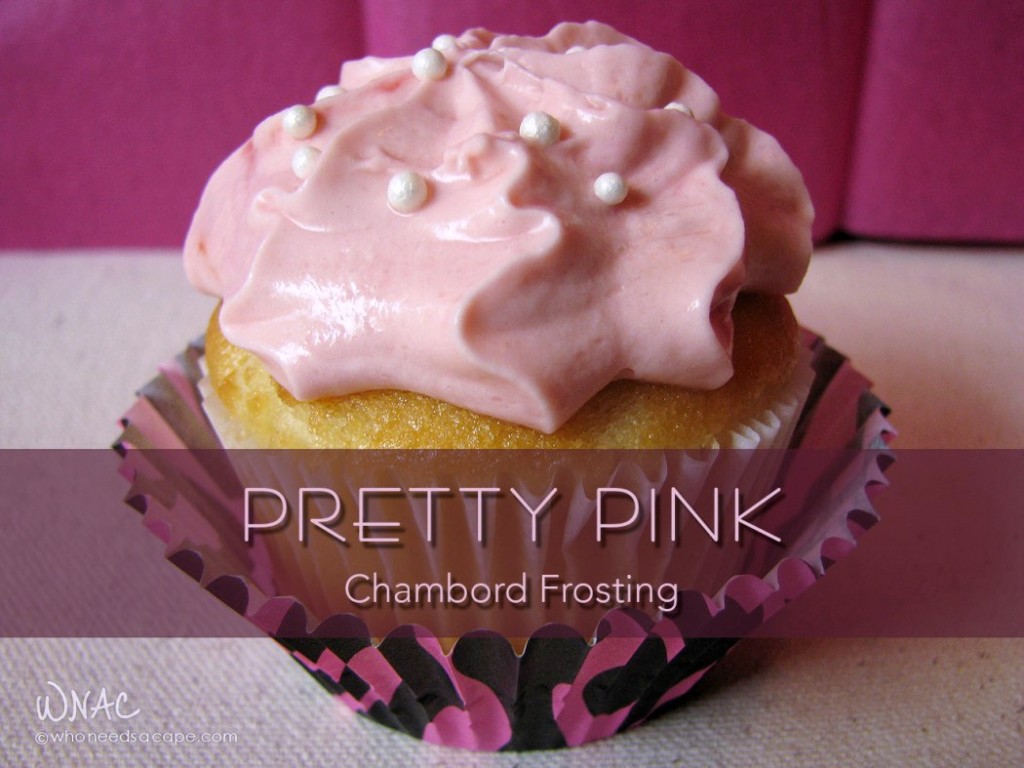 A few weeks ago I bought a bottle of Chambord black raspberry liqueur – my absolute favorite to use in mixers since I love all things raspberry. That established, I thought it might be fun to take that boozy berry goodness and create a cupcake frosting for grown-up Girly-Girls such as myself.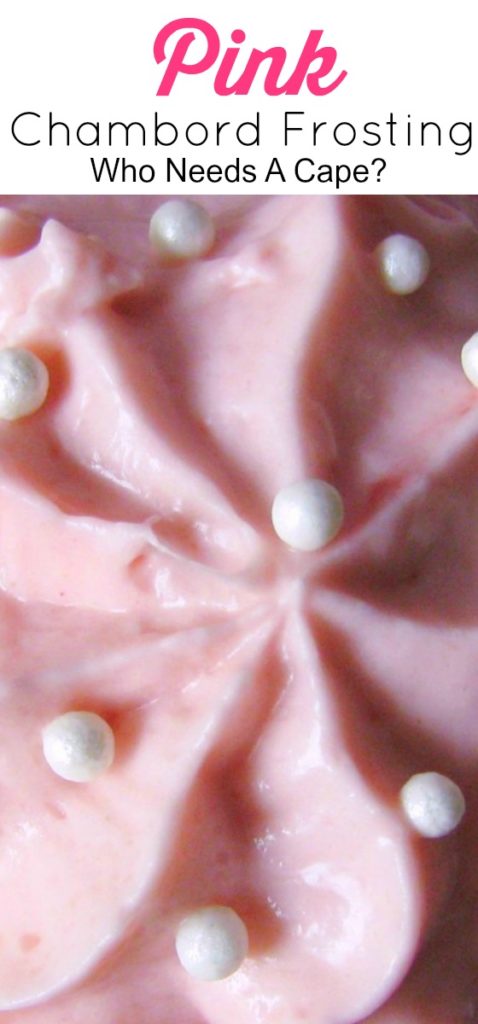 I didn't want to use the typical frosting bases – cream cheese or butter – but instead wanted something smooth and light to complement the sweetness of the black raspberry. A little research revealed that Italian mascarpone, the light cheese used in tiramisu, would likely be a good option to accompany my liqueur creation.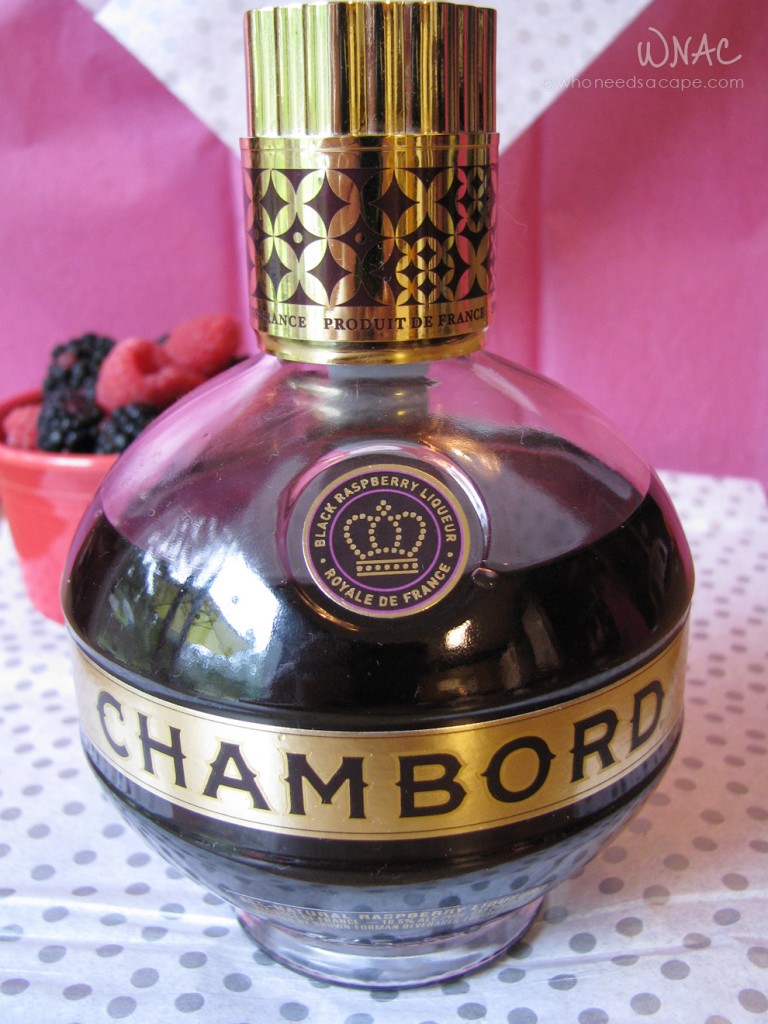 Outside of tiramisu, I had never had mascarpone cheese so I was unfamiliar with its texture and flavor. But with one whiff of this light cheese, I immediately knew it was exactly what I needed. Whipping cream would be a great airy base for my frosting, with confectioner's sugar balancing the sweetness, and pretty pink pastel food dye would provide the finishing girly touch. And the name would say it all …
Pretty Pink Chambord Frosting.
Admittedly, I did kinda-sorta stumble my way through this recipe … and ended up having to do a Take #2 because I messed up my ingredient proportions. Instead of getting fluffy pretty pink frosting, I wound up with soupy pink-ish frosting. But the flavor was nearly spot-on so I knew I couldn't give up after just one try. Take #2 yielded the perfect blend of lightness, smoothness and sweetness.
The detail that derailed my initial attempt at making this frosting was the liquid content – I just had way too much. And while Chambord is a purply-pink color, I knew I would need to use additional coloring to achieve the pink shade I had envisioned – but without adding too much liquid to my already-delicate balance between soupy and firm. That's where Wilton's concentrated dye gel was perfect. I needed very little to achieve my desired color, but since it's gel and not typical liquid dye, the frosting's texture is left unchanged.
The other nearly fatal mistake I made with this frosting was over-beating the whipping cream. I backed off the hand mixer juusssst in time before I lost my pretty fluffy peaks … my Mini Girly-Girls had distracted me with their "oooh's!" and "aahh's!" as the cream changed from liquid to fluffy form. I felt like a magical scientist and not "just" a baker in that moment. 😉 At that point, I put the mixer down and hand-stirred in the remaining ingredients. I did give the frosting one last mix on low just to ensure all the ingredients and dye were blended thoroughly; who wants a blob of cheese in their frosting?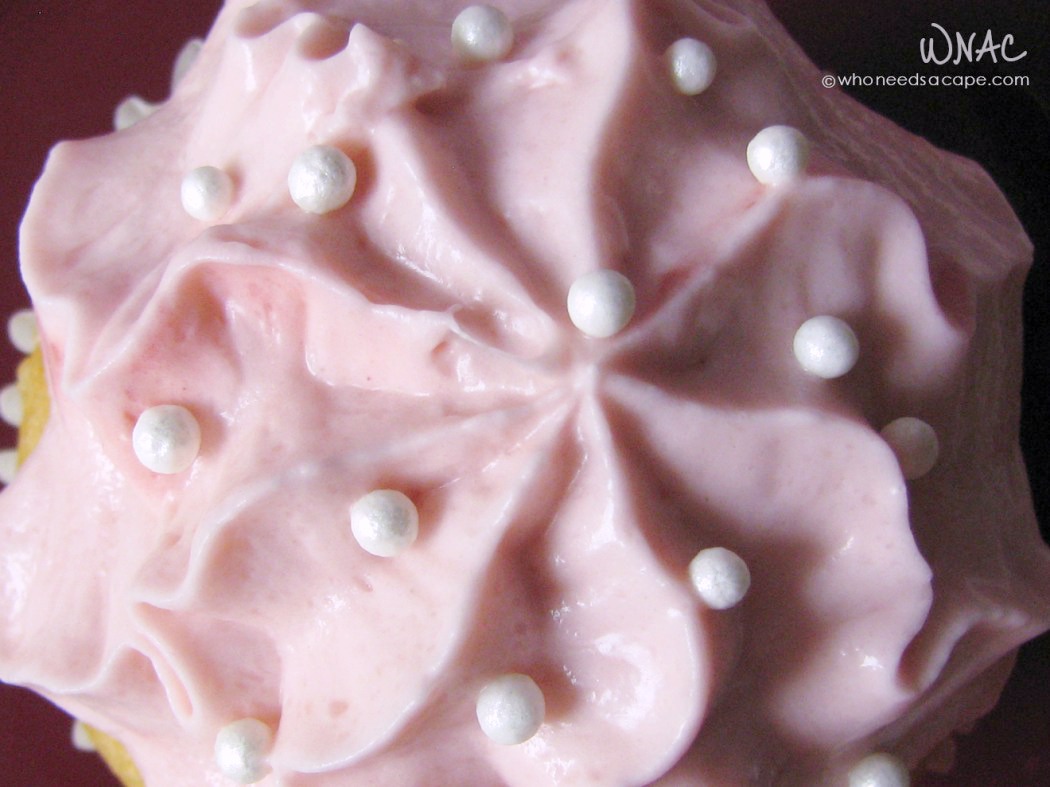 After the frosting was mixed, I chilled it for an hour before attempting to pipe my cupcakes since the mixture was on the softer side. That said, be sure to frost on fully cooled cupcakes or you may have a soupy mess running down your cupcakes instead of pretty pink fluffiness.
While I chose to frost vanilla cupcakes with my Pretty Pink Chambord Frosting, chocolate would work just as well (or work better, if you're a choc-o-holic and can't ever get enough chocolate … or if you just love chocolate + raspberry).
Pink may be synonymous with Girly-Girls of all ages, but it is also associated with October and National Breast Cancer Awareness Month. As part of the commitment to raise awareness, Rebecca from Sugar & Soul has organized "Cooking for a Cure 2015" and invited food bloggers to come together to share their pink-themed culinary creations. Check out Rebecca's blog to see more delectable pink works of edible art created by other Foodies and to find out what you can do to support breast cancer research and awareness.
Strawberries & Cream Pastries by Domestic Superhero / Drink Pink Mocktail by Love Bakes Good Cakes / Strawberry Frosted Sugar Cookie Bars by Like Mother, Like Daughter / No Bake Raspberry Cheesecake by Sugar & Soul / Cranberry Raspberry Punch by Carlsbad Cravings / Pink Rock Candy Fudge by Kleinworth & Co. / Raspberry Sorbet by Food, Folks, Fun / Pretty Pink Chambord Frosting by Who Needs A Cape? / Lightened up Pink Vodka Sauce by A Dish of Daily Life / Strawberry Oreo Cake Mix Cookies by Just Us Four / Prickly Pear Soda Floats by Club Narwhal / Cherry Pie Scones by The Bitter Side of Sweet / Pink Fluff Dip by Mamal Diane / Pretty Pink Raspberry Vanilla Mini Cakes by Liv for Cake / Pink Pop Tarts by Life Currents / Strawberry Cheesecake Dip by The Love Nerds / Glazed Cherry Buttermilk Scones by Tastes of Lizzy T / Raspberry Vanilla Pink Ombre Bundt Cake by Cookie Dough and Oven Mitt / Berry Bliss by 365(ish) Days of Pinterest / Meringue Cookies by Mamma Loves Food / Cream Puffs with Strawberry Filling by Cooking on the Front Burner / Raspberry Cheesecake Brownies by Culinary Couture / No Bake Pink Lemonade Cheesecake Parfaits by Homemade Hooplah / Vanilla Berry Cocktail by Twin Stripe / Snowball Truffles by House of Yumm / Turkish Delight by With a Blast