This sponsored post is brought to you by Groupon.  As always all opinions are 100% my own.

Our daughter leaves for her freshman year of college in just 3 short weeks. Such a bittersweet time in our home, as she's moving almost 10 hours away. We won't be seeing her again until the holiday season.  This means is I need to make sure her dorm room is well equipped when we move her in. The university she's attending sent a lengthy list of suggested items for dorm rooms. What I immediately heard was $$$. Luckily, we found Groupon Coupon.  I'm sure you're familiar with Groupon, and how great the savings are.  But did you know you can save money with the coupon feature too? Yes, you can and the savings are available at over 9,000 stores with over 70,000 coupons available, that's A LOT of choices and A LOT of savings opportunities.
Now these aren't just coupon codes that you'll find to be hit or miss. You know the ones I'm referring to. Some sites give you "codes" that may or may not work. Often times the codes end up not working and take you right back to square one on your savings journey. Not on Groupon Coupon! These are "verified" coupons which means the coupon code will actually get you those important savings.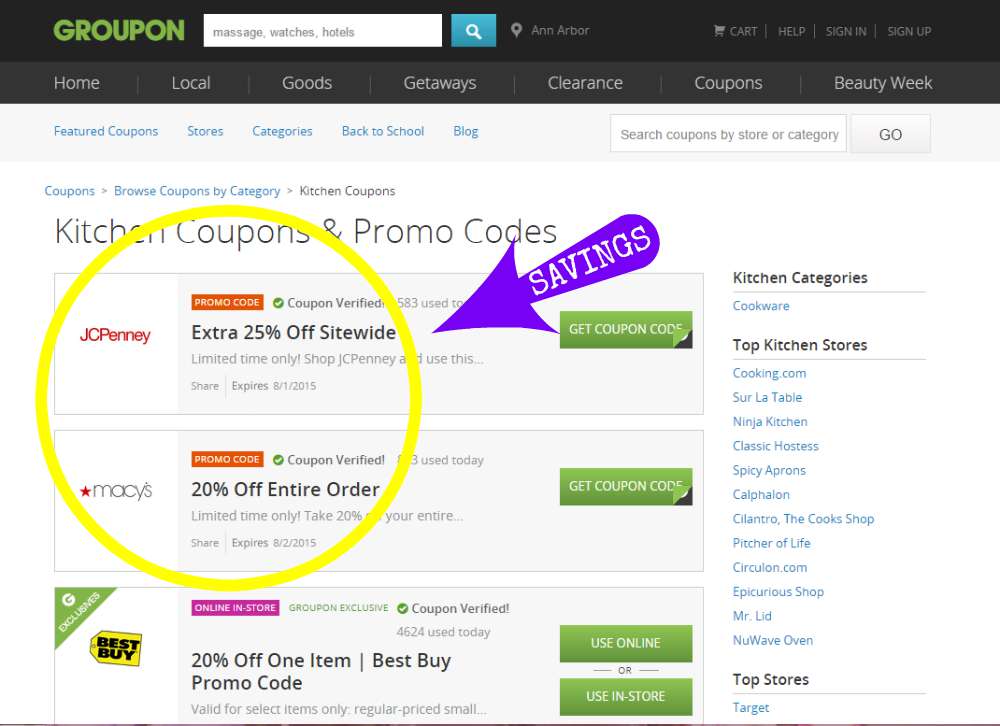 Shopping and saving at your favorite retailers is easy with Groupon Coupon.  Enter Groupon as you normally would  and select the coupon button. Next start browsing by category or use the search function.  We chose to save on small kitchen items through Groupon Coupon to give my daughter a small but functional kitchen area in her dorm room. Items such as: single cup coffee maker, small microwave, and organizer for dishes/cups. Savings were readily available for retailers that we normally purchase from such as: JCPenney, Macy's Target, Kohl's and Best Buy.  Just simply click the desired coupon offer, get the savings code, then start shopping and saving. You'll love the ease of the Groupon Coupon feature, you may even discover some new stores for your shopping adventures.  It certainly made shopping for dorm room essentials a piece of cake, and also saved us both time and money.
So tell us, what are you planning to save on by using Groupon Coupon?