White Barbecue Sauce ~ If you think barbecue sauce only comes in red, then you MUST try this WHITE BBQ sauce! Use as a spread, baste, or dip – or for all 3!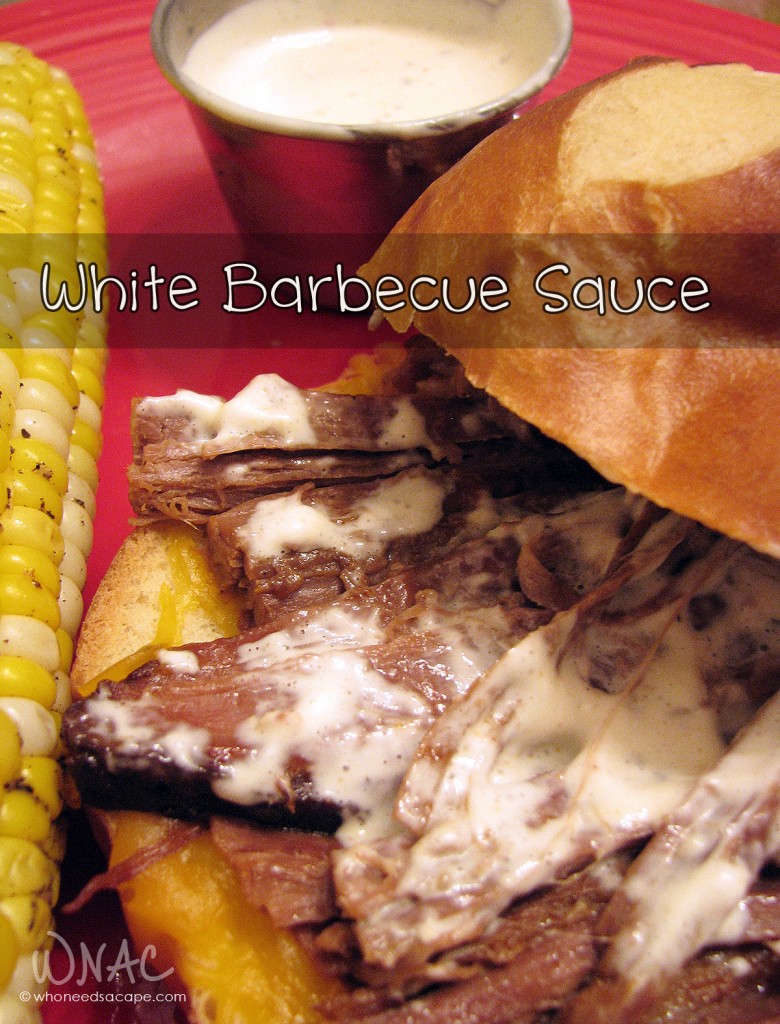 Now, I had never even heard of White Barbecue Sauce, let alone been able to try it, until just a few weeks ago. Recently Hubby and I were watching late night TV when Arby's new summer line-up flashed across the screen. Usually I don't pay too much attention and use the commercial time as a Mother Nature break … but this time their offerings sounded especially appealing, with one sandwich having White Barbecue Sauce, smoked cheddar and crispy onions atop a generous helping of smoked turkey, all tucked into a tasty roll. Mmmm …
Before I could run off the next day at lunchtime to get myself one of these delectable-sounding creations, Hubby beat me to it and got himself one during his lunchtime. Darnit!
For a split second, as he was describing the sandwich in all its deliciousness, I was jealous that A) He tried one before me, and B) He didn't bring me one! 😉 But once he began to rave about the "white sauce," I listened more intently to learn more about this special mayo that apparently MADE the sandwich.
Arby's has a great "horsey" sauce that they have offered for years, but this new sauce was different, Hubby said. It was similar to mayo but it was no ordinary mayo; this white sauce had visible pieces of cracked black pepper and had more bite than their regular horseradish sauce. After Hubby's description of the flavor and texture, I figured I could easily whip up a sauce like this for us at home.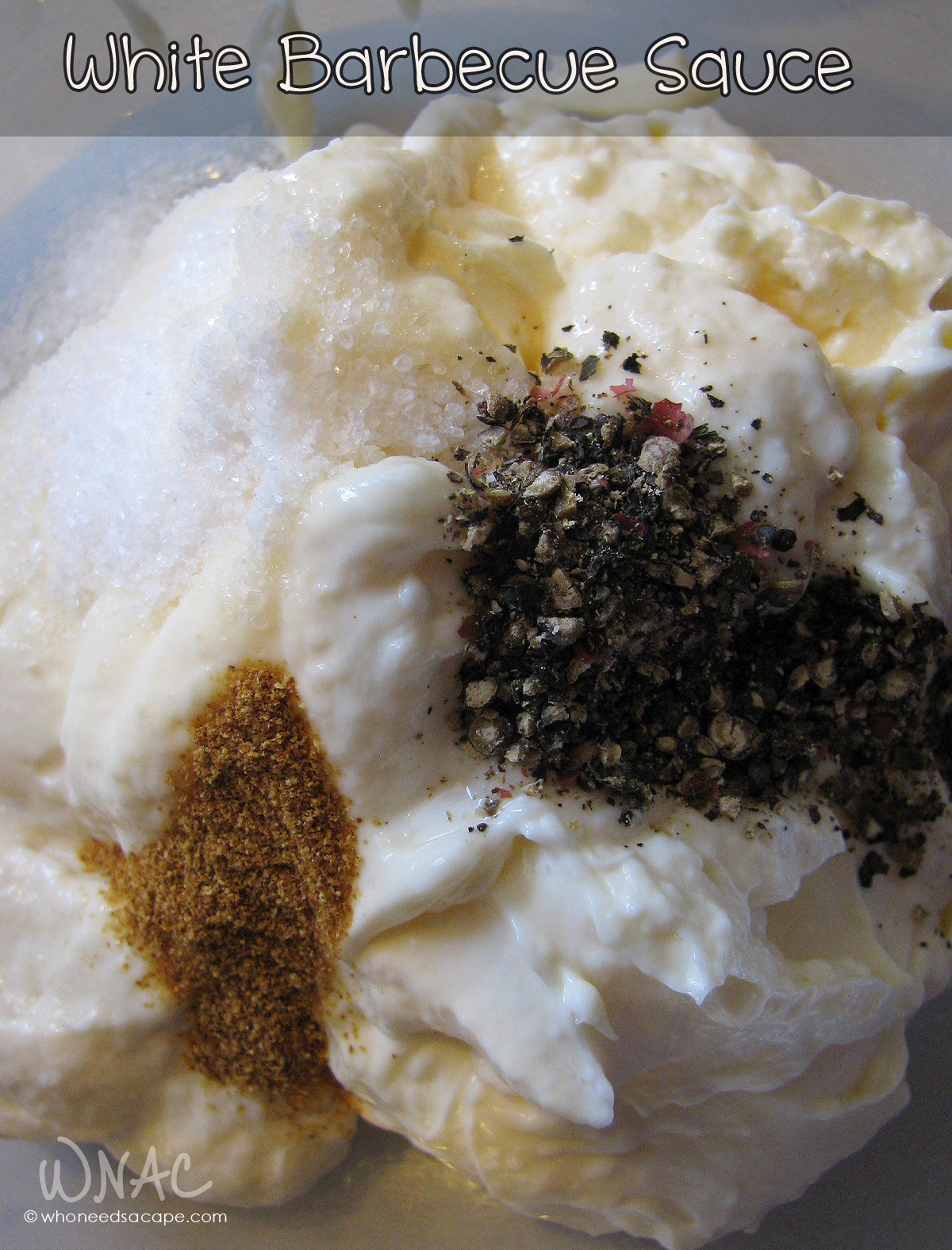 I made a basic ingredient list in my head – mayo, creamy horseradish, coarsely ground salt and pepper – but what else did I need? I took to the 'net and my search led me to Food & Wine and Steven Raichlen's White BBQ Sauce. In case you don't know who he is, Steven is a bit of a grilling/BBQing aficionado … we own and love his BBQ USA cookbook! After a quick review of Steven's recipe, I realized that my instinct with ingredients was spot on – maybe I'm getting the hang of this cooking thing after all? – and that I only overlooked two ingredients when I was constructing it in my mind.
Still, I kept wondering where in the world this awesome White Barbecue Sauce originated. From the bit of reading I did, it seems to have originated from Alabama but isn't necessarily widely known in all of The South – and my version varies from many other recipes. While the version I made was only used as a spread and dip, it's VERY common to mop (or baste) your poultry, pork or beef with this sauce before grilling (that's next on my "TRY THIS!" list).
I chose to make White Barbecue Sauce on a day when I was already in the middle of one of my cooking extravaganzas, where I prepare "stuff" for the upcoming week to thwart the dreaded last-minute "What can we have for dinner?" question that every mom hates to be asked. I happened to be slow cooking a brisket that same day, which turned out to be the perfect way to sample the new BBQ sauce.
Once the brisket was pulled into smaller pieces, I couldn't wait to make my mammoth sandwich and slather the BBQ sauce on the "lid" of my pretzel roll. I sprinkled some shredded mild cheddar under the brisket so it was nice and melted when I cut the sandwich in half. The sauce perfectly complemented the brisket, and the roll held it all together without competing with the other flavors.
It.Was.Amazing.
Okay, yes … I may be biased when it comes to my cooking (what cook isn't?) and maybe the amazement I felt was a joint effort and not a solo performance (unbelievably great brisket + new, spicy BBQ sauce), but it was seriously one of the best sandwiches I've eaten, ever. Brisket aside, which can be a flop if not cooked right like I did the first time I cooked it, the sauce was truly better than I had expected. The consistency was right in the middle: not too thin to use as a spread (who wants a drippy sandwich?) but thick enough to use as a dip. If you choose to use this sauce as a baste/mop, be certain you don't "double dip" – pour sauce in a separate bowl for basting to prevent contaminating the main batch.
So maybe I missed out on that initial joy of trying out White Barbecue Sauce, but it still led to the discovery of this yummy alternate to your tomato- or vinegar-based barbecue sauces … and I don't have to get takeout to have this zesty sauce!
Adapted from Food & Wine's "White Barbecue Sauce" by Steven Raichlen, published 2000.

Ingredients
1 c. mayonnaise
2–3 tbsp. cider vinegar
2 tbsp. prepared horseradish
1 tbsp. water
1 tsp. freshly ground coarse salt
1/2 tsp. freshly ground black pepper
1/4 tsp. cayenne pepper
Instructions
Combine all of the ingredients in a bowl and whisk until smooth.
Brush on chicken, beef or pork before grilling; use as a spread for sandwiches or as a sauce for dipping.
Store in a sealed container in the refrigerator for up to 1 week.
Adjust liquid ingredients (vinegar and water) if you prefer a thinner or thicker sauce.
http://whoneedsacape.com/2015/06/white-barbecue-sauce/