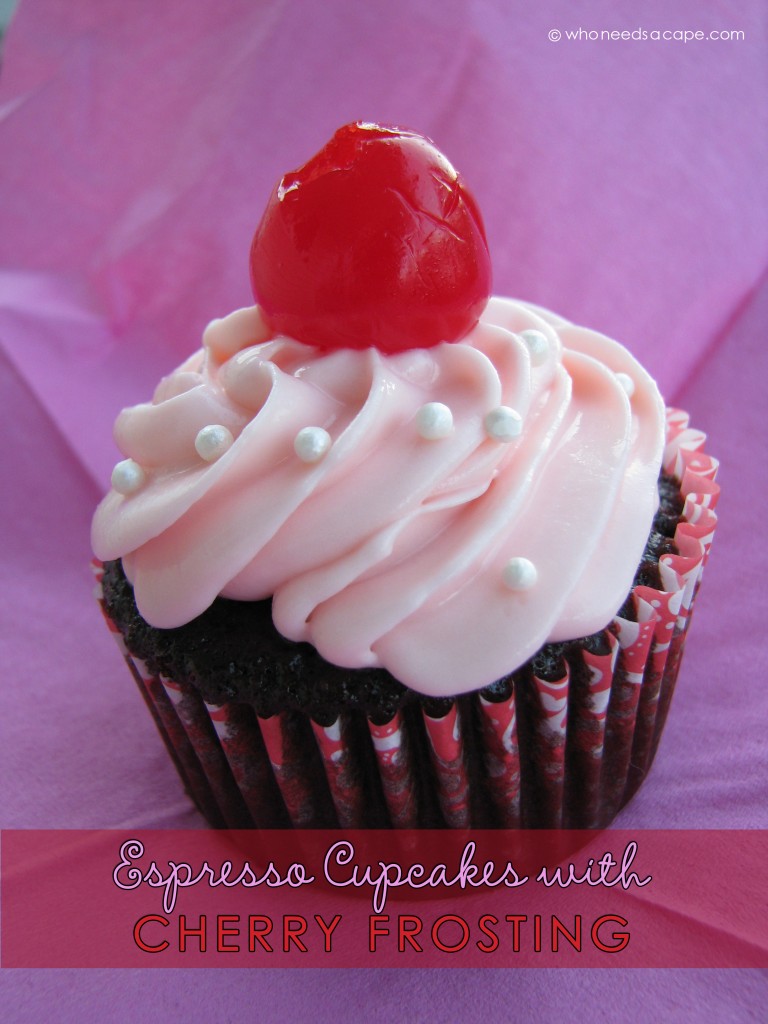 My husband has been on this kick lately where he orders free product samples for us and through this sampling, I have wound up with three packs of espresso in a week and was left wondering how in the world I would use that much jacked-up coffee. Drinking that much just wouldn't happen at my house, nor would I want to encourage it … surely someone reading this is familiar with "Tweak" from the animated show "South Park" and if you are, then I don't need to explain what happens when copious amounts of coffee are consumed.
After some pondering over how to use my super-charged java, I remembered I use regular coffee in my chocolate cake recipe. If regular coffee can make a chocolate cake extra-yummy, then adding espresso would  *have* to make it that much yummier… right?! And with Valentine's Day around the corner, making these as cupcakes instead was the obvious choice for me — as well as a cherry frosting deliciously topping it all off.
My "tried and true" favorite chocolate cake recipe that never disappoints is courtesy of Hershey's, found on the back of their natural unsweetened cocoa powder. With just a bit of adjusting, this recipe was a perfect foundation from which to build my espresso cupcakes. The frosting is uncomplicated, pretty and delicious … the perfect complement to top these turbo-charged cupcakes.
Just be sure you don't give too many of these high-octane cupcakes to the little people at your house or you could have your very own "Tweak" on your hands … not that I would have any earthly idea what that sort of scene looks like.
ENJOY! 😀