If you love couponing, find out How to Organize Your Coupons the Binder Method. We've shared some tips we use to help you get organized.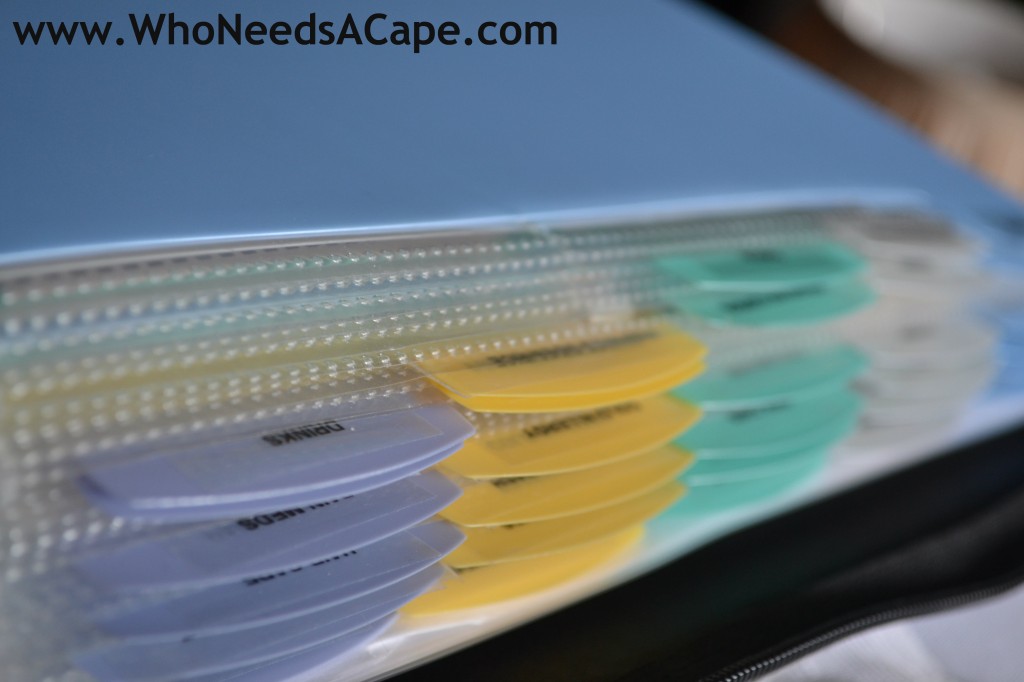 Several of the gals that are members of the blog, also coupon, each of us have our favorite items to stockpile. Katie loves her diaper and coffee deals, Heather loves her coffee and cereal deals, Monica loves her toothpaste and deodorant deals, I love my cheese deals.  Monica and I have decided to team up and give you some ideas for coupon use and organization. We each have our items that are 'must haves' at certain prices. For instance, I typically won't buy chicken (as mentioned in the crockpot enchiladas post) if it's not $1.69/lb, but I'm finding in recent weeks, that the prices are, well… just plain increasing. For the past month or so, I haven't seen chicken go below $1.89- so I might have to rethink the price threshold of certain items. . Cheese has always been a favorite stockpile item for me. At one point, I had 50+ bags of shredded cheese, because I got it for less than $1.00/bag! I put it in the freezer and just used it whenever. It lasted my family over 6 months. Granted, I haven't seen a cheese deal like that since then… but I still have hope that someday it will happen again.
Liz: There are many different methods of storing your coupons. I personally love the binder method. I bought a zip up 5-Star binder about 2 years ago, during the back to school sales. I was afraid of coupons falling out, which is why I decided on a zip up binder.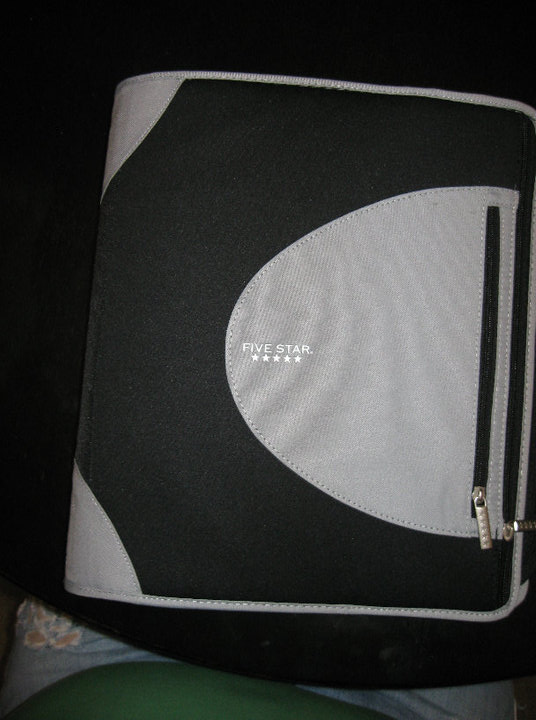 It makes it easy for me to go through, for instance, my dairy coupons (yogurt, cheese, milk, etc) fairly quickly while I'm at the store.  With my new commitment to re-organization, I've decided to even give my beloved coupon binder an overhaul . I have things divided up into categories like Frozen, Breakfast, Ethnic, Dairy, Condiments, Snacks, Baby (which I no longer need since I don't have a baby anymore!), Personal, Household, Baking, Juice, Misc. I decided that I want to go with more specific categories. Like Hair Care, Oral Care, Shaving, Surface Cleaners, Salty Snacks/Crackers, Frozen Meals, Frozen Veggies, Frozen Breakfast, etc.  This is what my dividers use to look like, not a huge fan of them handwritten.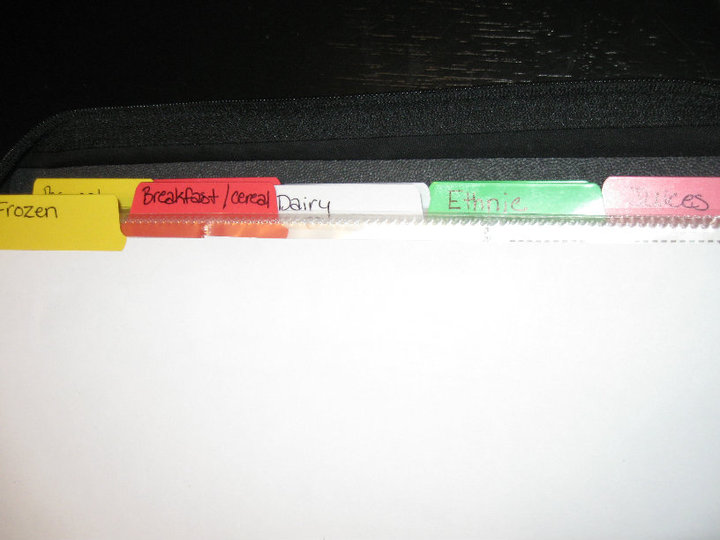 I'm a fan of another blog, saving addiction, in which they post the Meijer ad preview every Friday morning with the coupon match ups (either from the newspaper or from printed coupons). Those ladies who run that blog, have been my inspiration for saving so much money and being such a deal seeker! At that point, I check off what I want to buy, I go through my binder and pull out my coupons. I typically will not buy items unless they are on sale and I have a coupon. I meal plan around what is on sale. Example: Pork chops were on sale this week in the family pack, so guess what we're having for dinner a few times this week? Pork chops! Of course, we will be making them different ways, it would be too boring if we had just plain, old pork chops each night!
I've finished my complete overhaul of my coupon binder. After I got everything figured out how I wanted it, I clipped my coupons from today's paper (4 inserts this week!) and holy cow it went a LOT faster putting them away! The stack was about an inch thick and it took me less than 25 minutes to put them all away in their appropriate categories! WOOT! WOOT!  As I was putting together my revamped binder, I decided to make a table of contents, which also contains my contact information if, God forbid, I lose my binder. I have hope that someone would be a nice person and contact me to give it back.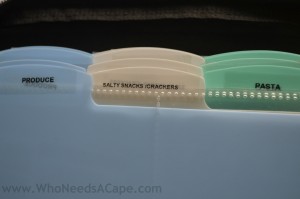 I had a label maker, but for some reason it wouldn't print (yes, I checked the batteries and that it had labels in it). I went out and bought a new one, because I really do use it quite a bit. I made 2 of each label. One for the front of the divider and one for the back. That way, if I'm IN my binder, let's say, looking at cold/allergy, I can quickly find pasta if I need to.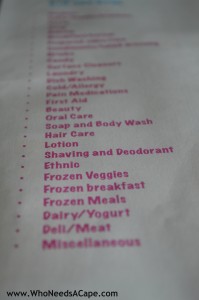 I decided to make a table of contents for the off-chance, that I need to send my hubby grocery shopping. Then he can take my binder and easily find where things are. It's pretty rare that he does go in my place, but, why not make it as easy as possible to locate everything?
A lot of couponers use the baseball card holders to keep their coupons tidy. I am one of them. I do find, that sometimes the printed coupons from sites like Coupons.com, redplum.com, smartsource.com don't fit the best in the slots. I fold mine into quarters, so then, I can see what the coupon is for and on the backside, can see the expiration date.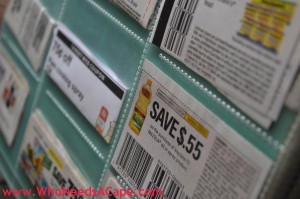 ***For those of you just starting out, coupons cannot be duplicated. You are allowed two prints from each site per computer. Do NOT photocopy any coupons. This is ILLEGAL. ***
My local grocery store, offers their own coupons. They are electronic, called Mperks. You sign up by using your cell phone. I love MPerks, however, you have to be careful when using them. Meijer allows you to use one manufacturers coupon (either printed or through MPerks) and one store coupon. I always keep a copy of what MPerks I have, so I can see what coupons are Manufacturer coupons then I know I can't use a printed coupon with it. It's very important to always follow the rules of the store. I carry a copy of Meijer's coupon policy with me (in my purse), so if there's any questions as to whether or not I'm allowed to do something I can pull the policy out to prove my point. I've only had to do this once. Meijer had just changed their policy, so that they now accepted competitor coupons the cashier questioned it, which I'm glad she did, I then provided her with a freshly printed copy of their policy.
There are many, MANY sites you can print coupons from. I mentioned a few above. There are so many others, most brands also have their own coupons that you can print from their site. Also, I have found a LOT of high value coupons on a product's Facebook page! Monica and I both get the majority of our coupons from the newspaper. There's nothing like sitting down, with a stack of coupon inserts, your favorite coffee (or juice in my case) and clipping away!
Monica: Here is the way that I store and organize my coupons.  I use to use one of those expanding coupon organizers with pockets, but found it would take me forever to find what I was looking for.   I recently lost my coupon binder (cried for days, LOL) so I had to recreate it.  I use a soft cover binder, with sheet protectors divided into several different pockets.   Like Liz, I break mine down into multiple categories and I alphabetize, it's just easier for me to find what I am looking for.  I also leave a few blank pockets to reorganize or add categories, if I find I need to break them down even further.   I have found that having multiple categories really helps make shopping faster because I am not looking through a ton of coupons trying to find just one. I also have store categories for the Catalina coupons I receive at each store.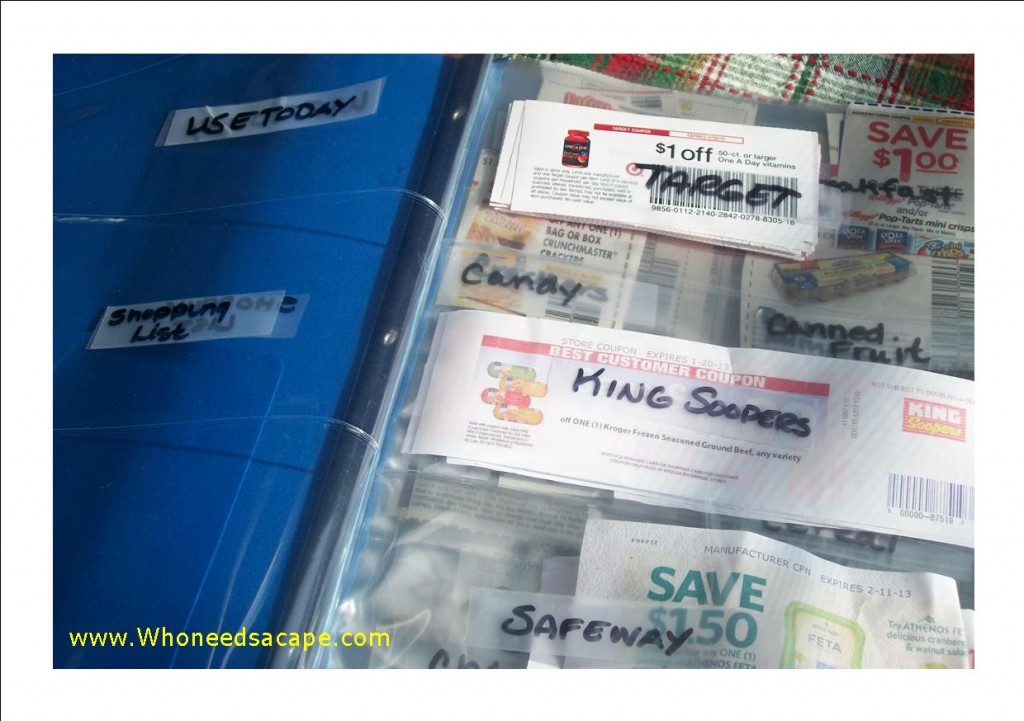 I also receive coupons from stores like Target, they send me little booklets periodically and I love Target coupons, because you can stack them and use them together with a manufacturer's coupon as well, so you can get some great savings.  I also like to look for stores that offer coupon doubling, so if a coupon is worth .35c, they will double it to .70c and anything over .50c will be rounded up to a dollar.
I too spend my Sunday mornings with my favorite coffee, the newspaper, my shopping list and my coupon binder.  I clean out any expired items and add my new coupons.  I also set aside coupons in a front pocket that I know I will be using, so I have them quickly on hand.   Initially it takes a little time to set up and get organized, but it is worth the time up front and it truly does become routine very quickly.
Happy Couponing!!!